Movies
Published November 17, 2023
'The Marvels': Kamala Khan's Family Goes to Space
"Everyone should be afraid of Muneeba Khan. She is powerful, she is protective."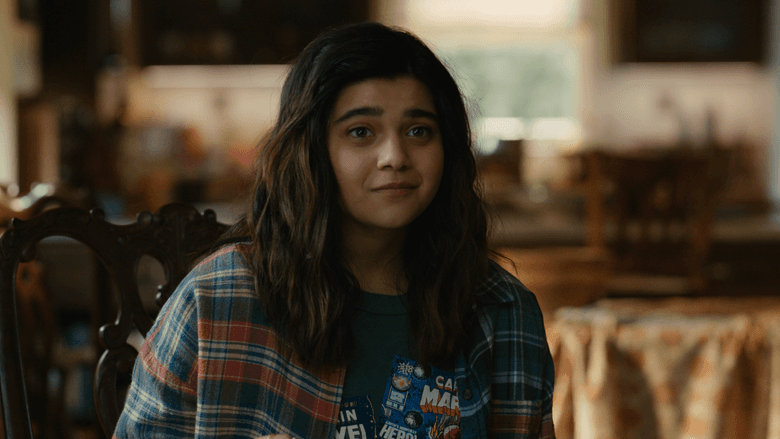 Kamala Khan isn't the only one from Jersey City going on a cosmic adventure in Marvel Studios' The Marvels. Because the family who fight off the Kree together, stays together, the whole Khan family — mom Muneeba, dad Yusuf, and older brother Aamir — hitch a ride to the S.A.B.E.R. space station alongside Nick Fury. Did any of them ever think they'd wind up above the Earth's atmosphere? Probably not. But they'll do anything to make sure Kamala is ok.
The Khan family, including Kamala, first appeared in the Disney+ series Ms. Marvel. While younger daughter Kamala begins to grapple with the fact that she's got Super Powers and is well on her way to becoming a Super Hero, her family just wants to make sure she's finishing her homework. Eventually, they're let in on her secret identity, and instead of freaking out they help her embrace it. She's their little Ms. Marvel, after all.
When The Marvels picks up, Kamala thinks she's going through some sort of Avengers test to join the larger team. She's not. What's really happening is that her powers have become accidentally entangled with Carol Danvers, aka Captain Marvel, and Monica Rambeau. This accidentally mixes the Khans up in the space saga, too.
Director Nia DaCosta found that the Khan's family dynamic was a perfect fit for the story she was trying to tell.
"I cannot get enough of the Khan family. When you come into something this big, and sort of in the middle of its life, you inherit a lot of characters, a lot of actors," The director explains. "I was so lucky to inherit the Khan family, Kamala included. They're wonderful. And because I wanted this film to be so much about family — chosen family and otherwise — having them at the center as kind of the beating heart was really, really important."
When Kamala starts switching places with both Carol and Monica, Carol and Monica — and the foes they're fighting — end up in the middle of the Khan's living room. All of them spring into action fighting off the home invaders with whatever they have lying around, including pillows, lamps, and brooms, whatever is lying around.
Even though the family can stop them, they are not thrilled that Kamala's brought this kind of trouble home. Kamala doesn't have to worry about Super Villains, she just has to worry about her parents being super upset with her. But still, the loving family atmosphere shine through as Executive Producer Mary Livanos notes, "Mr. Khan is just a totally warm, lovely person who cares so deeply and celebrates his daughter constantly. Aamir is that brother who doesn't care what kind of status his sister may have, he will joke around with her. They just bring so much fun and light to the show."
But, forget about watching out for the Kree; everyone should be worried about crossing Muneeba.
"Muneeba Khan, Kamala's mom, is a total force to be reckoned with," Livanos notes. "Like, Carol Danvers should be afraid. Everyone should be afraid of Muneeba Khan. She is powerful, she is protective."
Proving how tough she is, Muneeba goes head-to-head with Nicholas Fury who shows up to help untangle this mess. She even calls him — gasp! — Nicholas. It was a natural pairing for the creative team to stick these two together because the only person who could ever stand up to Fury is an overprotective mother.
"Muneeba Khan can take Nick Fury down a few pegs," Livanos laughs. "Like, no matter how special you may think you are, someone's mother will always come in and treat you like a normal person. And that's what Muneeba Khan definitely does to Nick Fury. They are a comedic duo, unlike anything we've seen before.
DaCosta views Fury as the "dad" of the MCU, so "it was only natural that he's paired up with the parents."
"He's been through a lot and we've seen him in a lot of iterations," DaCosta continues. "But no matter [what], he's always this paternal figure who really cares about all of these heroes, the Avengers, everyone. So teaming him up with Muneeba was just natural. Because she's also a badass and she's the matriarch of this family. It was like a patriarch and a matriarch coming together."
The Khan family never expected to be sharing scenes with the long-time MCU actor, but they all loved every second of it.
"Getting to know and work with and befriend Samuel L. Jackson has been one of the highlights of my career," Zenobia Shroff gushes, who returns as mom Muneeba." I've been doing this for a very long time and it has, it was a real honor, he was the consummate professional and he was a team player and he's just such a sweet man it was just lovely, lovely, lovely. I'm like Sam Jackson what are you doing in my house?"
Another thing the Khan family loved? Doing their own stunts. Shroff insisted on doing as many of her own stunts as possible, explaining, "One thing that you know we made clear to Nia is that we want to try and do all our stunts. Just because we're just the family doesn't mean we can't do our stunts!"
"Suddenly you're in your mid-50s and somebody's hoisting you in the air, and it's like I love this!" Shroff exclaims. "I didn't ever think that in my 50s you know somebody would come knocking and say hey you wanna fight with the Kree? Yes, I do. Bring it on!"
Higher, further, faster, together. The Marvels is now playing exclusively in theaters! 
The Hype Box
Can't-miss news and updates from across the Marvel Universe!