Movies
Published September 15, 2017
Tom Hiddleston Discusses Loki's Complex Relationships in 'Thor: Ragnarok'
'Thor: Ragnarok' tests Loki's boundaries.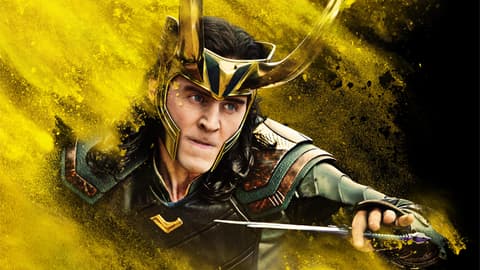 It's been four years since audiences have seen Tom Hiddleston don Loki's golden horns on the big screen, and now the God of Mischief is back this November 3 in "Thor: Ragnarok"!
We spoke with Tom Hiddleston on the set of "Thor: Ragnarok" and it was almost like a family therapy session for the adopted son of Odin. So many complex relationships were discussed, all that happen to revolve around the trickster's mercurial spirit.
"The opposite of love is not hate but indifference," Hiddleston discussed how Thor being indifferent to Loki is troubling for the character from a familial point of view. "That's a defining feature of his character. I don't belong in the family; I hate my brother. And the idea his brother's like, yeah, whatever, it's an interesting development."
"The two of them are placed in such an extraordinary situation where everything is unfamiliar; that their familiarity, literally, as family members becomes important." The now famous scene from the teaser trailer of the Asgardian brothers fighting side by side shows how the siblings seem to have come terms—at least temporarily—with their complicated relationship.
"Loki's feelings towards his family members are complex, to say the least," Hiddleston reflected on the first film. "The moment of Thor's ascension, he finds out he doesn't belong there at all. I never conceived of Loki's emotional connections to Odin or Thor as malevolent. He just wants to have a go on the throne, which he does."
When it comes to complex relationships, Hulk knows a thing or two about burying your feelings. The big green guy is added to the mix in "Ragnarok" and Hiddleston thinks fans are going to enjoy their interaction, "In 'The Avengers,' Hulk and Loki never really had a conversation. It was more, more of a physical meeting, an extended group hug, shall we say," joked Hiddleston. "So it's fun when the two of them meet."
Finally, there's a new villain in town and her name is Hela, "The goddess of death shows up and the stakes are high, for everybody," said Hiddleston. "Loki perhaps more than ever, is challenged to define himself in the face of that threat."
Regarding the dynamic between Loki and Hela, Hiddleston said, "It's about them recognizing each other; recognizing that we prefer anarchy to order; recognizing that chaos is more fun, if a little exhausting; recognizing the aesthetic value of green capes. The inimitable elegances of a headdress—if you're gonna be bad, you might as well be bad with style."
Speaking of style, perhaps Loki's relationship vulnerability is manifesting itself in his wardrobe? When asked about Loki's multiple costume changes, Hiddleston pondered Loki's "Pretty Woman" moment, "In my head, Jeff Goldblum takes Loki out to Rodeo Drive and says, pick the finest fabric you can find; let's fashion your suit." If this isn't a cry for an Asgardian version of Project Runway, then this is a real missed opportunity.
Get your tickets now for "Thor: Ragnarok" and stay tuned for even more action in the coming days and weeks!
Stay tuned to Marvel.com for the latest on "Thor: Ragnarok," and follow @ThorOfficial on Twitter and like Thor's official Facebook page!
The Hype Box
Can't-miss news and updates from across the Marvel Universe!