Movies
Published October 11, 2021
Who Are the Eternals According to Salma Hayek
"When we're all together, it really felt like a family."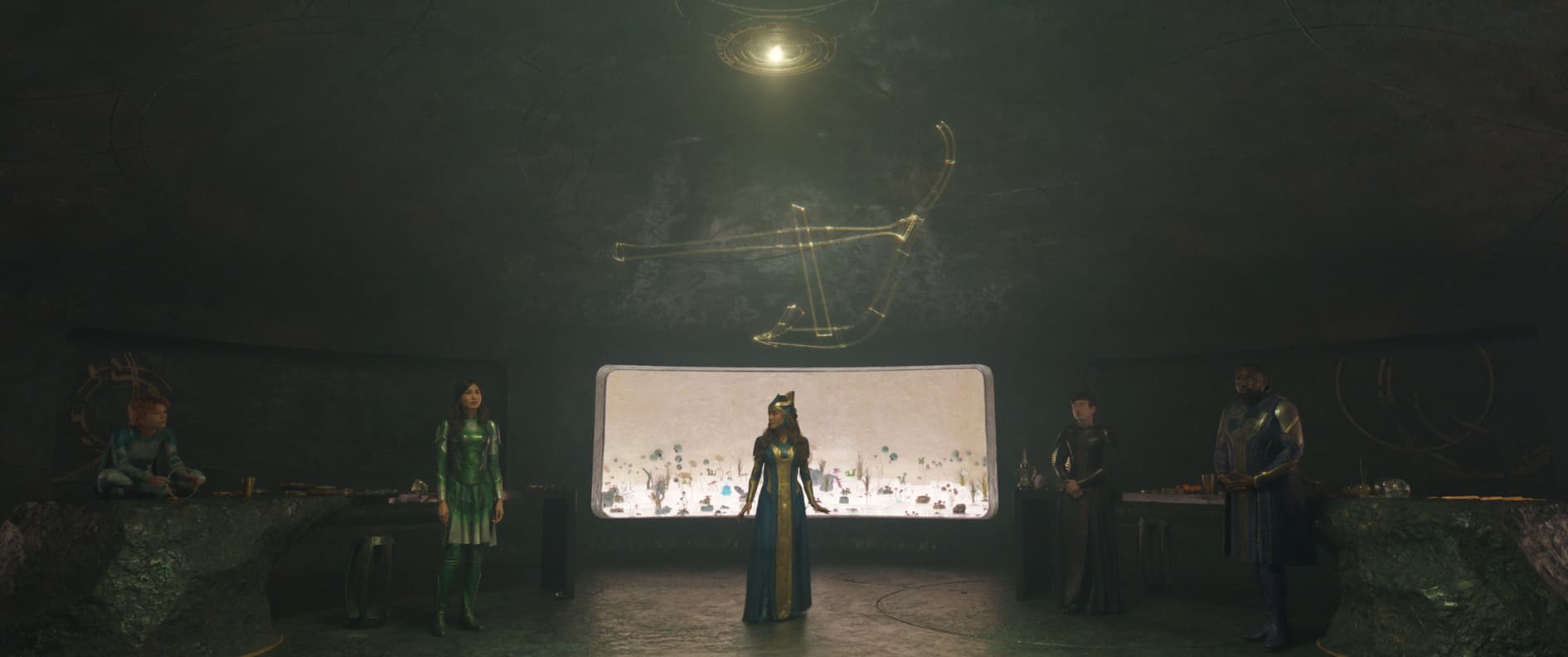 Marvel Studios' Eternals follows a group of heroes from beyond the stars who had protected the Earth since the dawn of man. When monstrous creatures called the Deviants, long thought lost to history, mysteriously return, the Eternals are forced to reunite in order to defend humanity once again. Be among the first to watch the third film in the Marvel Cinematic Universe's Phase Four when Eternals, directed by Academy Award-winning director Chloé Zhao, arrives in theaters on Friday, November 5. Grab your tickets now!
The outstanding ensemble cast includes Gemma Chan as humankind-loving Sersi, Richard Madden as the all-powerful Ikaris, Kumail Nanjiani as cosmic-powered Kingo, Lia McHugh as the eternally young, old-soul Sprite, Brian Tyree Henry as the intelligent inventor Phastos, Lauren Ridloff as the super-fast Makkari, Barry Keoghan as aloof loner Druig, Don Lee as the powerful Gilgamesh, with Kit Harington as Dane Whitman, with Salma Hayek as the wise and spiritual leader Ajak, and Angelina Jolie as the fierce warrior Thena. 
 
In a set visit for Eternals at Pinewood Studios in the UK back in January 2020, Salma Hayek gave more insight to her character Ajak, and how Ajak views the rest of the Eternals under a maternal lens.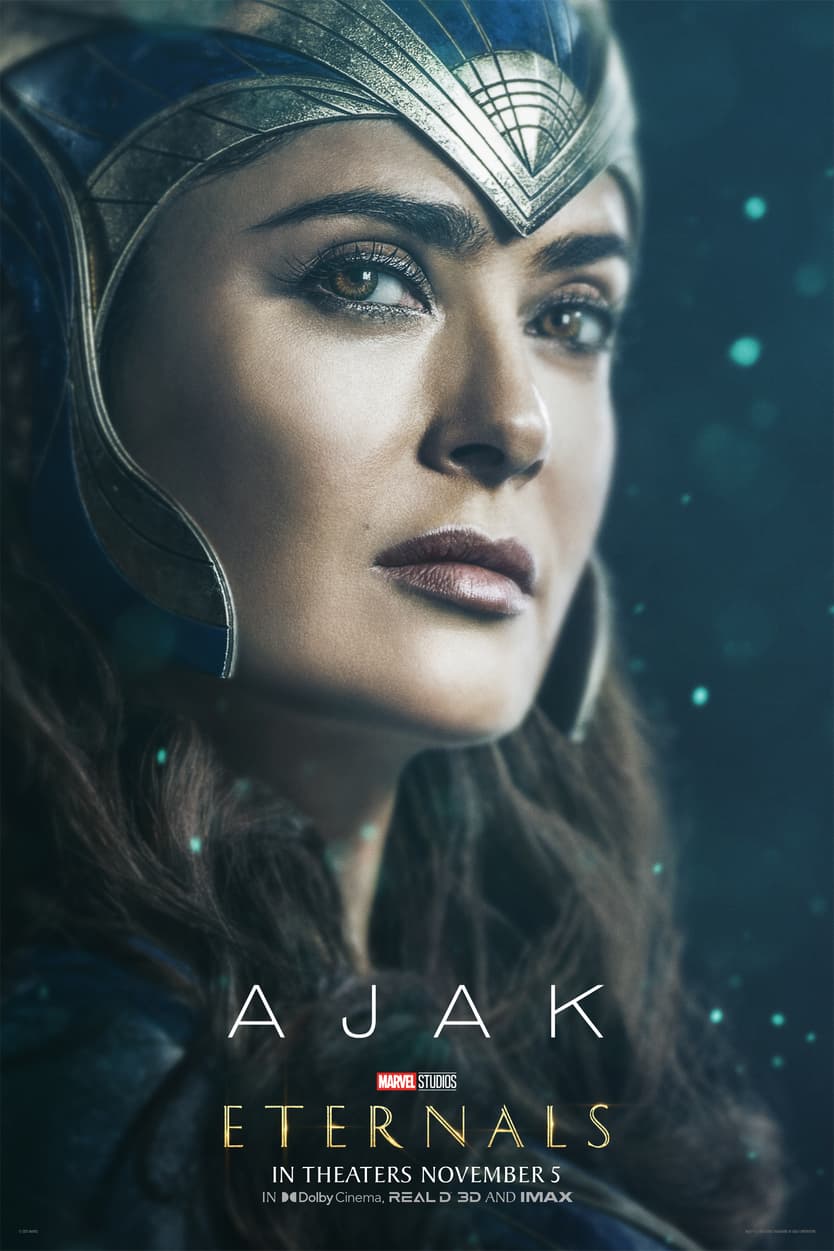 "Ajak is in charge to supervise them, bring them over," states Hayek. "She's the leader of this group of people that have a mission, and it is my responsibility to make sure that it's accomplished and that they behave."
Hayek reveals early on in her discussions with Zhao involved understanding her character's motivations. She asked her if Ajak could be a "mother figure," because in her eyes, "The mother is, a lot of times, the leader of a family." A bit bolder, Hayek questioned if Ajak could be "the super hero for the environment," alluding to "Mother Earth" who loves animals, plants, and things about humanity including music and food. 
As to how Zhao reacted to the pitch, Hayek reveals, "She laughed. And you know what, it's not what the story is about…but everything I said, she drew from it. Even if the rest of the world doesn't know her, and [only] I know, there are moments where it is that character that I talked about without reading the script. It kind of gave it nuance," before adding, "It was not the super hero for the plants I was think of, but it is a lot more interesting."
Speaking to press, Hayek also shares, "It's also very exciting at 53, to get that random call, just got a movie from Marvel. Like now? She's there just offering you a super hero. I'm, 'Are you kidding me? This is a joke.' A Mexican woman in her 50s, you just got a super hero character in the Marvel movie, and not the gran. Actually, it's me who wanted to have that approach of leadership that it was more of a family. She loved it."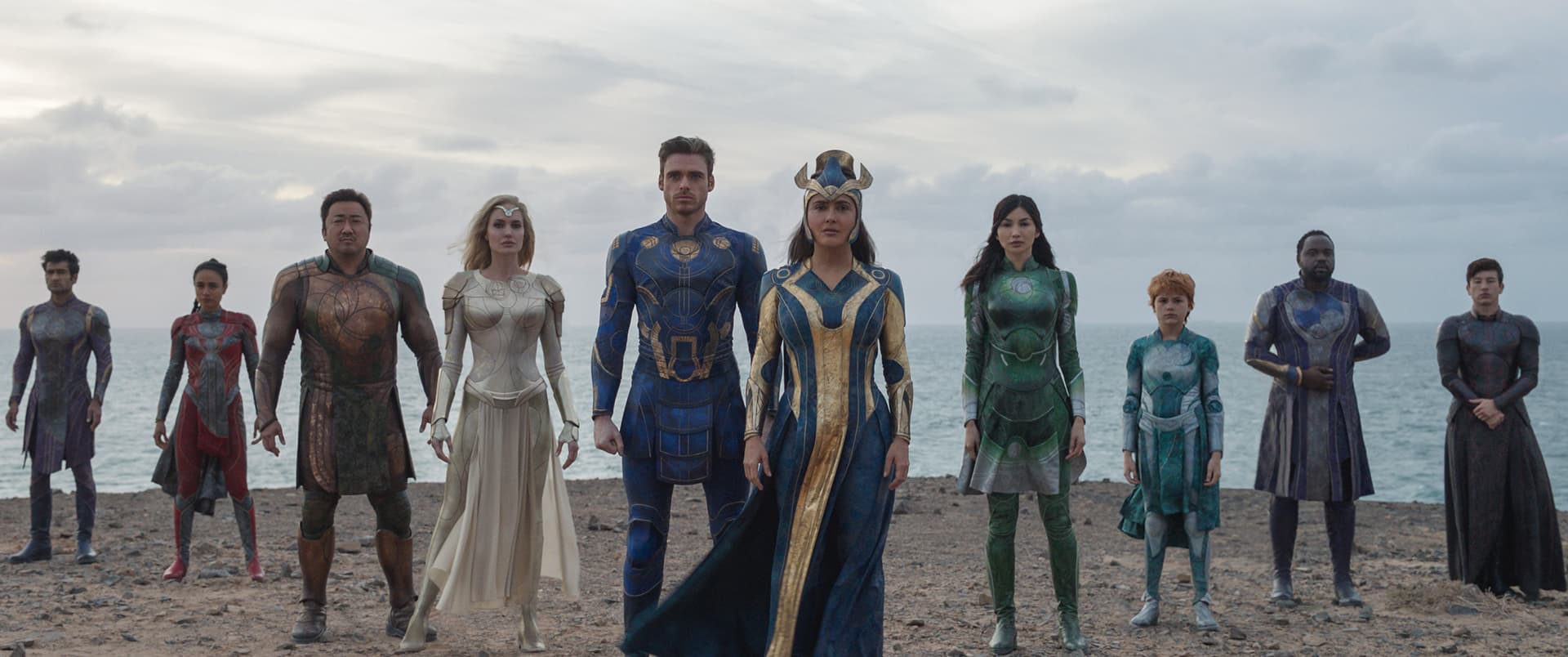 In a brand-new featurette released earlier today, Marvel Studios president and film producer Kevin Feige states, "Eternals are these remarkably super-powered characters, but also a dysfunctional family unit."
Being a maternal figure of this dysfunctional family unit allowed Hayek to have a specific perspective. "It's a human way of seeing all these people; there's a level of love, of caring, and empathy," says Hayek. "I have a different relationship with each one of them like you do with your kids."
So who are each of the Eternals according to Salma Hayek?
"Kingo is the most vain of them all, and the attention seeker," laughs Hayek. "Thena is the mysterious [one] and you never know what's going to come out of her. She's the strongest, and in some ways, the more fragile, and that's the beauty in her out. This is why I watch out for her."
"Ikaris is the perfectionist," adds Hayek. "He has to do everything perfect. He's the obsessive compulsive one of the family. And then Gilgamesh is the one with the good heart, the kindest one with the good heart. And I know my Sprite has an attitude, and is sarcastic, and a little bit of a smartass sometimes. Then Druig, oh my god, Druig is the dark one that is always overthinking everything that asks a hundred questions."
"Makkari is the one that has to know everything; has to know all the facts," Hayek continues. "Phastos might have to limit the technology time because if I don't pull him out of that, he can just stay there until he dies. Sersi is my sweet, lovely girl. Sometimes if you're lucky and you have many kids, you have that one that is just kind, and loving and polite and sweet."
As the wise and spiritual leader of the group, Ajak holds a crucial power and task that the other Eternals don't. "I control the information," says Hayek. "I decide what to tell them when I tell them because I'm the only one that can talk to the Celestials."
The familial bond extended off-screen as well. "When we're all together, it really felt like a family," reflects Hayek.
Marvel Studios' Eternals opens in theaters this November 5, 2021! Get tickets now!
Want more Eternals? Follow @TheEternals on Twitter, @Eternals on Instagram, and Eternals on Facebook for the latest on Eternals as it develops!
Want to stay on top of everything in the Marvel Universe? Follow Marvel on social media—Twitter, Facebook, and Instagram—and keep watching Marvel.com for more news!
The Hype Box
Can't-miss news and updates from across the Marvel Universe!