Movies
Published September 8, 2021
The Women of 'Shang-Chi and The Legend of The Ten Rings' on Owning Their Power
In the words of Michelle Yeoh, they're all "warm, adorable, kickass goddesses."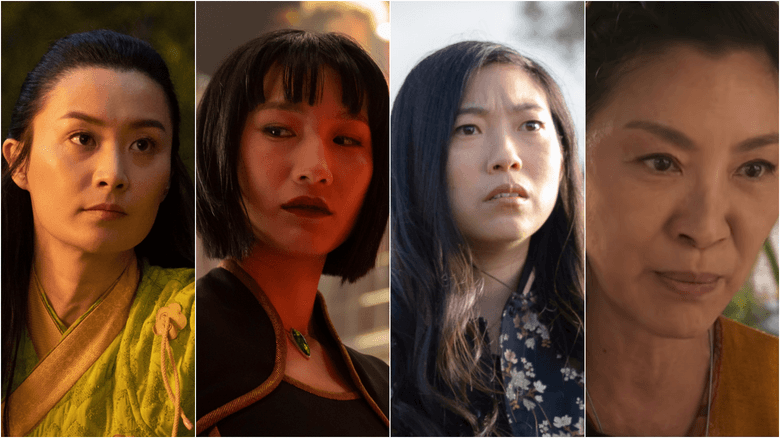 Shang-Chi might rise as the latest Marvel Hero in Marvel Studios' Shang-Chi and The Legend of The Ten Rings, but he's not the only one. Fighting alongside him and giving him strength (both physical and emotional), are a group of strong, powerful women — or as Michelle Yeoh calls them, "warm, adorable, kickass goddesses."
During Shang-Chi's quest to find himself (and stop his father Wenwu and the Ten Rings organization), he's aided by his closest and oldest friend Katy (Awkwafina); his estranged, take-no-prisoners sister, Xialing (Meng'er Zhang); his warm and inviting aunt in Ta Lo village, Ying Nan (Michelle Yeoh); along with the influence and love of his mother, Ying Li (Fala Chen), gave him at an early age. As Simu Liu, who plays the titular Shang-Chi, puts it, "One badass hero after another, and all so incredible. And they all shine in their own ways."
Rounding out Shang-Chi's journey with these women was always part of the plan, as director Destin Daniel Cretton tells Marvel.com, "They're all on their own journeys as well. They're not just supporting characters to Shang-Chi's journey. They all have their own stories that are happening in this movie and that are clearly going to happen in the future by the time this story ends." Pulling inspiration from his own three sisters and his wife, he cites them with providing "so much inspiration for these characters that are, in my opinion, some of the most badass characters in the movie."
"It was truly, truly a joy to be surrounded by these incredible women," Liu says. "Just watching it all unfold together has been really incredible. I can't wait for the world to see not only Shang-Chi, but also the women that surround him. That's a part of what makes this movie so important from a diaspora perspective; it's not really just one Asian character. It's so many different ones. Men, women, heroes, fighters, friends. They all represent a small piece of the Asian and Asian-American experience. And because we have so many characters, we're able to really flesh out what that really is."
Yeoh might be the name most associated with previously kicking butt, thanks to her wide-range of roles across film and television. When the opportunity to join the Marvel Cinematic Universe came along again (she previously played the role of Aleta Ogord in Marvel Studios' Guardians of the Galaxy Vol. 2), she jumped at the chance. "I really wanted to be part of the Shang-Chi journey experience, the first Asian origin Super Hero film because it is so important for all the Asians globally — this generation, future generations to be able to look up at the silver screen and go like, 'Hey, I can be a Super Hero. That's me right there.'"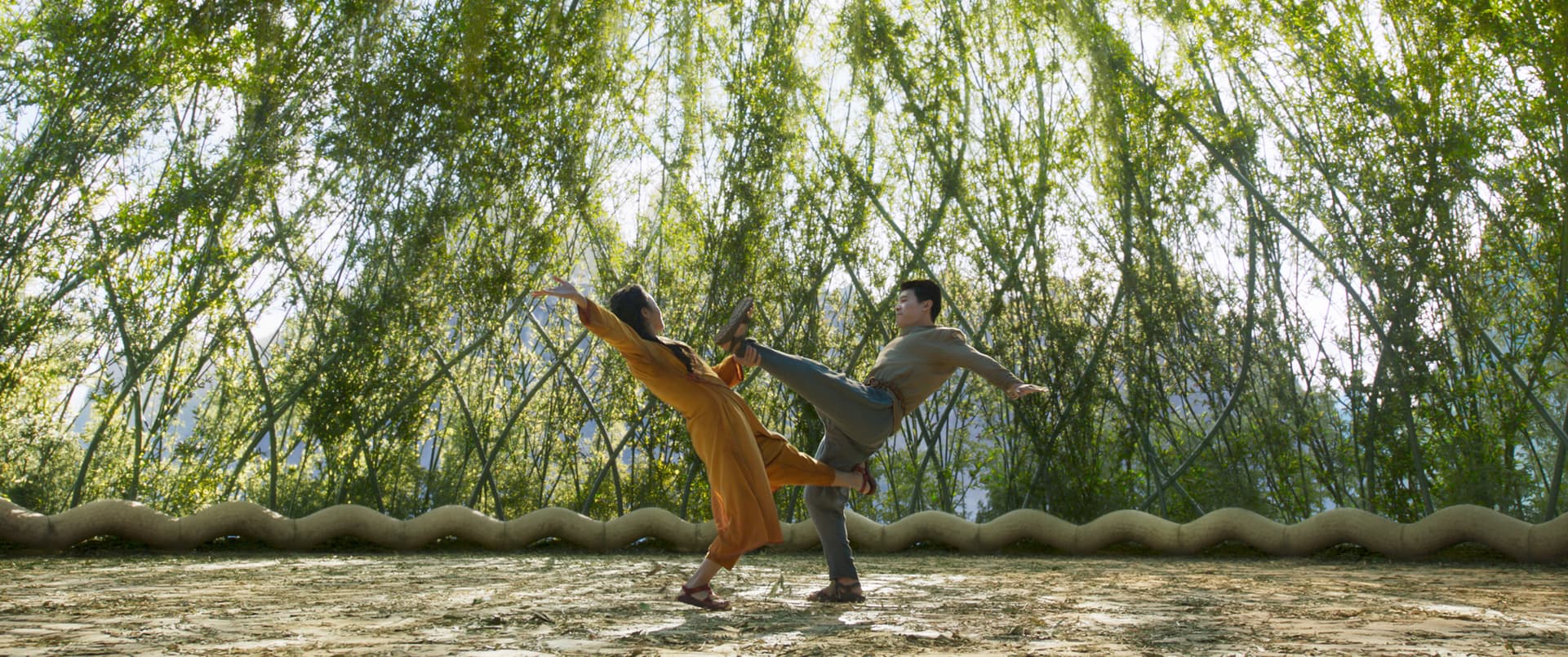 "I watched [Michelle's] films prior to working with her on this one, and she played a lot of serious characters," Zhang adds. "I thought she would be very serious, but actually she can be pretty goofy. She's really fun. She's such a unique soul. I really adore her."
Zhang also loved working alongside Awkwafina, calling her co-star, "the coolest girl I have ever met."
"It was pretty intimidating doing improv alongside her because she comes up with ideas so quickly. I want to do more with her because I learned so much from her and I had so much fun. I tried so hard to not laugh doing those scenes with her."
Their first filming scene together was the scaffolding fight, which involved "the two of [them] smashing into the wall" again and again as Zhang explains. And while Awkwafina enjoyed getting into the fray, she knows Katy's limits. "I would say that Katy's [fine watching] them kick butt while she operates a bus," she adds, alluding to the character's first major action scene in the movie, where she jumps behind the wheel of a runaway bus.
However, Katy herself gets into the melee in more ways than one – remember, she also takes a car for a joy ride at the beginning of the movie — and arriving in Ta Lo, she finds herself learning archery. It was something Awkwafina had never done before, but soon began to enjoy it.
"Taking up archery was intense. It's not easy, but one that I actually personally really got into it. It's very calming, there's a lot of focus, and it's not necessarily what you think it is. It was really cool, especially because we learned archery from this specific, ancient [practice]. We had this team of Mongolian archers that were so good and they shot on horseback, so we learned a lot of the historical context of it."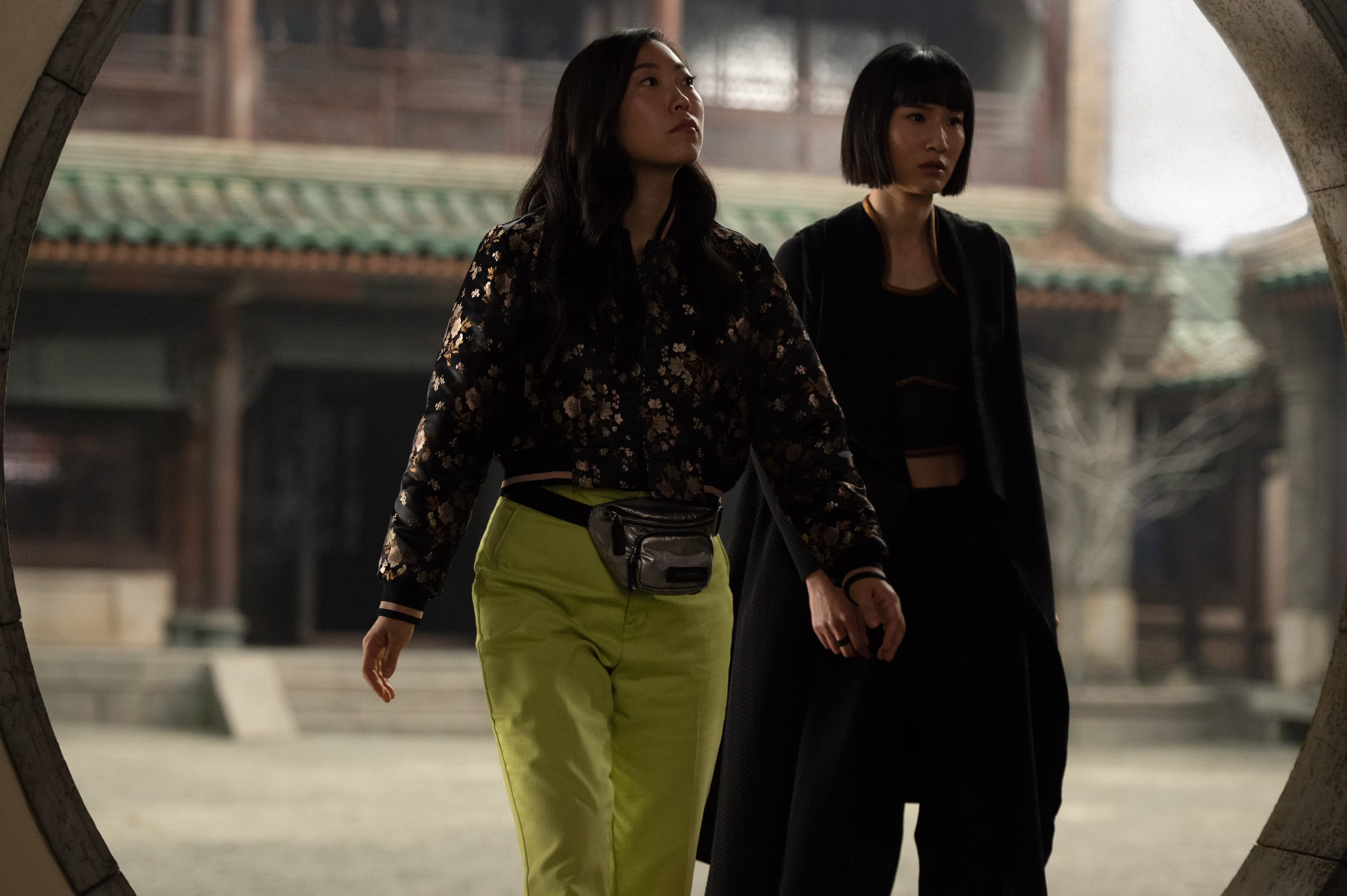 Speaking of history, everyone finds themselves immersed in it in Ta Lo, the birthplace for Shang-Chi and Xialing's mother, Li. Though she's not present in these scenes, her presence is certainly felt as she instilled strength and courage in her children at a young age — something they both need right now.
"Destin really created this world where we get to see a lot of amazing women and that they each have very unique powers," Fala Chen explains. "For Li, her power lies in not only just her physical form and her physical energy, but she has this strength of being very confident, very independent. At the same time, she seems to be all-knowing in many ways."
She certainly knew enough to prepare her children for future obstacles, like fighting off their father and the whole Ten Rings organization. That's where Yeoh's Nan comes into play, and while she's a fierce fighter in her own right, she's also completely grounded and centered and a welcomed force.
"I love the way she makes and helps her sister's children understand what is their role, who they really are, and why they have to accept themselves and embrace themselves," Yeoh explains. "If you keep running away, you will never be able to fulfill and reach your true abilities. She brings the family together. She gives the people in Ta Lo a deep understanding of what their duties are."
On the inhabitants of Ta Lo displaying equity, Yeoh states it's a mirror of the world we live in, "It's a reality. Why do we have to fight against the reality of what is around us? Because we are surrounded by badass, talented, amazing women."
So while a new Marvel Hero rises with Shang-Chi, four brand new Women of Marvel rise right alongside him.
"All these women represent different facets of what a woman is," Yeoh continues. "We're strong, we're independent, and we're smart. We have abilities, and we won't allow anybody to tell us any different. And we will go out on a limb to do what we need to do, whether it is to protect, defend ourselves or the people that we love. That's what it takes it is to be a woman."
Experience Shang-Chi and The Legend of The Ten Rings in theaters now. Get tickets!

Discover more Shang-Chi on Facebook, Twitter, and Instagram! 
The Hype Box
Can't-miss news and updates from across the Marvel Universe!