Movies
Published April 27, 2022
EXCLUSIVE INTERVIEW: Xochitl Gomez on Embodying America Chavez and Journeying into the Marvel Cinematic Universe
Explore the Multiverse with fan-favorite America Chavez in 'Doctor Strange in the Multiverse of Madness' this May 6!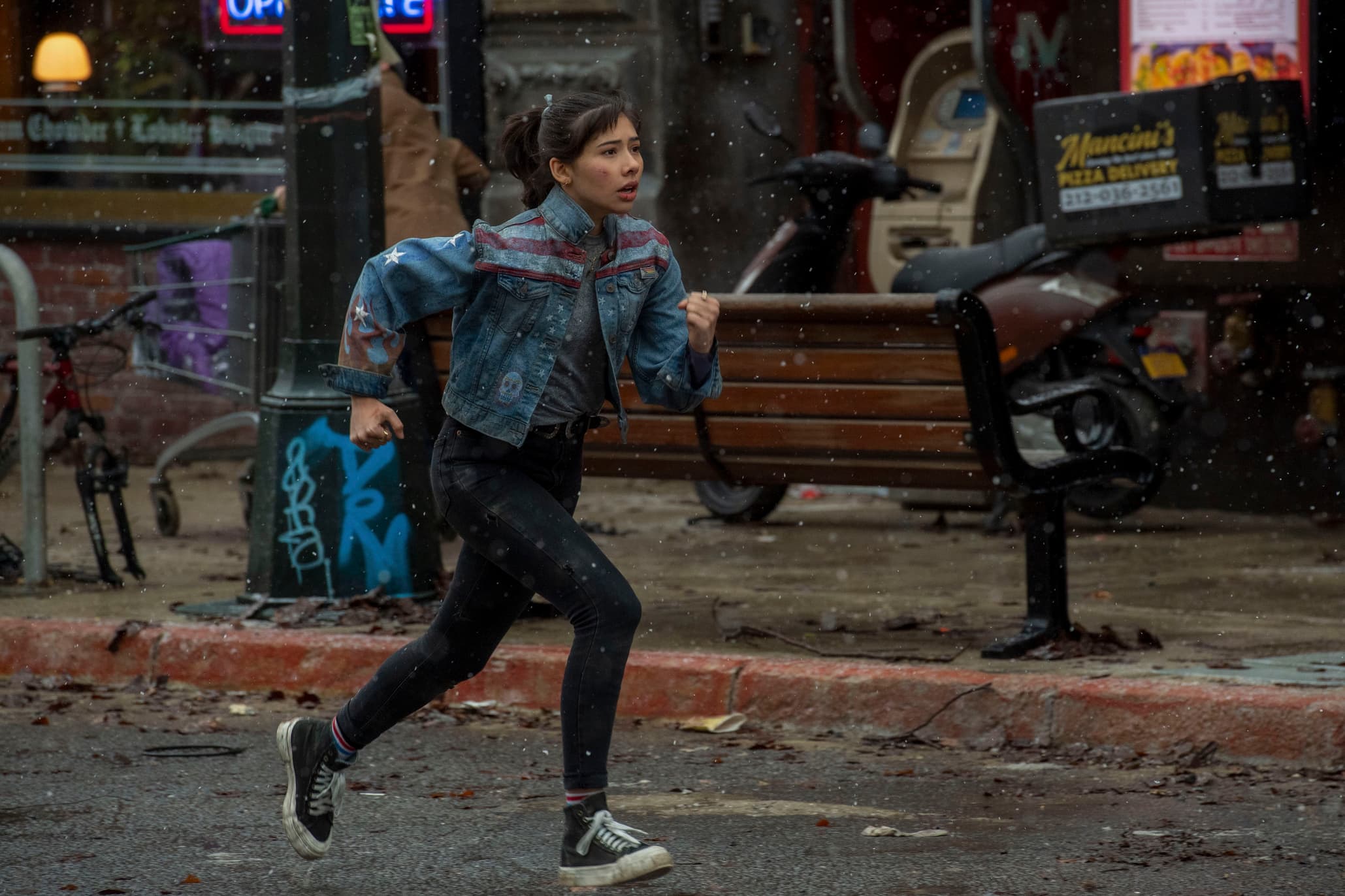 In two weeks, get ready to witness Marvel Cinematic Universe newcomer Xochitl Gomez punch star-shaped holes in reality and travel through the Multiverse when Marvel Studios' Doctor Strange in the Multiverse of Madness opens exclusively in theaters on May 6.
Gomez began her trek into the MCU back in February 2020 when she was only 13 years old auditioning for an unknown role. Her second audition came six months later where she deduced the project was related to Doctor Strange because the term 'sorcerer' was referenced in the audition script.
Speaking exclusively to Marvel.com, Xochitl Gomez details her journey into the mind-bending MCU with Doctor Strange in the Multiverse of Madness.
Recalling the moment her universe would open up in a gargantuan scale, Gomez shares how her agent Stella Alex "tricked" her by having her log onto Zoom to show her something two days after she returned home from testing in the UK. "Once I logged on, Stella was on the phone with [casting director] Sarah Finn," shares Gomez. "She said she had something big to tell me, and said, 'Xochitl, welcome to the MCU! You are America Chavez.' I was so shocked and frozen. It took me a couple weeks to process the news."
On the casting process and finding their ideal America Chavez, Victoria Alonso, President, Physical and Post Production, Visual Effects, and Animation Production at Marvel Studios, and the film's executive producer, explains, "We went through a very extensive search process with the Sarah Finn Company and her team, and after meeting with hundreds and hundreds of young women, we landed on Xochitl – who was the best choice for the character."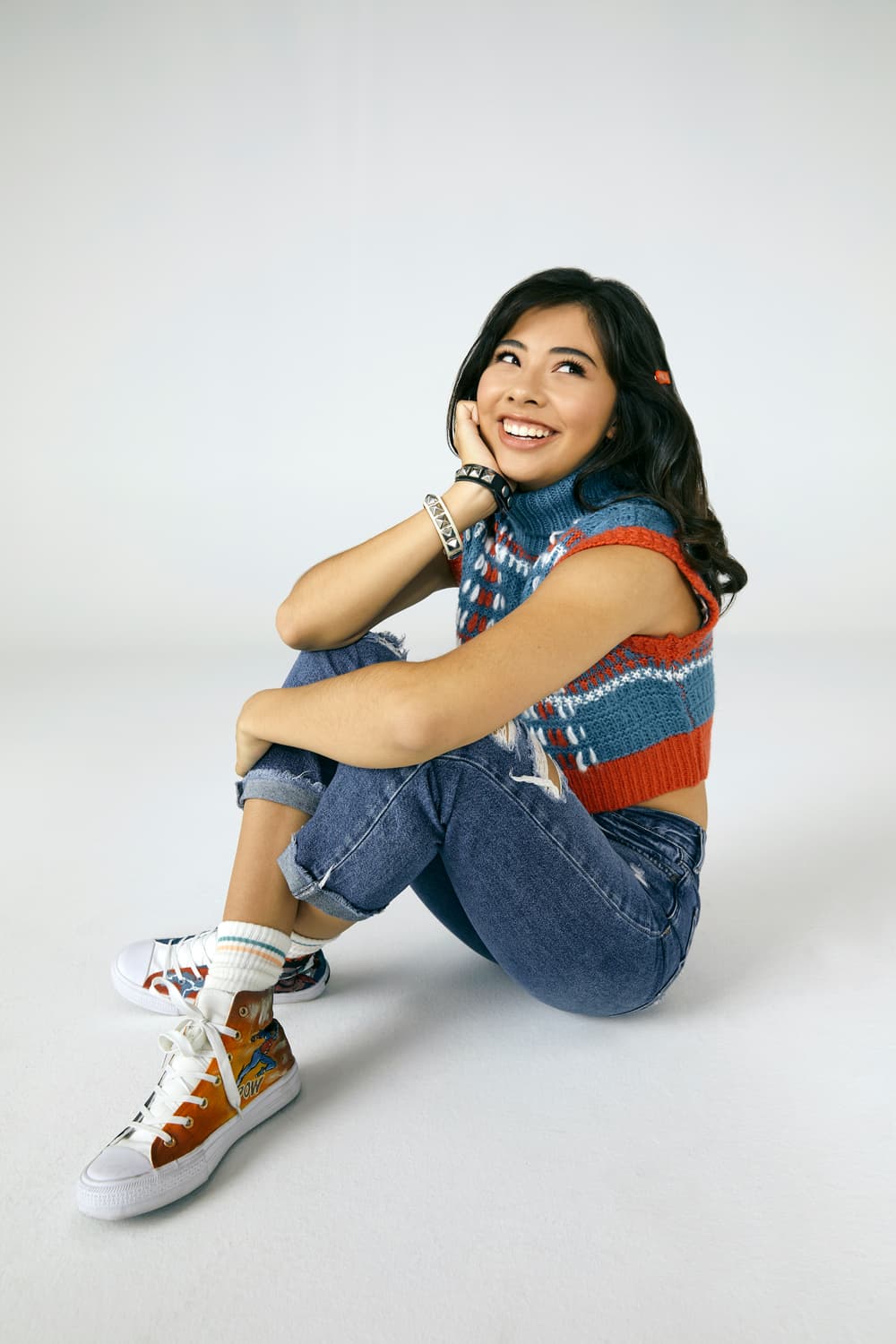 "We were thrilled to have found someone who could embody the character with a fresh look at who America Chavez could be, and who could stand up in performance alongside the likes of Benedict Cumberbatch, Benedict Wong, and Elizabeth Olsen," adds Alonso. "With Xochitl, there was a cheekiness about her. There was a spark in her eye. We saw the defiance of America Chavez in her."
Gomez would soon be immersing herself in the world of fan-favorite comics character America Chavez. Created by Joe Casey and Nick Dragotta, America Chavez made her debut in the comic pages with VENGEANCE #1 in 2011 before starring in her ongoing series AMERICA in 2017 by Gabby Rivera and Joe Quinones. The 2017 series would mark Marvel's first Latinx LGBTQ+ character to helm an ongoing series. This characterization follows her to the MCU.
Upon discovery that she would be introducing America Chavez to the MCU, Gomez dove straight into the comics and "instantly fell in love with her," noting her character's confidence as a stand-out trait and just "a total baddie." Gomez loves how the filmmakers were at times loyal to the comics, but also presented a new introduction to the fan-favorite character by making her 14 years old, younger than the character has been seen in the comics, in Doctor Strange in the Multiverse of Madness.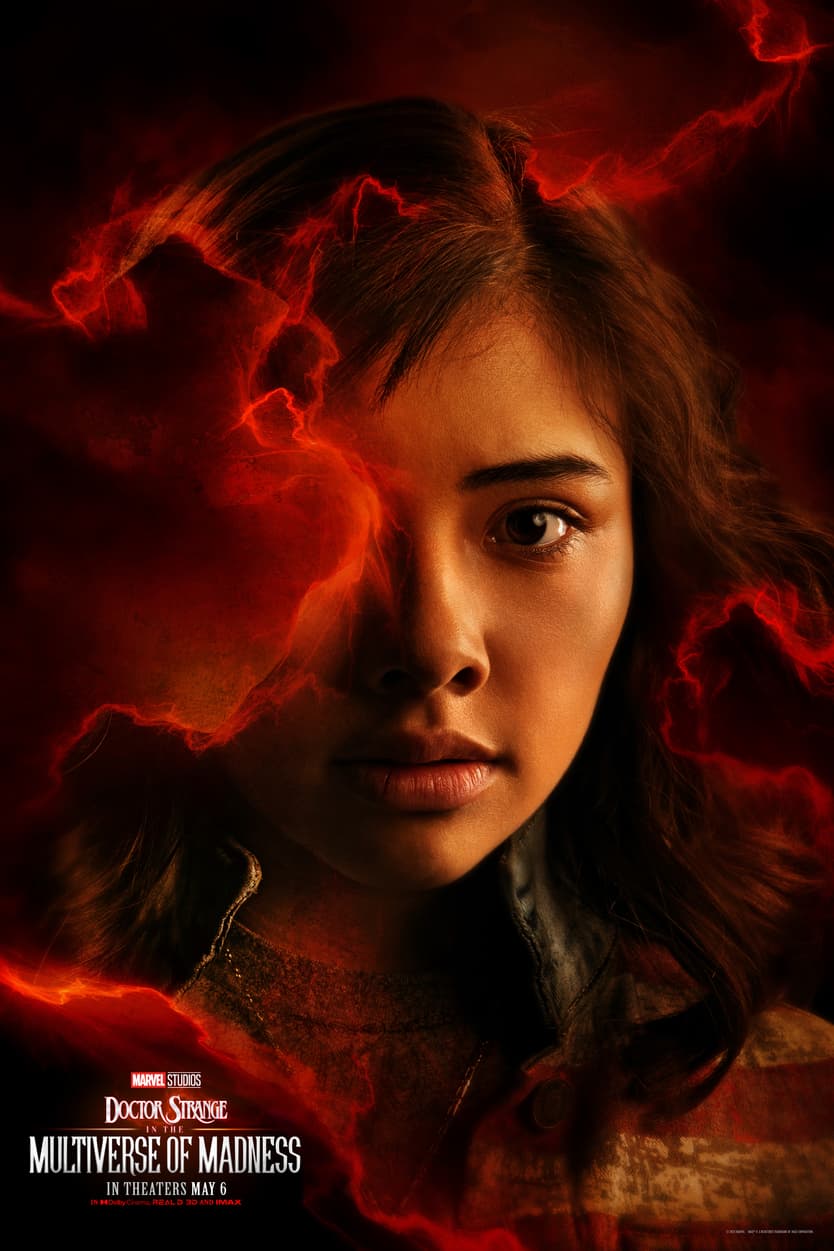 [RELATED: America Chavez | Marvel 101]
"You can definitely see the beginning stages of what future America might become," reflects Gomez. "I took stuff that was in the comics, and kind of lightened it up since she's less experienced. She's younger than any of her known appearances in the comics, and I think you can see that. It was a fun challenge exploring what a younger and less experienced America might be, but also hinting towards the serious leader she would soon become. I wanted to keep that kid energy and a little bit of that fake-it-till-you-make-it confidence."
On the significance of America Chavez's presence in the MCU, Alonso reveals, "This character was important to me for many personal reasons, but also because it was important that we make the effort to have every kid in this world represented in our universe, and she represents both the LGBTQ+ and Latinx community. It's the type of character I've been waiting to see us have since we started this journey with Iron Man back in 2008. I'm so happy she is part of the MCU family, and I know she will be a great addition."
Thankfully for Gomez, she had several MCU veterans, including Benedict Cumberbatch, Elizabeth Olsen, and Benedict Wong, guiding her on this epic adventure in the MCU. Gomez recalls one powerful piece of advice Olsen, who portrays Wanda Maximoff/Scarlet Witch, gave her. 
"Lizzie told me to never be shy and give my feedback and suggestions, that Marvel really means that when they say they want your input. I definitely took that advice," states Gomez. "I'm obsessed with details. I chimed in on my character, and it was really rewarding when I would actually see my feedback make it into a scene." Given Gomez's Mexican heritage, the creative team also felt it only natural to pull some of those influences into the MCU's introduction of the character.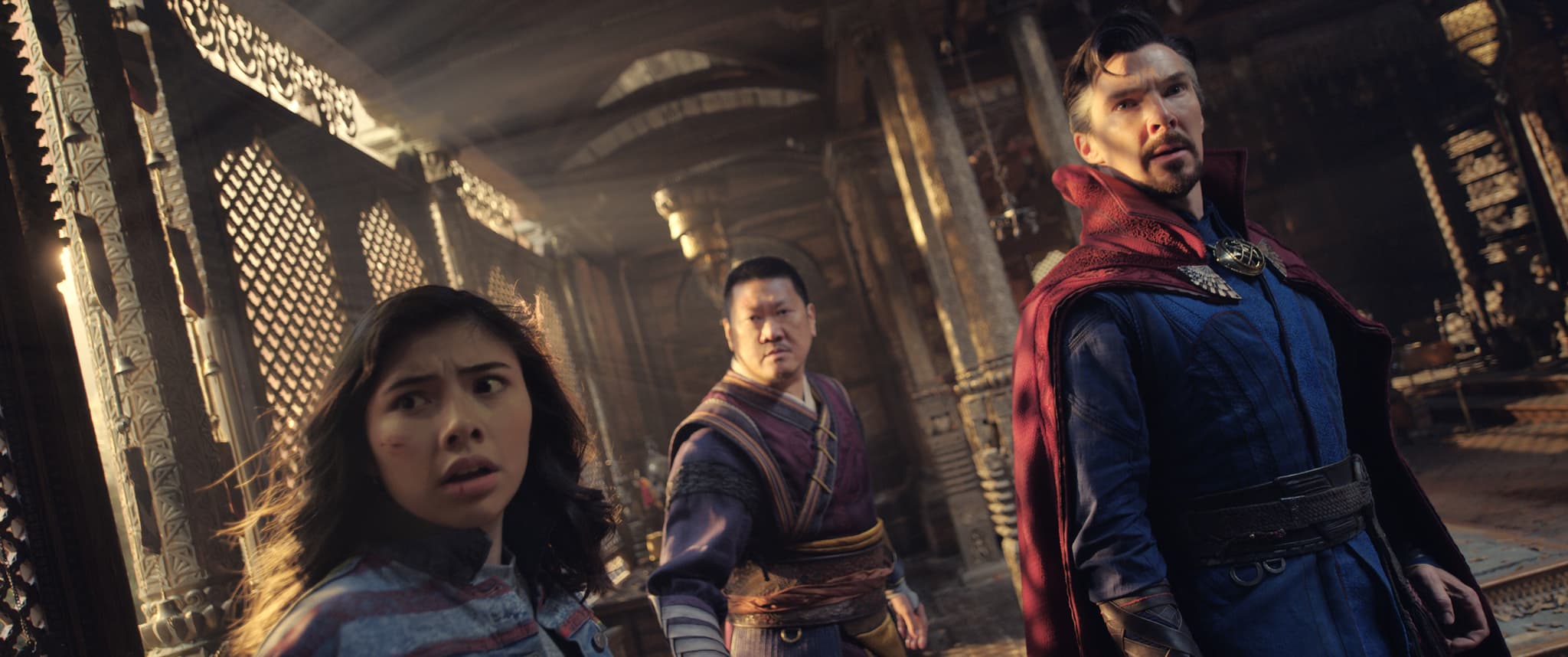 [RELATED: How America Chavez Shaped Her Latinx Identity]
As for America Chavez's introduction into the MCU, Gomez teases that the film opens with her "literally running for her life in the gap junction space between universes with Doctor Strange."
In the MCU, America Chavez is a young girl from outside of our Multiverse – specifically, the Utopian Parallel, a singular dimension unlike anything we've ever known. America is being hunted for her power – the ability to open star-shaped holes in reality, allowing her to travel through the Multiverse and into other realities. 
America opened her first portal as a child, and has spent years traveling through the Multiverse since she first fell into a universe that bears a resemblance to ours. During her accidental travels, she's traveled across 72 universes, on a journey to find control over her powers. 
Speaking more broadly, Gomez shares, "America's journey is about learning to trust others. My take is that America can always trust herself since she was alone for so long and she's a survivor. Her journey is about allowing others to help her be what she's capable of."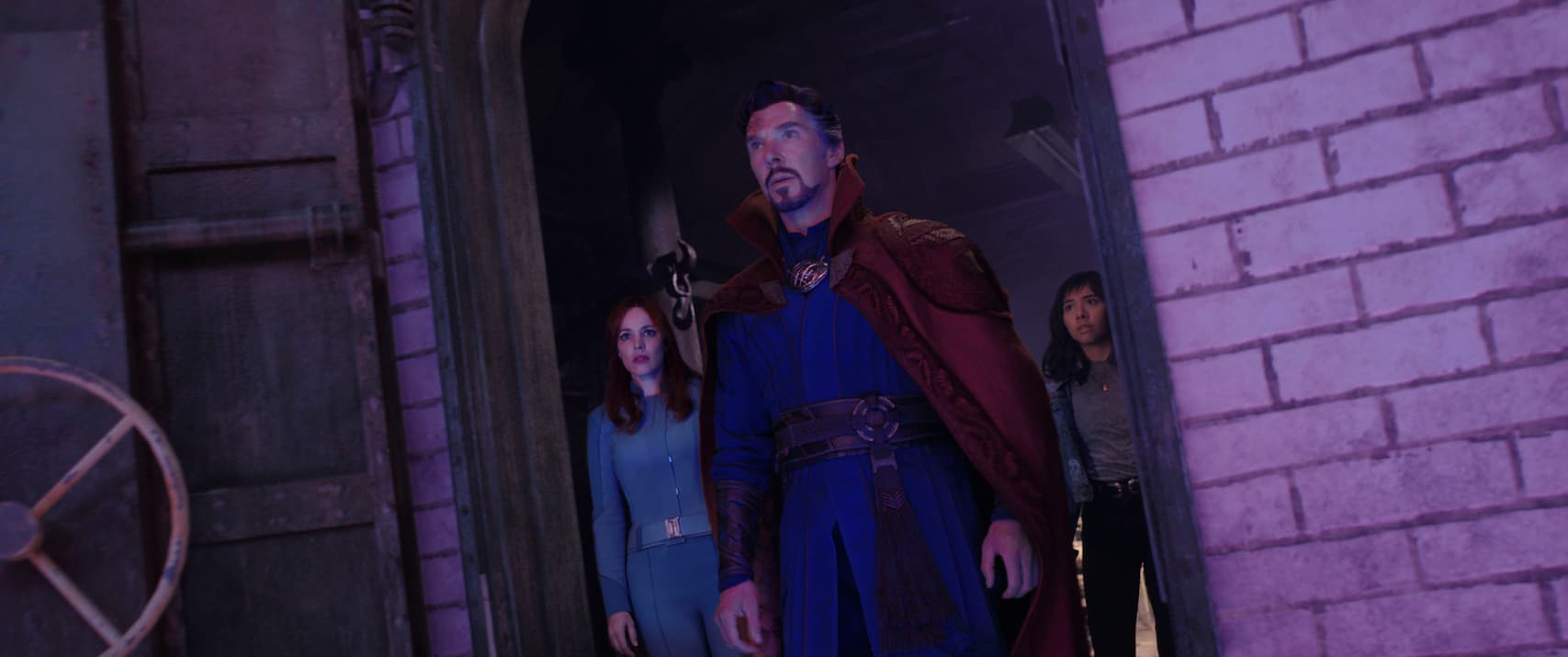 [RELATED: The Power of Voice: America Chavez]
Touching upon many who feel represented by the presence of America Chavez, Gomez shares, "It's so cool that fans will get to see a young person in the middle of a big story like this, and know that things that happen in our kid lives are important because it shapes who they'll become when they're older as adults," before adding, "It's exciting that we will hopefully get to see more of how things play out for America in the future."
"[America] is a young Latina who is part of the LGBTQ+ community, and has great power," adds Alonso. "Children want to see themselves represented. There is this level of identity that comes to be a very important moment in an adolescent's life – to see themselves; to not be invisible."
Marvel Studios and Gomez were quick to note that Doctor Strange in the Multiverse of Madness is not America Chavez's origin story. We're just scratching the surface on who this Multiversal traveler is, and the hope is to show more of who America is in future stories.
For now, Gomez cheekily teases, "America is living her best life."
Fans will definitely witness the start of America's journey and more in two weeks when Doctor Strange in the Multiverse of Madness opens in theaters on May 6.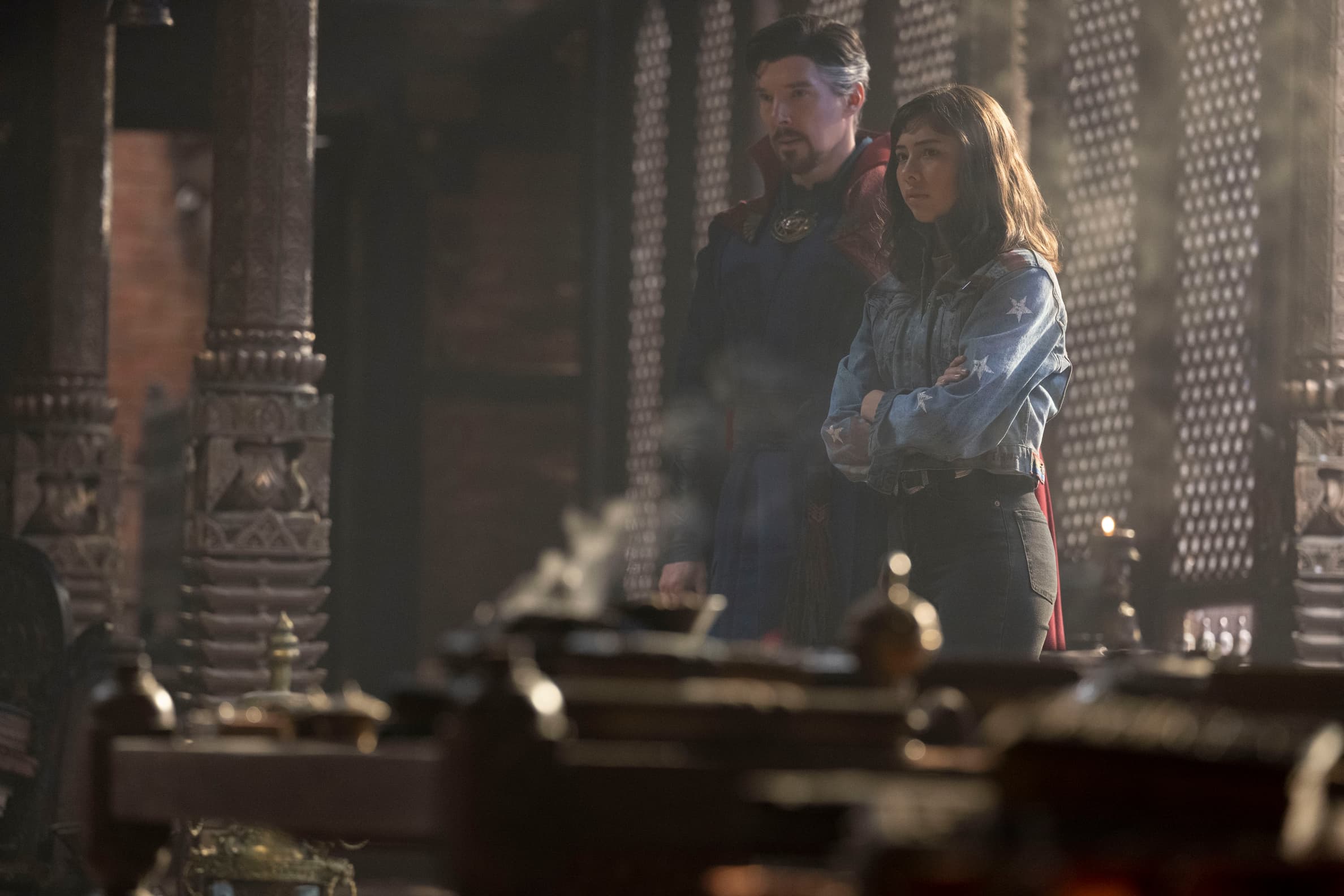 [RELATED: Who is America Chavez!?]
In Doctor Strange in the Multiverse of Madness, the MCU unlocks the Multiverse and pushes its boundaries further than ever before. Journey into the unknown with Doctor Strange, who, with the help of mystical allies both old and new, traverses the mind-bending and dangerous alternate realities of the Multiverse to confront a mysterious new adversary.
Doctor Strange in the Multiverse of Madness stars Benedict Cumberbatch, Chiwetel Ejiofor, Elizabeth Olsen, Benedict Wong, Xochitl Gomez, with Michael Stühlbarg, and Rachel McAdams. The film is directed by Sam Raimi, and Kevin Feige is the producer. Louis D'Esposito, Victoria Alonso, Eric Hauserman Carroll and Jamie Christopher serve as executive producers. The screenplay was written by Michael Waldron.
Doctor Strange in the Multiverse of Madness arrives in theaters May 6, 2022. Advanced tickets now available!
Make sure to follow @DrStrange on Twitter and @DoctorStrangeOfficial on Instagram, and like "Doctor Strange" on Facebook for all the latest news and updates.
The Hype Box
Can't-miss news and updates from across the Marvel Universe!