Podcasts
Published March 9, 2020
Celebrating the 'Women of Marvel' Podcast
Co-hosts Judy Stephens and Angélique Roché look at the past, present, and future of the show!
Hey Marvel Insiders – did you know reading this article could earn you 250 points?  All you need to do is sign in or join now before you keep reading!
Take a guided tour of Marvel's mightiest creators with Marvel Tales! Ben Morse, currently a visiting lecturer at UNLV, previously spent a decade working within the House of Ideas. In each installment of this series, he utilizes that insider knowledge—plus his lifelong fandom—to connect with comics professionals as they spin stories about the Marvel Universe and its inhabitants!
In 2009, the House of Ideas presented the very first Women of Marvel panels at New York Comic Con and San Diego Comic-Con, highlighting women at the forefront of changing the game in the comic book industry. Five years later, Judy Stephens and Sana Amanat spearheaded the Women of Marvel podcast, which has now been going strong for over 200 episodes.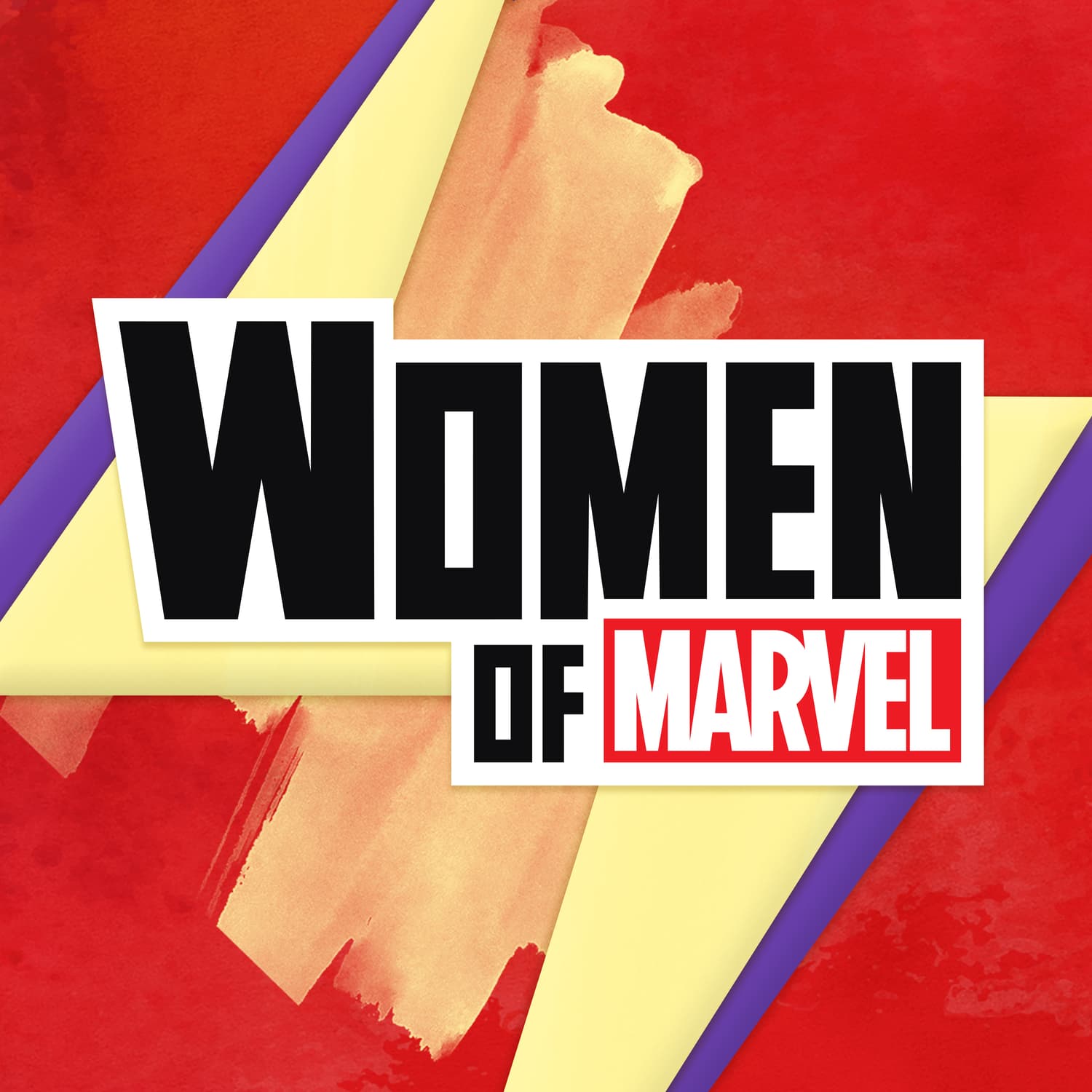 In recognition of Women's History Month as well as International Women's Day, we spoke with Judy and Women of Marvel's newest host, Angélique Roché, about their personal histories, how they contribute to the Marvel Universe, and what's coming next.
What do you do both at Marvel and for the Women of Marvel podcast?
Judy Stephens: I'm a producer for the Marvel New Media team and work on several series, including Marvel Becoming, Marvel Make Me a Hero [and] Marvel Minute, featured on Marvel.com and Marvel's social channels. For the [Women of Marvel] podcast I am a host and producer, being one of the original founding members almost six years ago. I work with my fellow audio producers, Becca Seidel and Zachary Goldberg, plus our entire audio team, to brainstorm future episode ideas, including guests, and then [I'm] one of the three voices for the show.
Angélique Roché: I am the host Marvel's Voices, a contributor on Marvel.com, and one of the co-hosts of the Women of Marvel podcast.
Where did the idea for Women of Marvel come from?
Stephens: The podcast came from our successful panels at SDCC and NYCC; we wanted to continue the conversation.
What were the goals of Women of Marvel starting out? How would you sum up your work over the years?
Stephens: Advocate and give a voice to the women who work at Marvel, from the writers, artists, employees, and more. Over the last five years and 200 episodes, I believe we have continued the dialogue started back at our first panel in 2009, and brought a light to the diversity in comics, especially as women have always been here!
How has Women of Marvel evolved over the years?
Stephens: The team! We started out with just a few of us to do a mountain of work, and now we have an amazing team that I and the other hosts can rely on to help make our podcast even better!
How did you first become a comic book fan?
Roché: My now brother-in-law actually introduced me to comics while he and my sister were still dating in college. I was 10 or 11-years-old and I was instantly drawn to a milk crate full of X-Men comics. My dad would later get me my first comic book for Christmas the next year.
Stephens: I grew up reading the comics in the weekend newspaper, which is my first experience of Spider-Man. But it was through Manga, and a past boss here at Marvel, that I fell in love with comics, as he introduced me to the many different varieties.
What is the first Marvel comic you remember reading?
Roché: I can't exactly remember but it was something out of that crate and it was definitely X-Men...
Stephens: I'm not sure it was the very first, but ULTIMATES (2002) #1 is the book that got me hooked!
What were the Marvel characters, creators, and stories that influenced you as you grew up?
Stephens: As I'm an only child, I didn't have much access to Marvel characters, but I do remember racing home to watch the X-Men animated show. I loved that the mutants were weird and just didn't fit in, which is how I felt.
Roché: Like most folks, I was addicted to the X-Men animated series and in particular I loved Gambit. I know, not what anyone was expecting, but being from Louisiana this was the first time I heard a Super Hero with a "local" accent and it was kind of a big deal for me.
Who was the first prominent Marvel woman that resonated with you as a fan?
Roché: Rogue.
Stephens: Mystique. I loved that she was weird, especially her skin color, and that she didn't care. Plus I loved how she blurred the lines between hero and villain.
What about the first woman on the creative side that you connected with?
Roché: Louise Simonson.
Stephens: Christina Strain. I met her way back in the late 2000s when she was coloring RUNAWAYS, and she was the first creator that remembered my name, and always said hi when I went through artist alley. Plus we both did anime cons.
What steps did you take to get involved in comics?
Stephens: Although not my real intention to stay here for 14 years, I applied to be an intern here at Marvel in winter of 2006 because a friend suggested I would like Marvel per my passion for anime and Manga.
Roché: I mean, my path is really interesting. I actually went to law school and worked in politics before I started working at Marvel but I will say that even while working in politics I used my journalism degree to continue writing cultural and entertainment pieces about movies, TV, comics, and other topics "in genre" including pieces about some of my favorite Marvel characters. I obviously also continued being a huge fan of all things Marvel.
What is your favorite thing about your job?
Roché: Being able to work with and talk to the incredible artists and fans that make the Marvel Universe so special and unique.
Stephens: Being able to experience the impact that we can have on fans, from making fans into heroes on Marvel Make Me a Hero, or telling their stories on Marvel Becoming. It's that moment at conventions and via social media that I realize what we do really matters.
How do you feel the presence of women characters and creators has improved at Marvel over the years? And more importantly, what still needs to happen?
Roché: The greatest thing about the Marvel Universe is that it is a reflection of possibility and I think the Marvel Universe continues to grow, evolve, and reflect the stories that readers relate to and love. That includes stories that give an in-depth perspective of women characters that are strong, powerful, complex, and fully actualized.
Stephens: I do believe we have made tremendous leaps over the many years, but we can only keep moving forward, especially as there are still so many more unique stories to be told.
The Women of Marvel podcast assembles to chat all things Marvel and more! New episodes are released every other Thursday, co-hosted by Sana Amanat, Judy Stephens, and Angélique Roché. You can find Women of Marvel on Marvel.com/podcasts and Apple Podcasts.
The Hype Box
Can't-miss news and updates from across the Marvel Universe!