Podcasts
Published May 14, 2019
Get Spider-Man's Life Story on Marvel's Pull List
Preview this week's new Marvel Comics!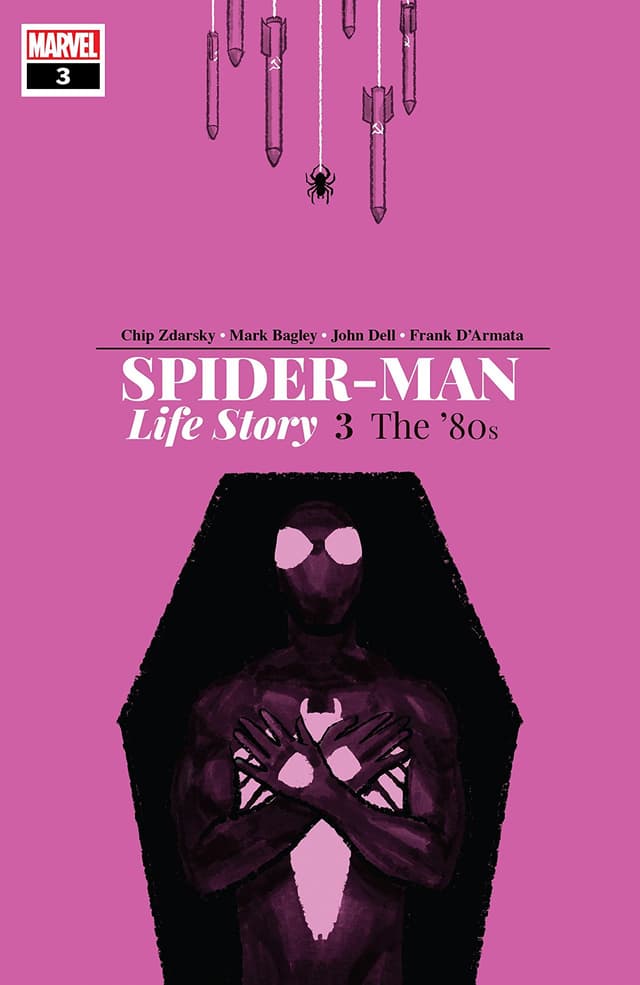 Just like another day in the life of the ol' Web-Head, the hits keep coming on this week's Marvel's Pull List!
In this installment, Ryan and Tucker celebrate stories that just don't quit in May 15's new comic books, including IMMORTAL HULK #17, SPIDER-MAN: LIFE STORY #3, WAR OF THE REALMS #4, and more! Dig into the full audio episode below, then head to your local comic shop tomorrow to read!
Here's the full list of what's available from Marvel Comics this week...
MARVEL PRINT COMICS ON-SALE (5/15/19)  
AGE OF X-MAN: NEXTGEN #4 
AGE OF X-MAN: THE MARVELOUS X-MEN #4 
AMAZING SPIDER-MAN #21 
BLACK WIDOW #5 
DAREDEVIL #5 
GIANT-MAN #1 
GUARDIANS OF THE GALAXY #5 
IMMORTAL HULK #17 
IRONHEART #6 
MARVEL TALES: IRON MAN #1 
OLD MAN QUILL #5 
SPIDER-MAN & THE LEAGUE OF REALMS #1 
SPIDER-MAN: LIFE STORY #3 
STAR WARS #66 
STAR WARS: AGE OF REBELLION - LANDO CALRISSIAN #1                 
STAR WARS: TIE FIGHTER #2 
UNCANNY X-MEN #18 
WAR OF THE REALMS #4 
WAR OF THE REALMS STRIKEFORCE: THE WAR AVENGERS #1 
COLLECTIONS ON SALE 
AMAZING SPIDER-MAN EPIC COLLECTION: ASSASSIN NATION       
CAPTAIN MARVEL: STARFORCE   
IMMORTAL HULK VOL. 3: HULK IN HELL                 
INVINCIBLE IRON MAN MASTERWORKS VOL. 12                 
LEAGUE OF LEGENDS: ASHE - WARMOTHER          
STAR WARS: AGE OF REPUBLIC - HEROES                              
STAR WARS: HAN SOLO - IMPERIAL CADET 
DIGITAL COLLECTIONS ON SALE THIS WEEK  
NEW AVENGERS BY BRIAN MICHAEL BENDIS: THE COMPLETE COLLECTION VOL. 1-5                           
ASGARDIANS OF THE GALAXY 3 
CHAMPIONS 26  
DEADPOOL 6 
DEADPOOL: SECRET AGENT DEADPOOL CMX DIGITAL COMIC 5 
DEATH OF INHUMANS 5  
DOCTOR STRANGE 7  
ICEMAN 3  
IMMORTAL HULK 8  
INFINITY WARS 5  
IRON FIST: MDO DIGITAL COMIC 2 
MARVEL KNIGHTS 20TH 1  
MARVEL SUPER HERO ADVENTURES: CAPTAIN MARVEL - MEALTIME MAYHEM 1 
RUNAWAYS 15  
SHATTERSTAR 2 
SPIDER-GEDDON 3  
STAR WARS 56  
STAR WARS: HAN SOLO - IMPERIAL CADET 1  
TYPHOID FEVER: X-MEN 1  
WEAPON X 25  
X-23 6  
X-MEN: RED 10  
SAVAGE SHE-HULK          15-25          1980 
MARVEL TWO-IN-ONE    88           1974 
THUNDERSTRIKE              1             1993 
UNCANNY X-MEN            -1           1963 
WEB OF SCARLET SPIDER              1-4             1995 
Download the episode from Marvel.com/podcasts and subscribe to the show on Apple Podcasts right now!
The Hype Box
Can't-miss news and updates from across the Marvel Universe!