Podcasts
Published August 12, 2019
Listen to Chapter 7 of 'Marvel's Wolverine: The Lost Trail' for Free
Get a recap of the previous episodes before diving into the latest chapter!
Every Monday, new episodes of Marvel's Wolverine: The Lost Trail are released for free! To mark each new episode, we're doing recaps and updating a map from last week's chapter.
But first, listen to the latest episode of Marvel's Wolverine: The Lost Trail right now! Get lost in Chapter 7, "Welcome to Greenhaven," below, then keep reading for more insights on previous episodes.
For a look at where we were before episode 7, we've deputized Marvel.com writer (and first-time listener) Amanda Ames to keep up with the action as it's released. Get caught up on what went down in Chapter 6 below...
A new trap lies hidden in the marsh but with fresh bait hung out to dry, Logan needs to step lightly or risk triggering a massacre.
With Marcus firmly in her grasps, Bonnie gathers the Cold Blooded and all their remaining resources for one last hunt—it's Bonnie's game now and there are no rules to follow. Too bad Agent Pierce doesn't take too kindly to being double-crossed. She has her orders, but will she follow them?
There's plenty of prey running about the bayou, and you never want to let a gator go hungry for long.
Bonnie and her gang set up shop at their hunting camp deep in the marshlands but before their trap can be sprung they fall under attack, and not by Logan. Agent Pierce has been listening in on Bonnie via Marcus' tracker and contacts Weapon X to inform them of the mutiny. Sensing what appears to be emotion in her plea to save Marcus, she's ordered to return to headquarters immediately, Weapon X will handle the situation in New Orleans without her.
Somehow Logan and Gambit manage not to kill each other (though not by much) long enough to go off together in search of Marcus. On the way, we learn there is a lot more to Logan's past that he doesn't remember; he and Gambit have a more intertwined history than he thought, but more importantly, Gambit can fill in some of the gaps in Logan's memory of Maureen. Unfortunately, he doesn't get much of a chance, the pair finally reaches the camp only to find a slaughter—Sentinels were here.
They search for Marcus in the wreckage when suddenly Gambit gets hit with a tranq dart. Somehow Bonnie survived the attack—for now—and has Marcus at knifepoint. She begins to explain why she hates mutants, and why they're a danger to society but just as Logan tries to tell her she needs help her own pet gator springs from the water and drags her down to the depths—seems a hungry gator doesn't discriminate. With Marcus out of danger the three set off once more for Green Haven, but just as Marcus is about to tell Logan about his tracker a fog rolls in and the two are caught up in another illusion.
Nothing is what it seems anymore, can Logan and Marcus cut through the haze to find Marcus' mom and the rest of the missing, or will their eyes be unable to see through the deception surrounding them?
Here's a rough sketch of the trail we've traveled so far.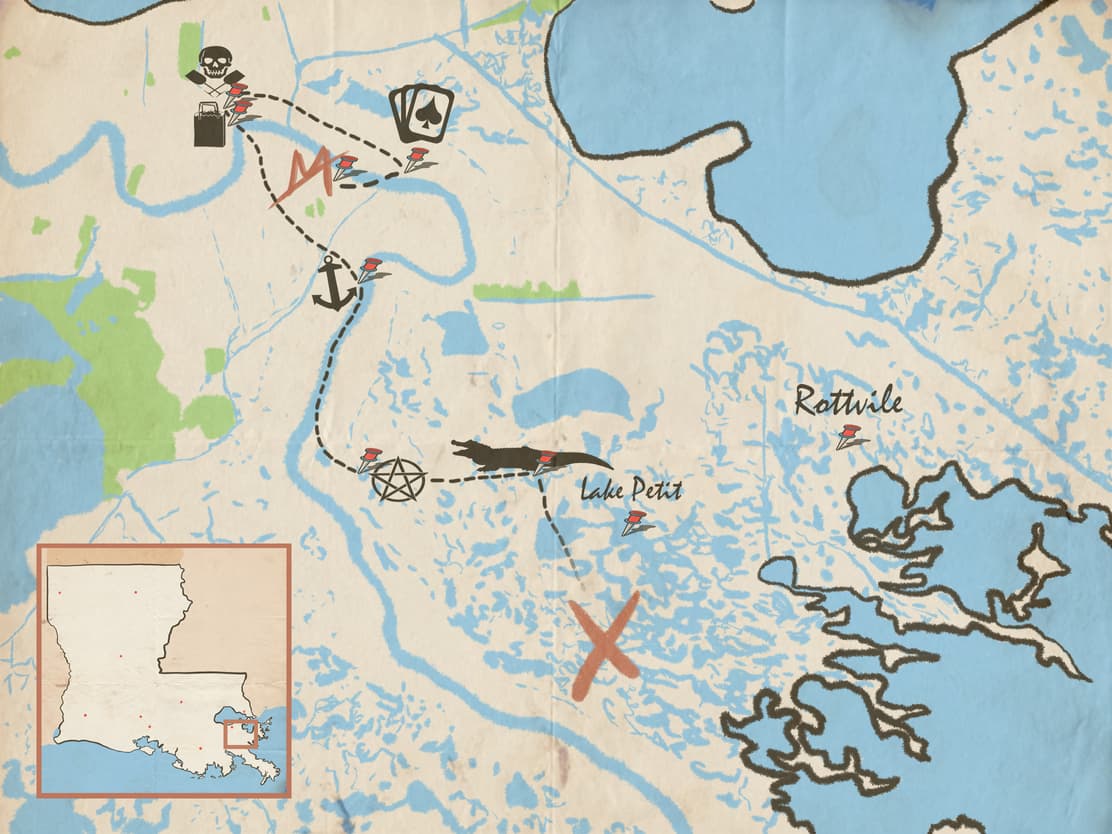 The Hype Box
Can't-miss news and updates from across the Marvel Universe!