Podcasts
Published February 8, 2023
Marvel Entertainment And Audible Present 'Marvel's Wastelanders' Internationally In Multiple Languages
The hit podcast series starts with 'Marvel's Wastelanders: Star-Lord', premiering on June 28, 2023 on Audible in French, German, Hindi, Italian and Japanese!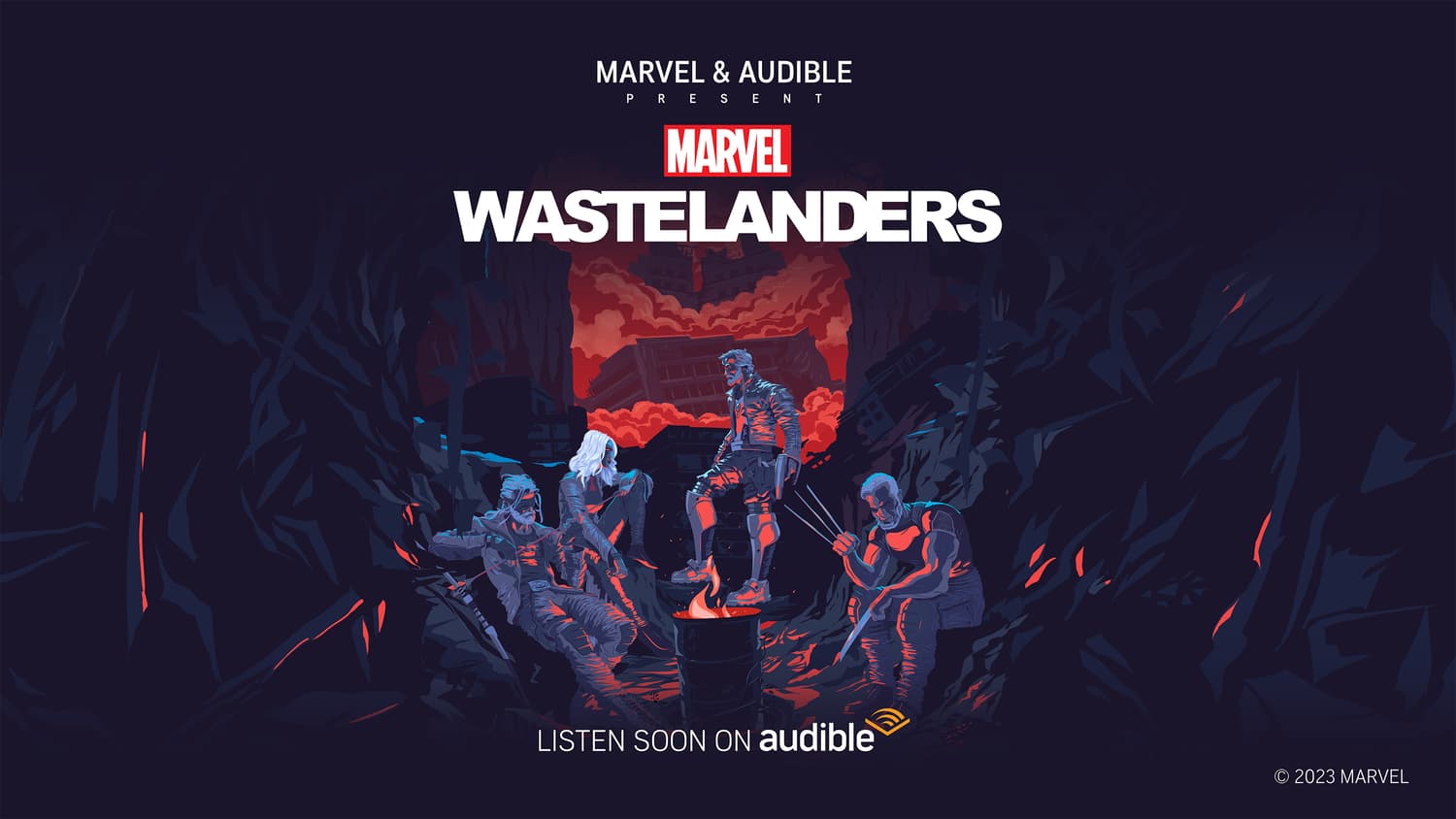 Audible, a leading creator and provider of premium audio storytelling, today announced the upcoming Audible Original podcast series Marvel's Wastelanders available in French, German, Hindi, Italian and Japanese languages. Each will feature state-of-the-art sound design and a preeminent local-language cast in the starring roles. The new series will premiere exclusively on Audible throughout 2023 and 2024, and will deliver richly designed, fully immersive audio entertainment experiences with many leading actors in the roles of iconic Marvel Super Heroes.
The first installment in the series, Marvel's Wastelanders: Star-Lord, will be released exclusively on Audible on June 28, 2023. The 10-episode scripted podcast will be available at no additional cost to all Audible members.
Further details on casting and premiere dates for subsequent installments in the Marvel's Wastelanders series, which will include Hawkeye, Black Widow, Wolverine, Doom, and Marvel's Wastelanders, will be released at a later date The six-season audio epic originally launched as an English-language series in June 2021; this is the premiere of the exclusive International language editions of the story.
"At Audible, we believe that the power of imagination can turn a great story into an unforgettable experience," said Susan Jurevics, Audible's Chief Brand and International Officer. "We're proud to be collaborating with Marvel and some of the world's most talented artists to reimagine these incredible tales from the Marvel Universe as entirely new, local-language audio entertainment events."
"For the past two years, the English-language version of the Marvel's Wastelanders audio epic has brought action, humor, and beloved Marvel characters to fans in a truly immersive medium," said Daniel Fink, SVP Business Development & New Initiatives at Marvel Entertainment. "The fan response to the series has been incredible so far, and as our first-ever audio crossover event, we're very excited to work with Audible to bring Marvel's tradition of interconnected storytelling to even more listeners and fans worldwide."
Marvel's Wastelanders: Star-Lord is set in a shadowy alternate future of the Marvel Universe in which the Villains have finally won and Heroes are nothing but a bad memory. Peter Quill and Rocket are a little paunchier, a little slower, and a lot saltier than they were during the glory days of Guardians of the Galaxy. They quickly discover the Earth isn't what it used to be either, when they crash land 30 years after Doctor Doom takes over a barren, desolate wasteland and all the world's super villains seized control, including outlaw Ghost Riders and the bloodthirsty Kraven the Hunter.
The English-language version of Marvel's Wastelanders: Star-Lord was written by Benjamin Percy (Wolverine: The Long Night, Wolverine: The Lost Trail), directed by Kimberly Senior (Disgraced), and sound designed with original scoring by Mark Henry Phillips (Homecoming, Passenger List).
Marvel's Wastelanders: Star-Lord will be available to all Audible members for unlimited listening beginning on June 28. 
The Hype Box
Can't-miss news and updates from across the Marvel Universe!