Podcasts
Published June 12, 2019
'Marvel's Pull List' Journeys into the Abyss with 'Silver Surfer: Black'
Get a breakdown of this week's new Marvel comics!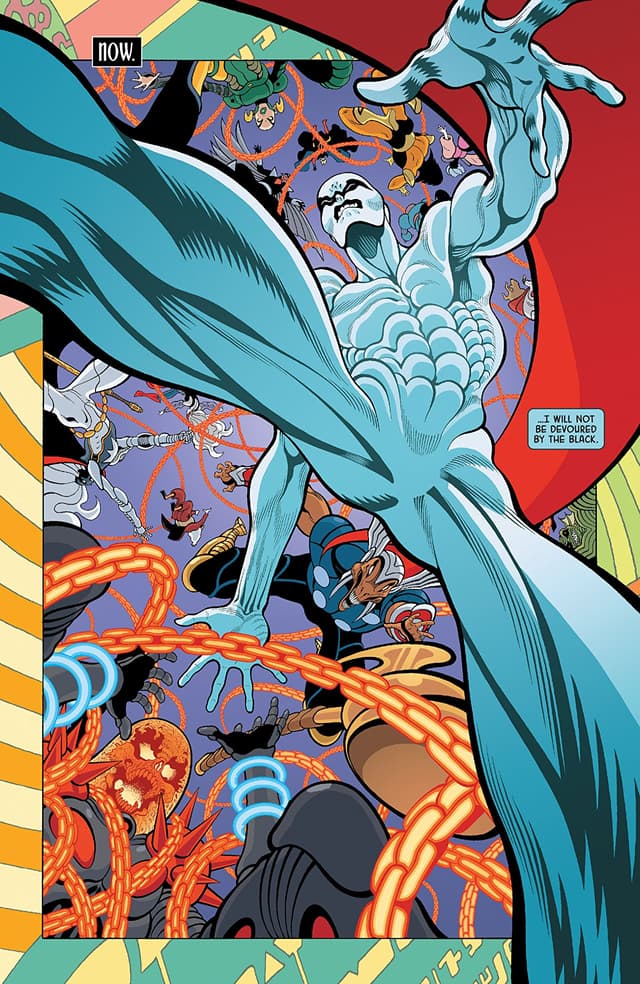 In this episode, Ryan and Tucker detail everything inside the House of Ideas this week, including AGE OF CONAN: BELIT #4, INVADERS #6, SILVER SURFER: BLACK #1, SPIDER-MAN: LIFE STORY #4, and more! Dig into the full audio below, then head to your local comic shop to read everything for yourself!
Here's the full list of what's available from Marvel Comics this week...
MARVEL PRINT COMICS ON-SALE (6/12/19)  
AGE OF CONAN: BELIT #4 
AGE OF X-MAN: APOCALYPSE & THE X-TRACTS #4 
AGE OF X-MAN: THE MARVELOUS X-MEN #5 
AMAZING SPIDER-MAN #23 
ASGARDIANS OF THE GALAXY #10 
CHAMPIONS #6 
FRIENDLY NEIGHBORHOOD SPIDER-MAN #7 
GIANT-MAN #3 
IMMORTAL HULK #19 
INVADERS #6 
IRONHEART #7 
LEAGUE OF LEGENDS: LUX #2 
MAJOR X #5          
MARVEL TALES: SPIDER-MAN #1   
SILVER SURFER: BLACK DIRECTOR'S CUT #1                  
SPIDER-MAN: LIFE STORY #4 
STAR WARS: VADER - DARK VISIONS #5 
SUPERIOR SPIDER-MAN #7 
SYMBIOTE SPIDER-MAN 3 
THE PUNISHER #12 
THE UNBEATABLE SQUIRREL GIRL #45 
VENOM #15 
X-FORCE #9 
COLLECTIONS ON SALE 
AVENGERS: NO ROAD HOME       
DEAD MAN LOGAN VOL. 1: SINS OF THE FATHER                
DECADES: MARVEL IN THE '90S - THE MUTANT X-PLOSION                           
FANTASTIC FOUR EPIC COLLECTION: THE MORE THINGS CHANGE...           
HULKVERINES                   
MARVEL MONOGRAPH: THE ART OF HUMBERTO RAMOS - SPIDER-MAN 
NEW MUTANTS BY ABNETT & LANNING: THE COMPLETE COLLECTION VOL. 2        
SPECTACULAR SPIDER-MAN MASTERWORKS VOL. 2                         
SPIDER-MAN LOVES MARY JANE: THE REAL THING 
DIGITAL COLLECTIONS ON SALE THIS WEEK            
BLACK PANTHER: THE MAN WITHOUT FEAR — THE COMPLETE COLLECTION                        
MARVEL GRAPHIC NOVEL: HULK/THING - THE BIG CHANGE           1             1982 
UNBEATABLE SQUIRREL GIRL VOL. 1-4 COLLECTION                            
ADVENTURES OF SPIDER-MAN    1-6             1996 
DEADPOOL 7 
DOCTOR STRANGE 9 
IMMORTAL HULK 10 
IMMORTAL HULK: THE BEST DEFENSE 1 
INFINITY WARS: INFINITY WARPS 2 
IRON FIST: MDO DIGITAL COMIC 3 
KILLMONGER 1 
MARVEL KNIGHTS 20TH 3 
MARVEL'S AVENGERS: UNTITLED PRELUDE 1 
MERRY X-MEN HOLIDAY SPECIAL 1 
MOON GIRL AND DEVIL DINOSAUR 38  
MUTANT MISADVENTURES OF CLOAK AND DAGGER         5-17, 19             1988             
NAMOR: THE BEST DEFENSE 1 
SHATTERSTAR 3  
SPIDER-GEDDON HANDBOOK 
SPIDER-MAN/DEADPOOL 43 
STAR WARS 58  
STAR WARS: AGE OF REPUBLIC - QUI-GON JINN 1 
UNCANNY X-MEN 4  
VENOM 9 
WEST COAST AVENGERS 5 
WINTER SOLDIER 1  
X-MEN: THE EXTERMINATED 1 
Download the episode from Marvel.com/podcasts and subscribe to the show on Apple Podcasts right now!
The Hype Box
Can't-miss news and updates from across the Marvel Universe!