Podcasts
Published June 17, 2021
The Western Influences Behind 'Marvel's Wastelanders: Old Man Star-Lord'
Go under the hood with series writer Benjamin Percy!
In a post-apocalyptic future, Marvel's Wastelanders: Old Man Star-Lord finds Peter Quill and Rocket a little paunchier, a little slower, and a lot saltier than they were during the glory days of the Guardians of the Galaxy.
They quickly discover the Earth isn't what it used to be either, when they crash land 30 years after all the world's Super Villains seized control.
In the barren, desolate wasteland of the mid-west as controlled by Doctor Doom, they encounter the ageless telepath Emma Frost, outlaw Ghost Riders, Doomwood locals, and the bloodthirsty Kraven the Hunter. Who will find the Black Vortex first and what will be the price of its power?
The setting of the series first found its place in the Marvel Multiverse with WOLVERINE (2003) #66—an issue better known as the beginning of a story arc called "Old Man Logan."
And considering Marvel's Wastelanders: Old Man Star-Lord is written by WOLVERINE, X-FORCE, Marvel's Wolverine: The Long Night and Wolverine: The Lost Trail scribe Benjamin Percy, the Canucklehead influence on the writer—and therefore the series—comes with the post-apocalyptic territory. 
When asked if "Old Man Logan" had an impact on him as a comic fan and creator, Percy replies in a laconic, definitive fashion that's reminiscent of Weapon X himself: "It. Did."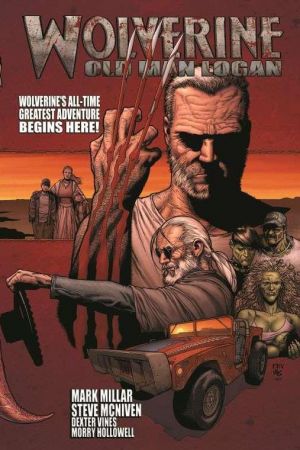 Wolverine (2003) #66
published

added to marvel unlimited

writer

inker

inker (cover)

colorist

colorist (cover)

penciler

penciler (cover)

letterer
What is Marvel Unlimited?
Logan's place within "Old Man Logan," however, is influenced not just by the mighty Marvel milieu from which it emerged, but by lone, troubled gunslingers that pock desertscapes in the Old West like buckshot. And that Western atmosphere presented Percy with a realm he's more than familiar with.
"If you look at the John Ford Western," the writer observes, "you have sort of classic filmmaking—wide open shots, steady framing. You have a good guy, who rides a white horse and wears a white hat, a bad guy who has a black mustache that he twirls, and a black hat and a black horse. He was working with classic archetypes and trying to make the cowboy into a kind of knight.
"And then you have somebody come along like Sergio Leone. And he basically took that John Ford formula and he broke it over his knee. If you look at the way that he has these wild, sometimes disorienting, shots—the cinematography speaks to that but so do the characters themselves, in that there are no white hats or black hats.
"Everybody's wearing a brown hat in a Sergio Leone Western because they are occupying an amoral territory. They're sort of reflections of the frontier itself as a lawless space. And he was trying to posit that cowboys have a more rapacious and ignoble presence in the Western landscape.
"And I think that what we've seen in the 'Old Man-iverse' in the comics is more in that Sergio Leone model. And you can look to Sam Peckinpah and The Wild Bunch as well, or to Westerns written by authors like Cormac McCarthy and see some of the same. But the Marvel Old Man-iverse—this is a rough and tumble environment, where the standard pictures of right and wrong are not necessarily in place."
Listen to the first four episodes of Marvel's Wastelanders: Old Man Star-Lord with SiriusXM, Pandora, Stitcher, Apple Podcasts, Spotify, Pocket Casts, or wherever you get your podcasts! And stay set for new installments of the show, plus interviews with its cast and creators, every week on Marvel.com!
The Hype Box
Can't-miss news and updates from across the Marvel Universe!