Podcasts
Published May 9, 2018
Prepare for Venom #1 with Marvel's The Pull List
Get the podcast insights on all the latest Marvel Comics!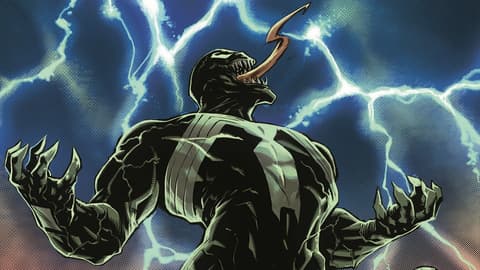 Celebrate a huge week for comics with Marvel's The Pull List!
On this episode, Ryan and Tucker preview May 9's new comic releases, including DESPICABLE DEADPOOL #300, DOMINO #2, STAR WARS: THE LAST JEDI #1, VENOM #1, and all the other books that are waiting for you in stores right now!
Here's the full list of what's available from Marvel this week:
MARVEL PRINT COMICS ON-SALE (5/9/18)
DESPICABLE DEADPOOL #300
DOMINO #2
EXILES #3
HUNT FOR WOLVERINE: ADAMANTIUM AGENDA #1
INCREDIBLE HULK #716
NEW MUTANTS: DEAD SOULS #3
OLD MAN LOGAN #39
PETER PARKER: THE SPECTACULAR SPIDER-MAN #304
RUNAWAYS #9
SPIDER-MAN/DEADPOOL #32
STAR WARS: DARTH VADER #16
STAR WARS: THE LAST JEDI ADAPTATION #1
STAR WARS: THRAWN #4
THE UNBEATABLE SQUIRREL GIRL #32
VENOM #1
X-MEN: BLUE #27
YOU ARE DEADPOOL #2

TRUE BELIEVERS: WOLVERINE VS. SABRETOOTH #1
TRUE BELIEVERS: WOLVERINE – BLOOD HUNGRY #1
COLLECTIONS
AMAZING SPIDER-MAN: VENOM INC.
DESPICABLE DEADPOOL VOL. 2: BUCKET LIST
FANTASTIC FOUR VISIONARIES: JOHN BYRNE VOL. 0
FANTASTIC FOUR VISIONARIES: JOHN BYRNE VOL. 1
HAWKEYE: KATE BISHOP VOL. 3 – FAMILY REUNION
MARVEL GRAPHIC NOVEL #16, 18 (1982)
MARVEL TEAM-UP MASTERWORKS VOL. 3
WEREWOLF BY NIGHT: THE COMPLETE COLLECTION VOL. 3
ON THE MARVEL APP
MARVEL TEAM-UP (1972) #23-26, 28-30, 93
MASTER OF KUNG FU (1974) #61-74
WEREWOLF BY NIGHT (1972) #34-43
DIGITAL COLLECTIONS
 DEATH OF WOLVERINE: THE COMPLETE COLLECTION
FRESHLY DIGITIZED COMICS ON MARVEL UNLIMITED
ASTONISHING X-MEN #5
AVENGERS #673
BLACK BOLT #7
CAPTAIN AMERICA #695
DARTH VADER #7
DEFENDERS #42-46, 51-57
DOMINO #1-3
FEAR ITSELF: THE WORTHY #8
GUARDIANS OF THE GALAXY #146
ICEMAN #7
INHUMANS: ONCE AND FUTURE KINGS #4
IRON FIST #74
MARVEL PREMIERE #49
OLD MAN LOGAN #30
PETER PARKER: THE SPECTACULAR SPIDER-MAN #6
POWER PACK #63
SIEGE: STORMING ASGARD – HEROES & VILLAINS #1
SPIDER-MAN #234
THOR VS. HULK – CHAMPIONS OF THE UNIVERSE #5
X-FACTOR #107
X-MEN ANNUAL #3
X-MEN UNLIMITED #4-7
X-MEN: FUTURE HISTORY – THE MESSIAH WAR SOURCEBOOK #1
Subscribe to the show on Apple Podcasts, download the episode from Marvel.com/podcasts, or tune in on SoundCloud!
The Hype Box
Can't-miss news and updates from across the Marvel Universe!