Podcasts
Published March 1, 2019
This Week in Marvel Goes Anthropomorphic for Animal Comics
John Cerilli and Frank Tieri join the show to talk about their take on a Marvel classic!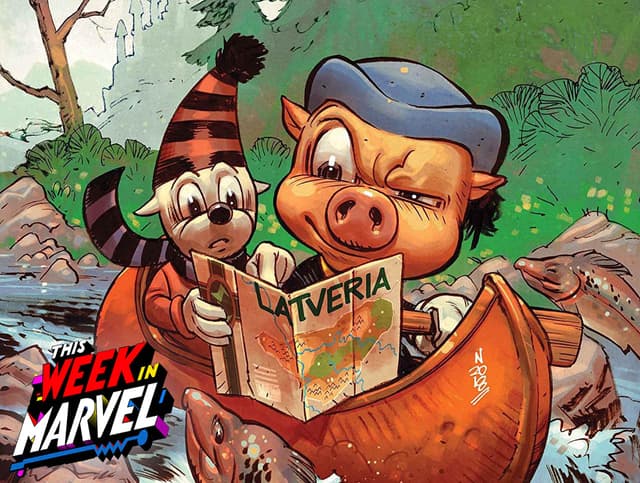 Animal lovers, this is the episode of This Week in Marvel that was made just for you -- well, kind of! This week, to celebrate Marvel's 80th Anniversary, Ryan "Agent M" Penagos talked to Frank Tieri and John Cerilli (Marvel VP, Content and Programming), the writers of the upcoming ZIGGY PIG -- SILLY SEAL COMICS #1, a brand new story for two Marvel characters from so many decades ago! The conversation covers not just these two characters and their lives post-stardom, but many other silly animals from Marvel Comics' past.
But that's not all that's happening this week! Here's the other news we're hyped about:
Marvel Studios' "Black Panther" is a three-time Oscar Winner! Last weekend, the movie won the Academy Awards for Best Costume Design (Ruth E. Carter), Best Production Design (Hannah Beachler and Jay Hart), and Best Original Score (Ludwig Göransson). "Spider-Man: Into the Spider-Verse" also won the award for Best Animated Feature, so it was a marvelous night for Marvel!
And that brings us to the next chapter of the Marvel Cinematic Universe: Marvel Studios' "Captain Marvel" opens in theaters next week! Marvel.com will host the official livestream on Monday, March 4 at 5:30 pm PT/8:30 pm ET. Visit www.marvel.com/captainmarvellive at the start of the show to see the movie's stars -- maybe even Goose the Cat!
We also released the latest TWIMURC about the 1950s, the decade that saw the beginning of Marvel's Silver Age and started shaping the Marvel that you know and love today!
This week's Big Talk with Frank Tieri and John Cerilli also gave us our Question of the Week: Which vintage Marvel animal character would you want to see come back?
Give us your answers -- and include pics! -- on Twitter using the hashtag #ThisWeekInMarvel or stop by the TWIM Facebook page! You can also email the show at twimpodcast@marvel.com! Here's a list of some of these interesting-sounding creatures:
Ziggy Pig
Silly Seal
Toughy Tomcat
Snappy Turtle
Chester Chipmunk
Pookey the Poetical Pup
Ding-a-Ling the Little Bellboy (not an animal I think?)
Posty the Pelican and Lolly the Elephant
Baldy, a Dave Berg strip I could find nothing more about
Little Pan, no info
Super Rabbit
Percy Penguin
Super Squirt
Billy and Buggy Bear
The Ginch and Claude Pennygrabber (a dog and maybe a fox, we think)
Lester the Lion
Montague Pigeon
Morty Monk and Buck Baboon
Waldo Wolf
Skip O'Hare
Puffy Pig
Floop and Skilly Boo
Casper Cat
Krazy Krow and Boobsy
Homer Rabbit
Ossie Ostrich
Wacky Duck
Sharpy Fox
Buzzy Bear
Squeaky Mouse
Tubby Pig
Wellington Mutt
Wonder Duck
You can download the full audio episode below:
Subscribe to This Week in Marvel on Apple Podcasts or download the episode from Marvel.com/podcasts!
With new episodes every Friday, This Week in Marvel delivers all the latest Marvel discussion and news about comics, TV, movies, games, toys, and beyond! Tweet your questions and comments about the show to @AgentM, @jamiefrevele, or @Marvel with the hashtag #ThisWeekinMarvel!
The Hype Box
Can't-miss news and updates from across the Marvel Universe!