Podcasts
Published February 14, 2020
This Week in Marvel is All About the Gwendolyns
In celebration of the release of 'Gwen Stacy' #1, Ryan and Lorraine celebrate every Gwen Stacy in the Marvel multiverse!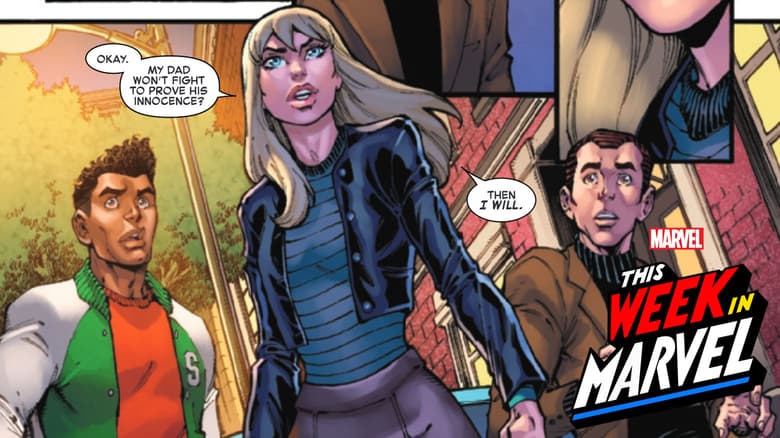 Gwen Stacy has been a star in the Marvel Universe since the '60s, beginning as Peter Parker's first love in one universe and forging her heroic path as Ghost-Spider in another. Now, the OG Gwen is getting a new story this week in GWEN STACY #1, the first issue of a new, five-issue miniseries written by Christos Gage with art by Todd Nauck that takes a look at Gwen's life before she met Peter -- and might include a mystery or two. It's a perfect spotlight for the celebrated character whose life was cut so tragically short in the seminal AMAZING SPIDER-MAN #121 -- but why not celebrate her even more? And how about all the other Gwen Stacys we've met through the years? That's just what the latest episode of This Week in Marvel is all about!
Tune in to hear Ryan "Agent M" Penagos and Lorraine Cink gather up all the Gwens -- Gwen Stacy of Earth-616, Earth-65, and maybe even Gwen Poole (who is not Gwen Stacy, but is still super fun)! -- for a swell set of conversations with GWEN STACY writer Christos Gage, GHOST-SPIDER writer Seanan McGuire, and Spider-Editor Nick Lowe!
Download the full audio episode below:
With new episodes every Friday, This Week in Marvel delivers all the latest Marvel discussion and news about comics, TV, movies, games, toys, and beyond! Tweet your questions and comments about the show to @AgentM, @lorrainecink, or @Marvel with the hashtag #ThisWeekinMarvel!
The Hype Box
Can't-miss news and updates from across the Marvel Universe!