Comics
Published January 16, 2020
'Gwen Stacy' #1 Will Feature Easter Eggs, New Characters, and a Mystery
Christos Gage digs into Gwen Stacy's life before she met Peter Parker -- find out what he has planned!
It's not news to say that Gwen Stacy is a big part of the Marvel Universe story. But what about the Gwen Stacy of Earth-616, the one who didn't become Ghost-Spider, the one who died tragically at the hands of Norman Osborn and was Peter Parker's first true love? While Ghost-Spider became one of Marvel's greatest young heroes, the original Gwen Stacy must have had a story before she met Peter Parker in AMAZING SPIDER-MAN #31 and her death in the groundbreaking AMAZING SPIDER-MAN #121. GWEN STACY #1, written by Christos Gage with art by Todd Nauck, is going to tell that story -- and you'll be able to read it when it goes on sale Wednesday, February 15 and kicks off a brand new limited series!
Marvel.com talked to Gage about what kinds of stories will be told in GWEN STACY -- and what popular TV show may have had a hand in inspiring parts of it!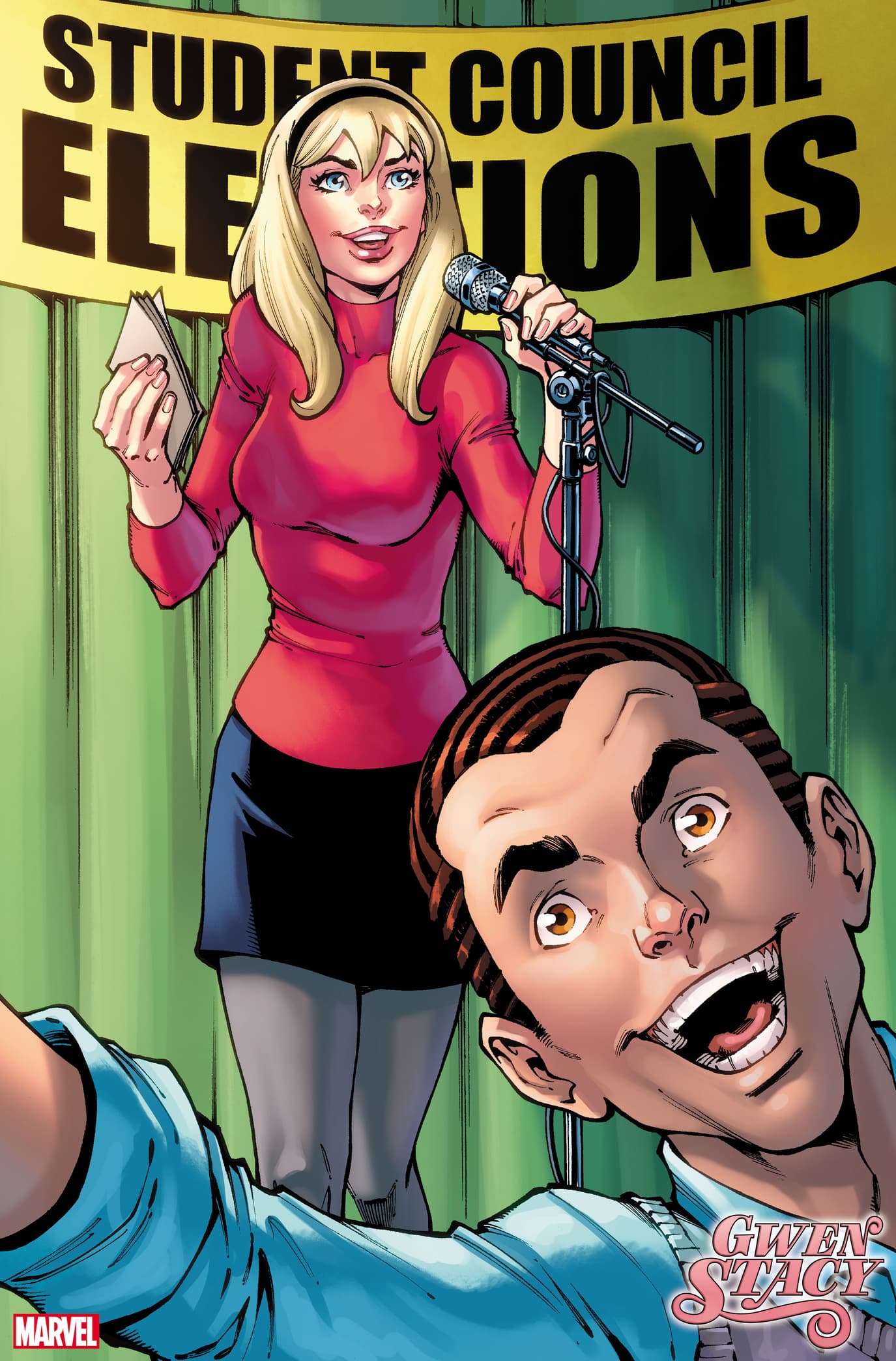 GWEN STACY will take place before Gwen makes her first appearance in the original AMAZING SPIDER-MAN series. Without revealing too much, what can you tell us about what she was up to?
There are some things we know from existing continuity: Gwen went to high school at Standard High, and one of her classmates was Harry Osborn. Her father, George Stacy, was a police captain who worked with cops like Jean DeWolff and Yuri Watanabe, who will both be featured in this story. At some point his leg was injured, causing him to need a cane, and he retired from duty - we'll reveal how that happened. But we know very little else, so there's a lot of room to tell our story. It's a rich environment, both in terms of characters and relationships as well as the world they lived in. Harry's Dad, Norman, was the Green Goblin at this point, but the Goblin serum hadn't driven him quite as insane as it later would -- he had more down-to-Earth goals. Crime boss Lucky Lobo had just been taken down, leaving a void in the underworld. The Goblin and the Crime Master had teamed up to take over organized crime, but their relationship was tense. Captain Stacy is in the thick of that, and Gwen gets drawn in, too. At the same time, she's running for class president with the help of her friend and campaign manager Harry and her boyfriend Darius (a new character -- come on, of course she dated other guys before Pete!), and trying to get the scholarship she'll need because her family isn't rich like some of her classmates. Without spoiling too much, everyone gets pulled into the tumultuous situation brewing in the city.
Is this meant to be a light-hearted series about a fun, young woman, or are there going to be surprising revelations about Gwen?
The tone we're going for is like the TV show Veronica Mars: there are definite moments of light-hearted fun, but there are also deadly serious, dangerous things going on. There are a few things that we think are shocking revelations, but not in the way the way some readers will expect. Like, we're not going to reveal she was secretly a ninja or something. She's still the Gwen people know and love but you don't know almost anything about who she was (or what relationships she had) in high school before she met Pete at Empire State University, so we have a lot of room to tell stories about that period. Hopefully there will be something for everyone.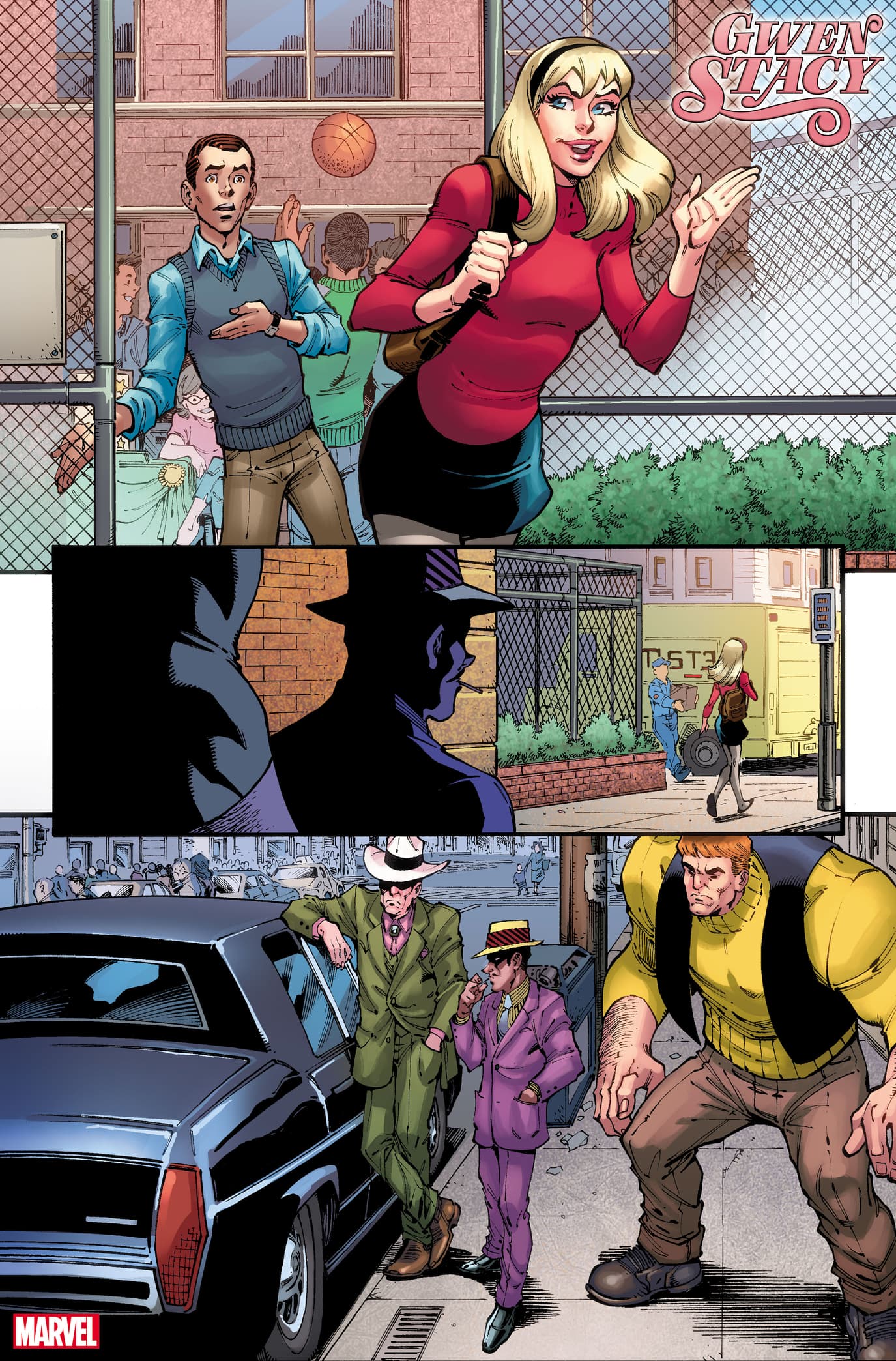 Will there be easter eggs that fans will notice? If so, how did you decide on what to reference?
There will be easter eggs galore. Ralph Macchio, who has been at Marvel since the '70s, is a consulting editor on this, and I've been reading Marvel comics for 40 years, so between us we're covering that ground pretty thoroughly. And Todd Nauck, who's drawing this, is a super fan too. So, our approach has been that if I can put in an easter egg that longtime fans might catch, but a new reader won't lose out on anything by not knowing it, we'll do it. It doesn't have to be a Spidey reference; there's a scene where characters are talking about going to the movies and I had them mention the Gem Theater, above which Luke Cage will one day have his office. It's an offhand comment, but sharp-eyed readers may catch it. So I'm not messing around here, I'm all in! Then, of course, there are the characters who haven't been around in a long time but who are perfect to use in this, like Frederick Foswell, the former criminal Big Man-turned-reformed, crusading reporter for the Daily Bugle. So, yeah... easter egg hunters will have a lot to look for.
What do you like the most about Todd Nauck's art?
He can really do it all. The fun moments, the scary moments, action, romance... He's an incredible storyteller, and his character acting is second to none. In fact, he's so good with telling the story just through the art, I've probably written more silent sequences in this than in any other project I've worked on.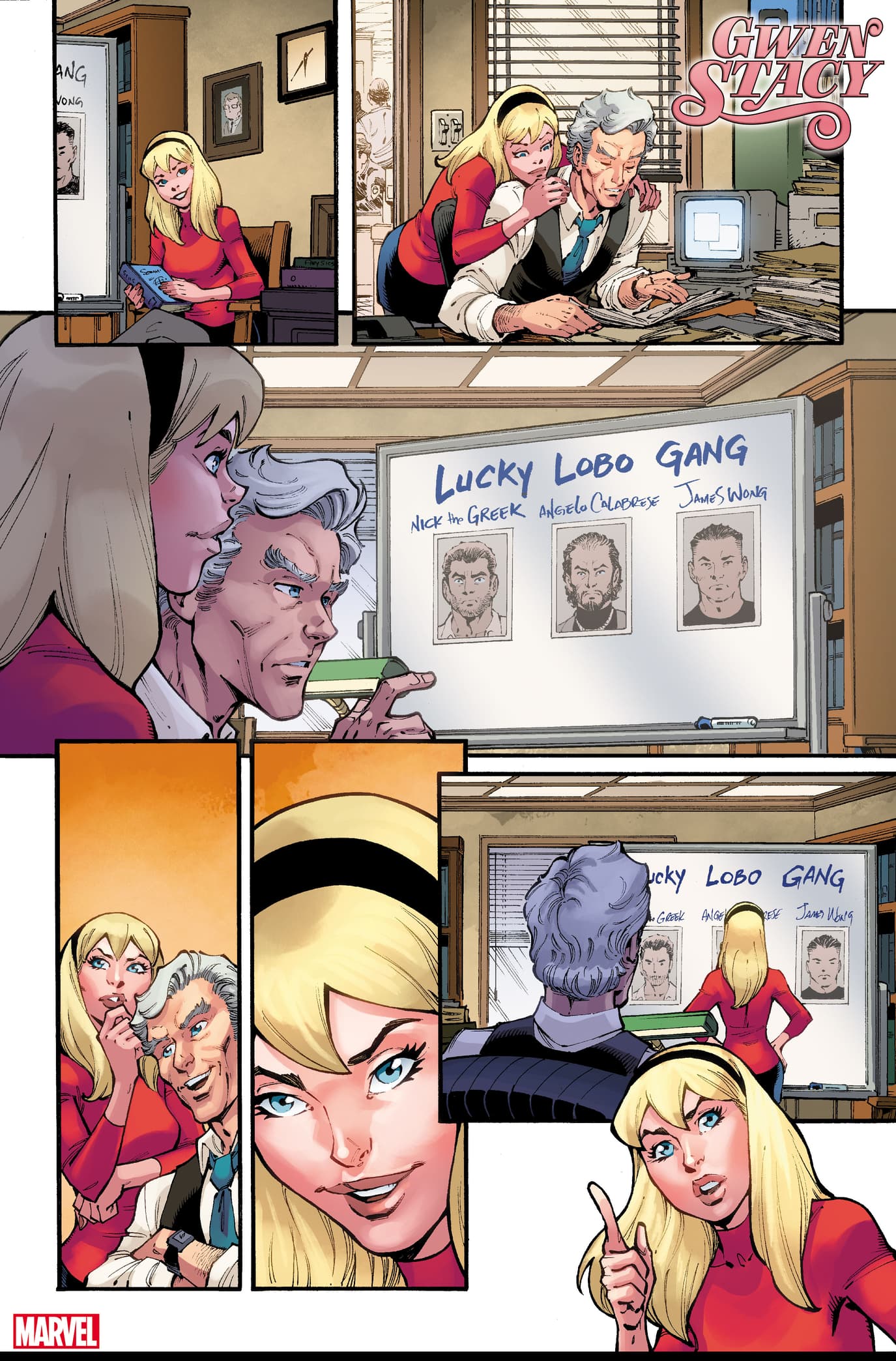 How do you approach writing a book when so many Marvel fans know what happens to the character in the end?
Honestly, it hasn't felt like a problem. I mean, yes, we know Gwen isn't going to die in this story (because she dies in AMAZING SPIDER-MAN #121), but let's face it, we know Spider-Man isn't going to die in his stories either. There are plenty of other stakes we can explore. We know Gwen's mom passed away before she met Pete. How did that affect her? What made her father retire? What was their relationship like? Did she have a boyfriend in high school? What was their relationship like? Readers know what happened to Gwen AFTER she met Peter Parker. But they don't know what happened BEFORE. That's our story.
GWEN STACY #1, written by Christos Gage with art by Todd Nauck, goes on sale Wednesday, February 12. Pre-order your copy today online or at your local comic shop!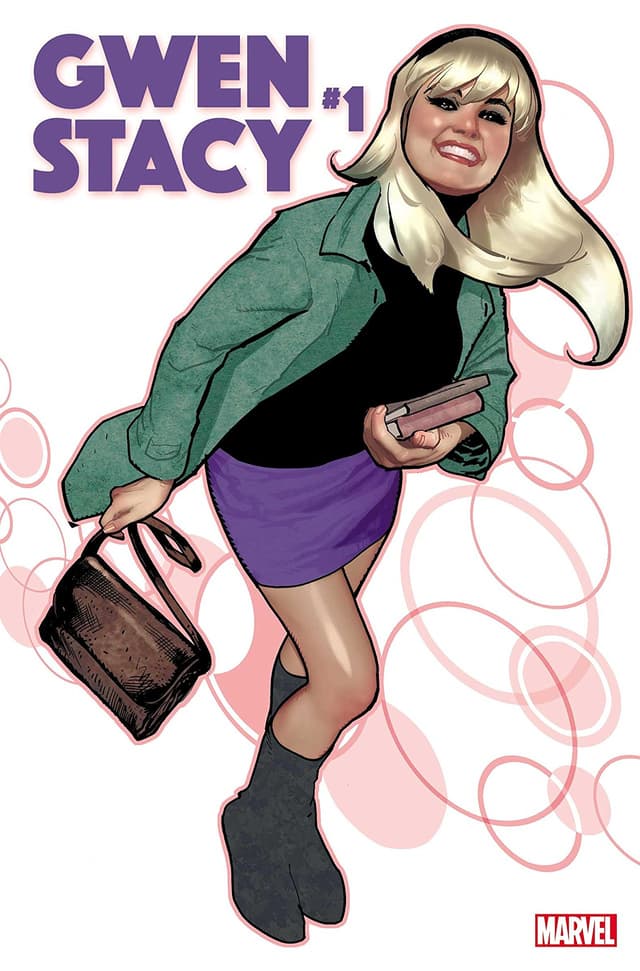 The Hype Box
Can't-miss news and updates from across the Marvel Universe!