Podcasts
Published September 3, 2020
Women of Marvel Goes Inside the Making of 'Marvel's Avengers'
The creative team of Marvel's highly-anticipated video game celebrate its arrival on September 4!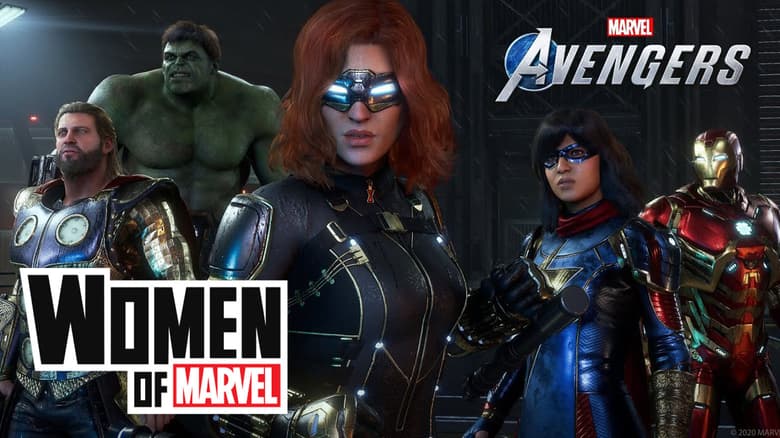 The time has come -- tomorrow, Marvel's Avengers hits video game platforms everywhere! On this episode of Women of Marvel, co-hosts Angélique Roché, and Ellie Pyle welcome some of the members of the game's creative team -- Hannah MacLeod (Narrative Designer), Rose Hunt (Senior Producer), and Magali Stretton (Senior Game Designer). During their conversation about the highly-anticipated game, they share some of their favorite stories from putting the game together, as well as advice for people just getting started in the video game industry.
Here's a peek at what they talked about:
"Our main character, Kamala [Khan], really changed my mind about what a Super Hero story could be. She's a fangirl and she writes fanfiction, which is stuff that I did growing up…  It's really cool, because it finally feels like 12-year-old me has a place among Super Heroes." - Hannah MacLeod
"The narrative aspect of games that I love is the fact that you have to start thinking of storytelling on a bigger scale. Everything becomes part of the story. So suddenly, the way you customize your Hulk or your Black Widow or your Kamala, tells a story that is different from what someone else would do. But it's your part of that universe." - Magali Stretton 
You can listen to the full episode here:
Marvel's Avengers will release simultaneously for the PlayStation 4, Xbox One, Stadia, and PC on September 4!
For the most up-to-date information about Marvel's Avengers, keep an eye on PlayAvengers.com. And be sure to follow "Play Avengers" on Facebook, Twitter, and Instagram! 
The Women of Marvel podcast assembles to chat all things Marvel and more! New episodes are released every other Thursday, co-hosted by Sana Amanat, Judy Stephens, Angélique Roché, and Ellie Pyle. You can find Women of Marvel on Marvel.com/podcasts and Apple Podcasts. 
The Hype Box
Can't-miss news and updates from across the Marvel Universe!