Podcasts
Published September 17, 2020
Women of Marvel Welcomes the Actors Who Brought 'Marvel's Avengers' to Life
Laura Bailey, Sandra Saad, and Jolene Anderson share their experience working on the hit video game!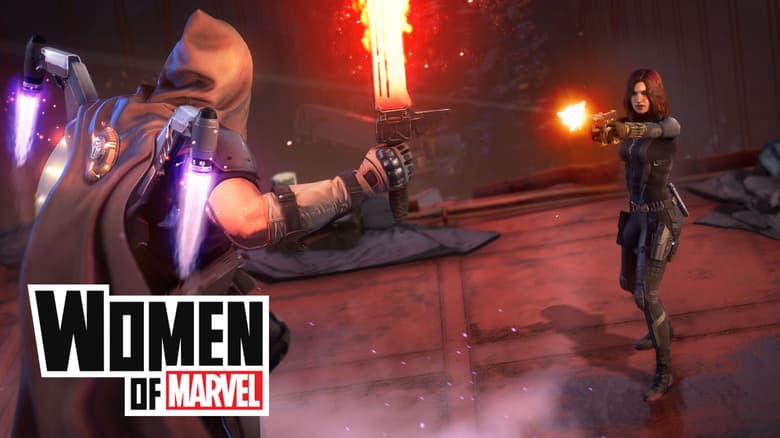 Gamers can't stop talking about Marvel's Avengers, and Women of Marvel is happy to keep the conversation going! On the latest episode, Angélique Roché chats with three of the women who provided motion capture performances for three Marvel heroes who appear in the game. Hear from Laura Bailey (Black Widow), Sandra Saad (Ms. Marvel), and Jolene Andersen (Monica Rappaccini) as they share their favorite stories from the set and how they brought these characters to life!
Here's some of what Bailey had to say about her role as Black Widow:
"I am not nearly as cool as Black Widow is. But I respect her. I respect that it's a choice, everything that she does. She came from a very different place than where she found herself now, and she has to make a conscious effort to continue to do good, you know? And I think that's a really cool thing to have in a hero, is that it's not necessarily something that comes naturally. That you have to think about everything you're doing."
You can listen to the entire podcast below:
Marvel's Avengers is now available on PlayStation 4, Xbox One, Stadia, and PC!
For the most up-to-date information about Marvel's Avengers, keep an eye on PlayAvengers.com. And be sure to follow "Play Avengers" on Facebook, Twitter, and Instagram! 
The Women of Marvel podcast assembles to chat all things Marvel and more! New episodes are released every other Thursday, co-hosted by Sana Amanat, Judy Stephens, Angélique Roché, and Ellie Pyle. You can find Women of Marvel on Marvel.com/podcasts and Apple Podcasts. 
The Hype Box
Can't-miss news and updates from across the Marvel Universe!