TV Shows
Published January 16, 2019
Can Frank Castle Accept Who He Is in 'Marvel's The Punisher' Season 2?
Star Jon Bernthal and showrunner Steven Lightfoot lay out Frank Castle's new chapter, debuting January 18 on Netflix!

Throughout the first season of "Marvel's The Punisher," viewers watched as Frank Castle barreled through thugs in a search for answers about the murder of his family. Now that Frank knows who was responsible and delivered his punishment, where does he go from here? On a visit to the set of Season 2, debuting January 18 on Netflix, Marvel.com spoke with star Jon Bernthal and showrunner Steven Lightfoot to find out the answer to that question – and all the questions raised when those acts of revenge are incompatible with the law. 
Lightfoot laid out a very specific theme for the second season. He explained that the first season was about "Frank coming to terms with the deal of his family as much as one ever can" as well as "him admitting his own guilt," elaborating that, "The acts he'd been party to were [part] of the reason they had died. And so accepting his own part in that. And I think Season 2, for me, is then about him realizing that in the end, there's a part of him that is always going to be the guy who decides to fix things in a way that is beyond the law."
So, where does this lead Frank Castle in Season 2? Said Lightfoot, "It's about him adopting the mantle of the Punisher. Billy Russo is obviously a very, very emotional antagonist. They're brothers who are now enemies. And then against that, we also have a new storyline and a sort of new antagonist that he hits. It isn't personal when it begins, and it becomes personal as we go. This season, he's fighting a war on two fronts."
One constant about "Marvel's The Punisher" is that despite his violent methods, Frank Castle still has his humanity. "The joy of all the Marvel Netflix shows, for me, is that they're very character-deep. If you're going to write any character well, you need to make them someone an audience can empathize with. If they're two-dimensional or too cartoonish on television, then the audience is going to switch off. I think it's always about making a character we can understand and empathize with, even if we don't always agree with him. One of the joys of Frank, [for me] as a writer, and Jon as an actor -- because he's happy to go there, very brave about it -- is that we don't need to be scared about losing the audience occasionally. I think we want Frank to do things where we just go, 'That's too far.' And then have him bring them back. 
"The thing for me with Frank, even though he'll probably say it different or wish it were different, there is always a cost to him. I don't think he ever perpetrates these acts, walks away, smiles and doesn't feel a burden from them. He might wish he didn't, but I think he always does. And the key thing is that making sure that it's never just a means to an end. That he's always fighting for someone else. I think the acts and what Frank gets up to are in direct proportion to what would happen if he weren't to do it." 
As the actor playing Frank, Jon Bernthal can speak directly to his emotions and actions, remarking, "For a lot of folks, I think that when you've suffered trauma, to be on mission, to have a direction, to have an enemy that you know of, and be in it with likeminded people, provides some sort of quiet from the storm. The monsters start to come in the quiet when you have nothing to fight for and no direction. And when you change people's circumstances, there's nothing out of place of this world that you've come to know. I think that's a lot about what this season is about for Frank. He keeps getting drawn into this fight and he's still grappling with this idea of who is the real Frank Castle and is there any peace? 
"There's a military slang term called 's*** magnet,' and I think Frank sees himself as being that, and everyone he gets close to gets hurt and he has to deal with the fact that it's when he's not on mission, when he's not literally going after the worst of the worst, that's when innocent people start to die. And he has to grapple with that. I think this season he's trying to figure out exactly who he is. I don't think he's ever been a guy too concerned with finding peace of mind or finding love or finding harmony. I think he's sadly kind of at home in the blackness and the darkness."
What constitutes "home" for Frank may also differ this season. It's not a secret that Frank finds himself on the road at the beginning of Season 2. Lightfoot shed some light on where he's really going, explaining, "He's spent time trying to just get by, and he's been sort of wandering America. In a way, having to look at the country that he fought for that he's never really seen. And trying to be a guy who can fit in and leave all the violence behind, but I think ultimately for Frank, it's an integral part of his character and it doesn't take him long in episode one to find a new fight to get involved in."
But "Marvel's The Punisher" Season 2 won't be all fighting. There will also be new relationships for Frank, including one with Amy Bendix, the teenager he meets while on the road, played by Giorgia Whigham. Bernthal was asked about their dynamic, and if it meant that Amy would become a surrogate daughter. "I think when you meet somebody, anything is possible," he replied. "You're dealing with two people who have both been through a ton. The possibilities are endless of what those two people can mean to each other. I really enjoy working with Giorgia just for that. Because a lot of everything I've lost is in her, but also everything that maybe secretly and quietly I hope to gain is in her as well."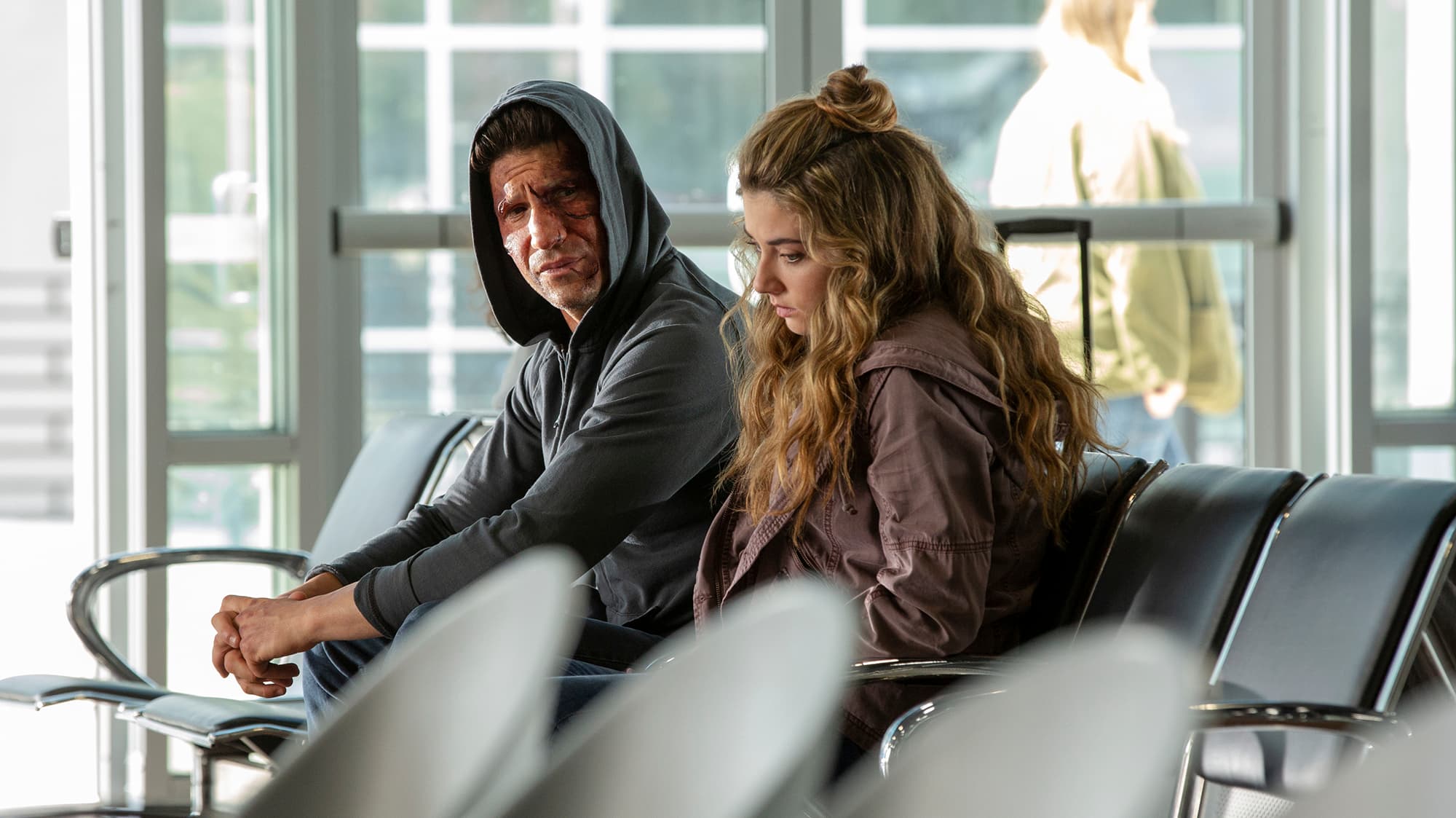 Maybe you have to dig deep to find Frank's softer side, but at the end of the day, the Punisher is still dealing with very human emotions. Lightfoot went into how Frank Castle stays grounded while in pursuit of his own version of justice. "One [thing that keeps him grounded] is his own conscience, even though he'd like to deny he'd had one. The heart of Frank, for me, is a guy who [fears] that he's just like the monster in his eyes. The sort of constant questioning of if he's any better than them, I think, sort of keeps him grounded. And then, I also think he always needs to be fighting for someone who needs help. Characters like Amy, that we've introduced to the show, are very much part of grounding him. And they sort of pull different sides of Frank out. And again, at the heart of the show this time, is his relationship with this teenage girl who he very quickly has in tow, and so obviously, we get to play with a lot of things about fatherhood, and it's like within a year or so of how old his daughter would have been. And so we get to play with what sort of father would he have been and the fact that that was taken away from him." 
Another aspect of "Marvel's The Punisher" is the impact the show has had on military veterans. Beginning in Season 1, conversations with veterans were part of the research process in writing the show. Both Bernthal and Lightfoot spoke about working with veterans to best create the show. Bernthal, in particular, was humbled by being able to work with them. "The relationships, the fact that those guys open up to me… I think any time someone opens up to you and not just welcomes you into their world and teach[es] you how to shoot a weapon and talk to each other, but when they really start to open up and talk about their experience, that's a treasure. I really cherish that and appreciate that, and I really try to connect to it and put it in the work. At the end of the day, I'm a monkey who puts on makeup and says lines for a living. You can get injured on set but we're safe. We live and operate under an umbrella of safety so for me, I try to make it as psychologically dangerous as possible and try to take it as seriously as possible for those guys."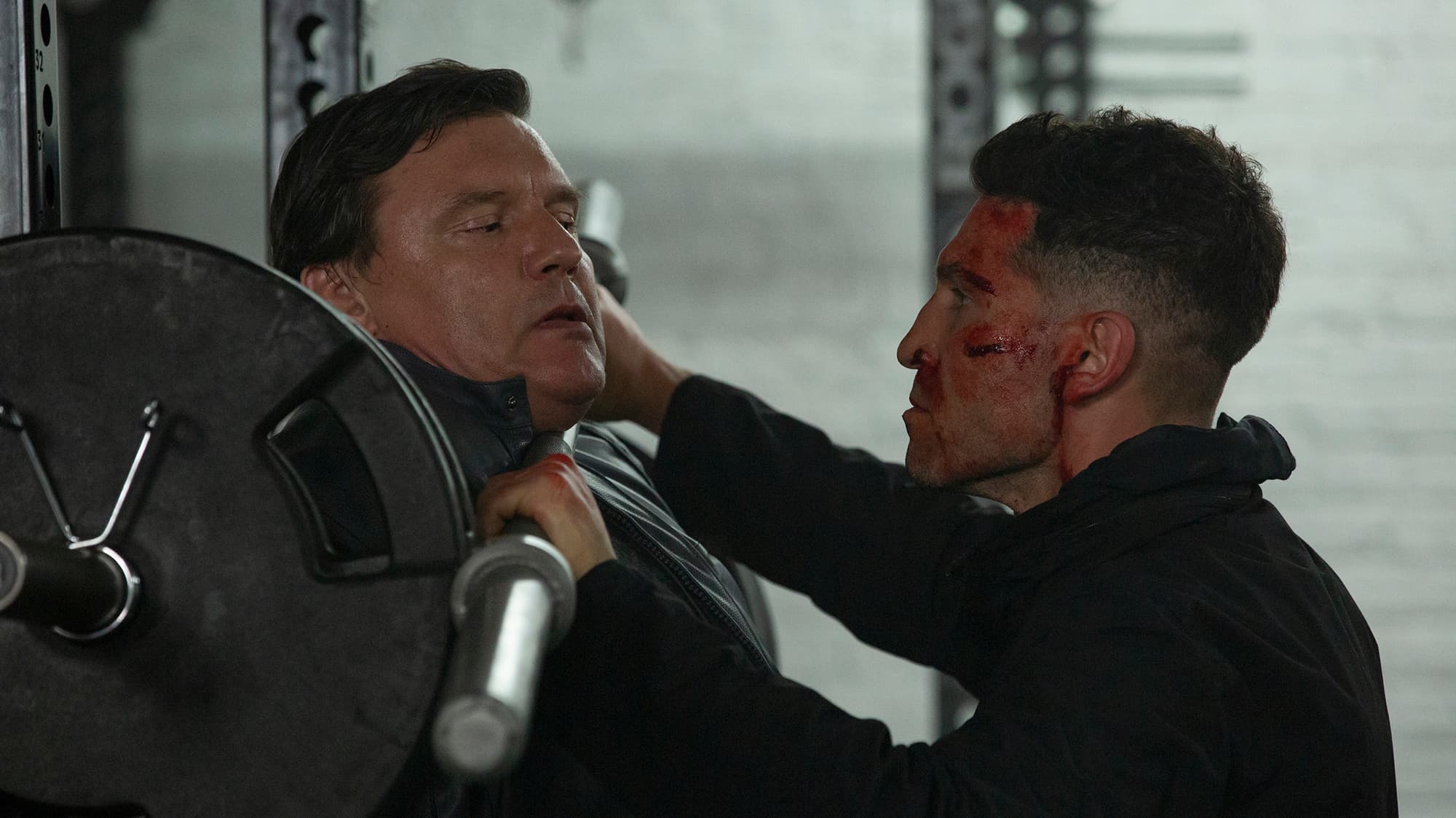 Lightfoot also wanted the parts of the show that included veterans to feel not just authentic, but respectful. "We did a lot of research and we talked to people, and it was very important to Jon, who has huge respect to the military, as do I. And it was very important to us to try and get that right. … It was funny because the most nerve-wracking scenes for me were those scenes I'd written in the vets group, because as much as we could, we used real vets to play the guys in the circle. I was terrified we'd get to the end of some of those speeches in some of those scenes and they'd all threaten to walk. And actually, they were incredibly supportive. We'd hoped early on that we'd gotten it right. So we just try and listen to those guys and make it resonant. The other thing you learn is that if you've met one vet, then you've met one vet. You can't generalize that experience but as much as we can, we try and do it justice." 
While the first season of "Marvel's The Punisher" led Frank to hard answers to hard questions, Season 2 will entail even more discovery and emotion for one of Marvel's most dynamic characters. 
"Marvel's The Punisher" Season 2 arrives on Netflix on Friday, January 18.
The Hype Box
Can't-miss news and updates from across the Marvel Universe!