TV Shows
Published January 4, 2018
Clark Gregg Shares His Experience on 'Marvel's Agents of S.H.I.E.L.D.' Directorial Debut
Watch Gregg's 'Mini Marvel Movie' this Friday on ABC at 9|8c!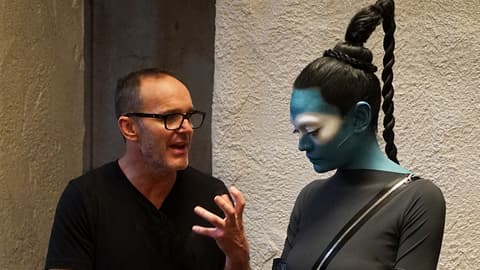 As we near the 100th episode, another "Marvel's Agents of S.H.I.E.L.D." milestone is on the horizon. Clark Gregg, aka Agent Phil Coulson, will his "S.H.I.E.L.D" and Marvel Cinematic Universe debut this Friday in a brand new episode.
The talented star took time to talk to Marvel.com about directing his very own "mini Marvel movie" in episode 506 titled "Fun & Games."
Marvel.com: Hi Clark, I know the idea of you directing an episode was floated or offered in past seasons by EPs Jed and Mo. What drew you to this season or story arc that made you feel now was the right time for your 'S.H.I.E.L.D.' directorial debut?
Clark Gregg: It just felt so daunting. I'm not sure if, in the past, they really…. They just asked, "What do you think? Is this something you want to do?" I said, "I'm not sure I do."
I find the process of just doing my work pretty all-consuming for the most part. The idea that I would be prepping and acting during one episode, directing and acting during another episode, and editing and acting during a third episode…. You're talking about five weeks of double duty. The thought was daunting.
They finally pushed a little bit at this season. It seemed like time. I guess, honestly, I started going, "Oh, stop being such a chicken. You'll be fine." It had been so different from what I've done. It's weird to step outside of your comfort zone around family. It was a silly thing to be so cognizant about. It ended up being, everyone was so incredible in terms of the way they everyone showed up and supported me. I was really moved.
Marvel.com: Speaking of the difficulties of performing doing double duty, did your cast mates and close friends simplify the process since you knew exactly what you need to draw from their performances?
Clark Gregg: Well, yes and no. Yes, in that I certainly had a shorthand with them about what we want to try to do, ways the script could give us a chance to push us into new territory. They all also have deep and interesting ideas that helped me. I got to play a different role and dig in together and collaborate with them in a way someone who isn't….
I didn't see this coming, but someone who isn't a fellow cast member might not as easily be able to. It's two actors agreeing to let one of the actors also direct and try to explore together the moments of the scene. That's very unusual. One by one, everybody came to me and said, "I'm in. What do you want to do? Let's try it." I was really moved by that.
Also, I was blown away to see what a lot of the other departments I don't get to work with, the amazing work they do — from the set deck to the props to all the preparation that goes into every episode.
Marvel.com: TV is very different from film. You've written screenplays. You've produced and directed features. Is TV directing something you'd want to do more of in the future?
Clark Gregg: Yeah, in the right context, there were a lot of things that were particularly rewarding. I got to do some incredible, big moments that we've been waiting for all season. Or in the case of some of these moments, for four seasons. That was fun! I don't want to do it in general, but there were things about it that were fun to do on my [episode] that I didn't necessarily foresee how rewarding it would be. I came away thinking, "What was I waiting on? That was really cool and I hope I get to do it again some time."
Marvel.com: This episode in particular was extremely dynamic. Did you feel comfortable handling the action, the intense moments I can't list, the martial arts, and the romance this whole episode entailed?
Clark Gregg: On the one hand, I've been watching. I work with a lot of the directors. I've worked with the action unit that Garry Brown, Tanner and those guys run. For 100 episodes, I've got a lot of experience, and I've done it from the inside. I had a lot of bonuses going in. That said, they've got such an incredible ability, everyone from the Visual Effects department to the Stunts, I've talked about the actors. In a big episode, and we've had big episodes before like this, they all know how to do it in a way that puts the value on the screen quickly.
They all made this very easy for me. They were able to take the ideas that I had, the things I had always wanted to try, if I ever got to direct one, and make it fit in the mold of what they do effortlessly.
Marvel.com: With sci-fi element of this season taking our agents and the show in such a new direction and as we near the 100th episode, has there been anything you had always wanted to see happen on the show – not just storyline, but perhaps something visual or tone-wise – that you'd like to see 'S.H.I.E.L.D.' pursue?
Clark Gregg: Every time I think of something I want to see them do, it's in the next script. It's a little weird. I've said it before, but I never thought, when we started this 103 episodes ago, that I was going to get to do five or six different shows. They were completely reinvented; we got to do pods, and have LMDS and then here's Ghost Rider. And now we're in a sci-fi movie that I always wanted to be in. They've taken these groups of characters and bringing them in all these different pockets of the Marvel Universe that the movies haven't explored necessarily, and using characters that's just outside the field of vision of most cinematic fans. Milking every bit of it, and then BAM! tearing it all apart. Now we're somewhere in space. As Henry's character says in the first episode [of this season], "Well, it's the one thing we haven't done yet." But it's not! They're going to come up with something else; I don't know what it will be yet.
Marvel.com: Lastly, you've been such a consistent part of the Marvel Universe. What have some of the most surprising responses you've gotten to being Coulson?
Clark Gregg: The fact that Coulson called on it all from the start, a guy in an ill-fitting suit chasing Gwyneth Paltrow around in "Iron Man." The fact that fans have connected with this guy makes a lot of sense in retrospect because he's them – he's their avatar. The way, the depth, and the duration in which the fans connected with him, they wouldn't let him die. There's just something about who he is and what he stands for that resonates, and continues to resonates, in a way I have trouble making sense of.
I went to do press for our European fans over the break in Portugal, and to see this huge mob of Portuguese and Spanish fans who want to talk about the Kree and what Kasius is thinking. Then to go to Italy, I was in a canal in Venice and all these tourists hanging over the bridge calling out in their languages "Phil! Phil!" I was like, "God, there's something about this guy that people really connect to. It's a real gift.
To hear more from Clark Gregg, watch Clark chat with Ryan on his turn as director on a brand new episode of This Week in Marvel:
And if you can't get enough, listen to the full interview on Soundcloud or download the special episode.
Watch Clark Gregg's S.H.I.E.L.D. directorial debut on a brand new episode of "Marvel's Agents of S.H.I.E.L.D." tomorrow at 9|8c on ABC!
For more information on "Marvel's Agents of S.H.I.E.L.D.," visit ABC.com, follow @AgentsofSHIELD on Twitter, and like "Marvel's Agents Of S.H.I.E.L.D." on Facebook for all the latest news and updates!
The Hype Box
Can't-miss news and updates from across the Marvel Universe!