TV Shows
Published December 6, 2016
DEBRIEFING: 'Marvel's Agents of S.H.I.E.L.D.' Season 4 So Far
Check Out Two All-New Clips from Tuesday's Winter Finale Episode!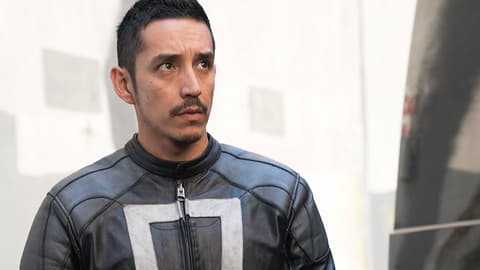 Tomorrow, we head into Marvel's Agents of S.H.I.E.L.D.'s winter finale with episode 8, "The Laws of Inferno Dynamics," on ABC at 10/9 C. Check out the all-new clips above and below!
Marvel.com is here to debrief you on the declassified series of events that have unfolded since the start of Season 4 with some of the highlights from the year so far!
The Team at the Start of Season 4
Daisy leaves S.H.I.E.L.D. to pursue Watchdogs and local gangs in Los Angeles as the vigilante Quake. Her powers are stronger than ever, but at the price of her health.
Coulson is no longer the Director of S.H.I.E.L.D.; he's back in the role of agent, partnered with Mack. In his place stands Director Jeffrey Mace, the new face of S.H.I.E.L.D.

Simmons' new role with the Director includes daily lie-detector tests, while Fitz's friendship and work with Doctor Radcliffe leads to the startling discover of Aida, a Life Model Decoy.
That's one way to react to meeting a new woman! #AgentsofSHIELD pic.twitter.com/bzl2j7gLP1

— Agents of SHIELD (@AgentsofSHIELD) September 21, 2016
What S.H.I.E.L.D. and Daisy Are Up Against
The fourth season has not been an easy start for Coulson and his team, to say the least.
Robbie Reyes, the Ghost Rider burst onto the scene, having a fiery first encounter with Quake.


Will Daisy return to S.H.I.E.L.D.?

S.H.I.E.L.D. goes public again.
Mandatory lie detector tests.

Darkhold. Ghosts.


Robbie's dear but dangerous uncle Eli, who turned out to be evil. Oh, and he can create shards of carbon out of thin air and kill people.
Things culminate tomorrow. Catch an all-new episode of Marvel's Agents of S.H.I.E.L.D. this Tuesday at 10/9 C on ABC for the Winter Finale. Watch the clips from "The Laws of Inferno Dynamics" above! Marvel's Agents of S.H.I.E.L.D. will return January 10, 2017!
Keep your eyes on Marvel.com, follow @AgentsofSHIELD on Twitter and Like "Marvel's Agents of S.H.I.E.L.D." on Facebook for all the latest news!
The Hype Box
Can't-miss news and updates from across the Marvel Universe!