TV Shows
Published April 15, 2021
The Dora Milaje Return in 'The Falcon and The Winter Soldier'
The stars of the Marvel Studios original series discuss the arrival of the Wakandans!
The most recent episode of Marvel Studios' The Falcon and The Winter Soldier, "The Whole World Is Watching," saw the full return of Wakanda's most powerful warriors, the Dora Milaje.
After aiding in Baron Zemo's prison escape at the end of "Power Broker," Bucky Barnes (Winter Soldier) is paid a visit by Ayo after discovering a Kimoyo bead outside of Zemo's flat. One of Wakanda's fiercest fighters, Ayo, makes clear the reason of the Dora's presence: "I'm here for Zemo."
Anthony Mackie (who plays Sam Wilson) reveals, "I didn't know what to expect," with the arrival of the Dora Milaje in the series, while Sebastan Stan (who plays Bucky Barnes) exclaims, "There's something magical about it all."
Speaking on the Dora's return to the MCU as well as the special fighting forces' stealthy nature, Florence Kasumba (who plays Ayo) teases, "When we show up, you don't know how many are around."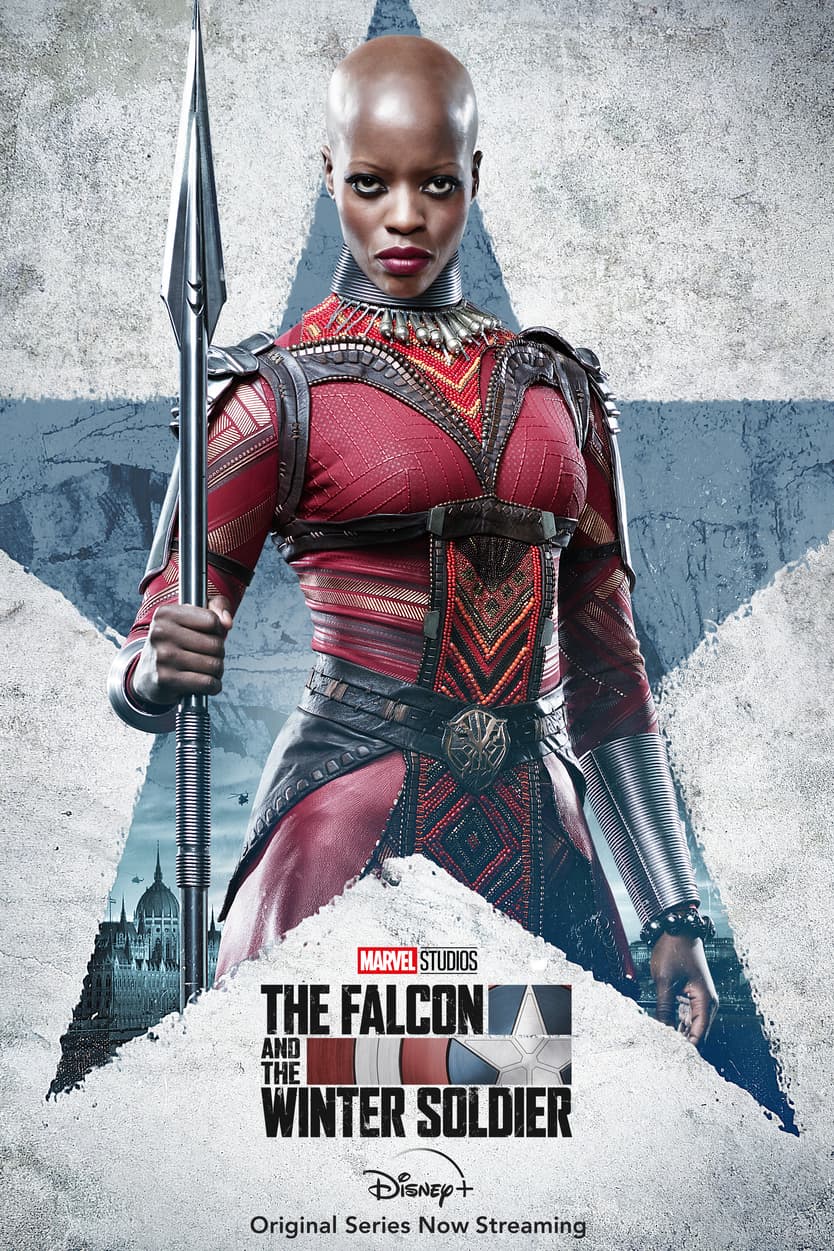 Our two heroes understand the formidable force of the Dora Milaje, with Mackie quipping, "There's a confidence and all of us get out of the way." As detailed in the Episode 4 Intel Report, Wyatt Russell's character John Walker has to discover that lesson the hard way, stating, "You can only do so much!"
"The Wakandans are back and they brought so much to the party," remarks director Kari Skogland, before remarking on how Walker's run-in with Ayo and the Dora Milaje impacts a decision weighing on his mind, "He realizes how vulnerable he is. Is he going to take the Super Soldier Serum?" Russell confirms, "That decision is crushing."
With the penultimate episode airing tomorrow, Disney+ released a mid-season sneak peek on what's to come for the remaining two episodes.
Directed by Kari Skogland with Malcolm Spellman as head writer, the six-episode series stars Anthony Mackie, Sebastian Stan, Daniel Brühl, Emily VanCamp, Wyatt Russell, Erin Kellyman, Adepero Oduye, Amy Aquino and Danny Ramirez.
Marvel Studios' The Falcon and The Winter Soldier is now streaming exclusively on Disney+!
Want more 'The Falcon and The Winter Soldier'? Follow the series on Facebook, Twitter, and Instagram!
Stay tuned to Marvel.com for more details! And be sure to follow Marvel on Facebook, Twitter, and Instagram. 
The Hype Box
Can't-miss news and updates from across the Marvel Universe!