TV Shows
Published November 10, 2021
'Hawkeye': Marc Shaiman and Scott Wittman on Bringing 'Rogers: The Musical' to Life
The song-writing duo infuses a little bit of Broadway into the MCU.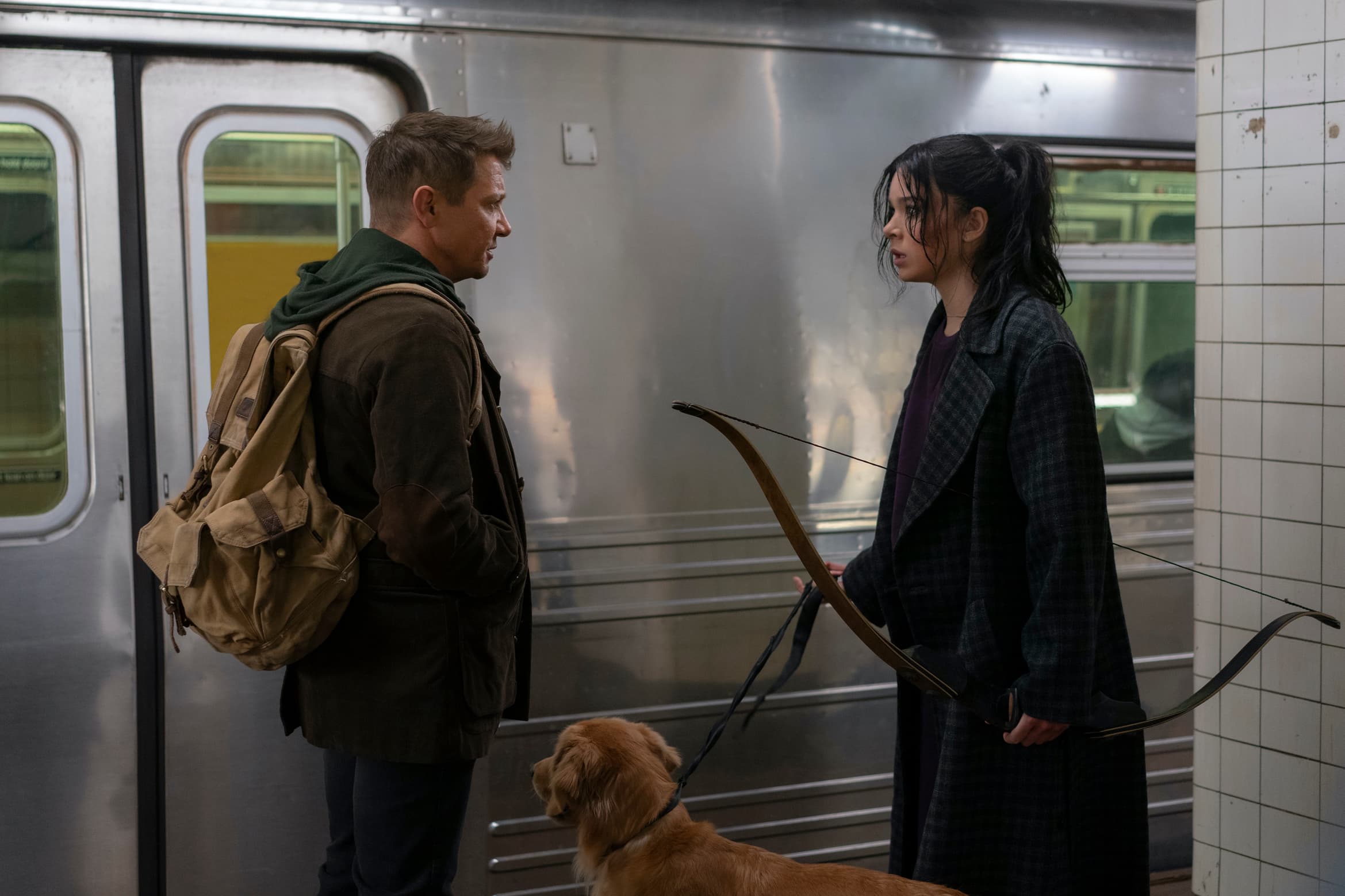 Curtain up on Rogers: The Musical. The latest Disney+ series from Marvel Studios, Hawkeye, features one show-stopping musical number focused on the Avengers and the Battle of New York.
Marvel.com can reveal that the long-time, award-winning, songwriting team behind the likes of Hairspray, Smash, and Mary Poppins Returns Marc Shaiman and Scott Wittman — who co-wrote the lyrics, with Shaiman also producing the actual song recording — penned the number from Rogers: The Musical in the series. And it all started with, as Shaiman told Marvel.com, Kevin Feige being a "film score nerd."
"[Scott and I] were at an Academy Award dinner, and I'm sitting there and someone taps me on the shoulder and says, 'Excuse me, Kevin Feige would love to meet you,'" Shaiman explained. "I knew who Kevin was, and I was like he wants to meet me, really? Turns out Kevin is a film score nerd. He started talking about [the scores I've written] one by one and I was like, I cannot believe this is happening. We started trading emails about scores and this and that, and when I would see [Marvel movies] I would send him an email. I guess when this idea came up for Hawkeye, for there to be a musical on Broadway, he luckily thought of us, and [Scott and I] couldn't be more ecstatic about it."
When the pitch to work on Rogers: The Musical first came up, both Scott and Marc admit that neither one of them was super well-versed in the Marvel Cinematic Universe...but that quickly changed.
"We got this assignment during the height of the pandemic, so I had many hours, and I watched many of the movies," Wittman said with a laugh. "Much to my delight, I was really quite amazed at all the kind of sly fun that existed in them and I was hoping to get that into the song."
For research purposes, Shaiman also had a secret weapon at his disposal: his husband, Lou. "It seemed fate that I married a man who was a total Marvel nerd. So, I would go with him as a good husband to go watch all the movies, then we would usually sit in the parking lot of the movie theater, and I'd say what did I just see? How does that all work and who's who, and little by little I started putting all the pieces together. We were both lucky to have [my husband, because] he could just spit out whatever the words are like, you know, 'Tesseract.' I never knew that Scott and I would write a song with the word 'Tesseract' in it."
Using the backdrop of an epic Avengers battle, the two set to work crafting a show-stopping musical number for Hawkeye, focusing on the idea of, "save the city."
"We were in the middle of the very worst part of the pandemic," Wittman adds. "When we were writing it was like when people would go and bang on pots and pans for the hospital workers, first responders. It all seemed to fit into the universe that we were writing to. So, the notion of 'someone please save New York,' was the battle cry of [the song]."
With the premiere of Marvel Studios' Hawkeye right around the corner, Shaiman and Wittman are excited for Rogers: The Musical to finally be out there for fans, with Shaiman teasing, "We've got some fantastic singers on this track, so I can't wait for people to hear." But on top of that, both are excited for fans to start singing (and dancing) along to it, too.
"It's been so thrilling to watch those reaction videos to the trailers," Shaiman continued. "We've worked on a lot of stuff that goes around the world, but man, there's nothing like the Marvel fans and how they look [for hidden details] and everything. It was just wonderful to see how happy they were about the musical and that they understand Marvel's sense of humor. They're just so looking forward to it. It's really thrilling."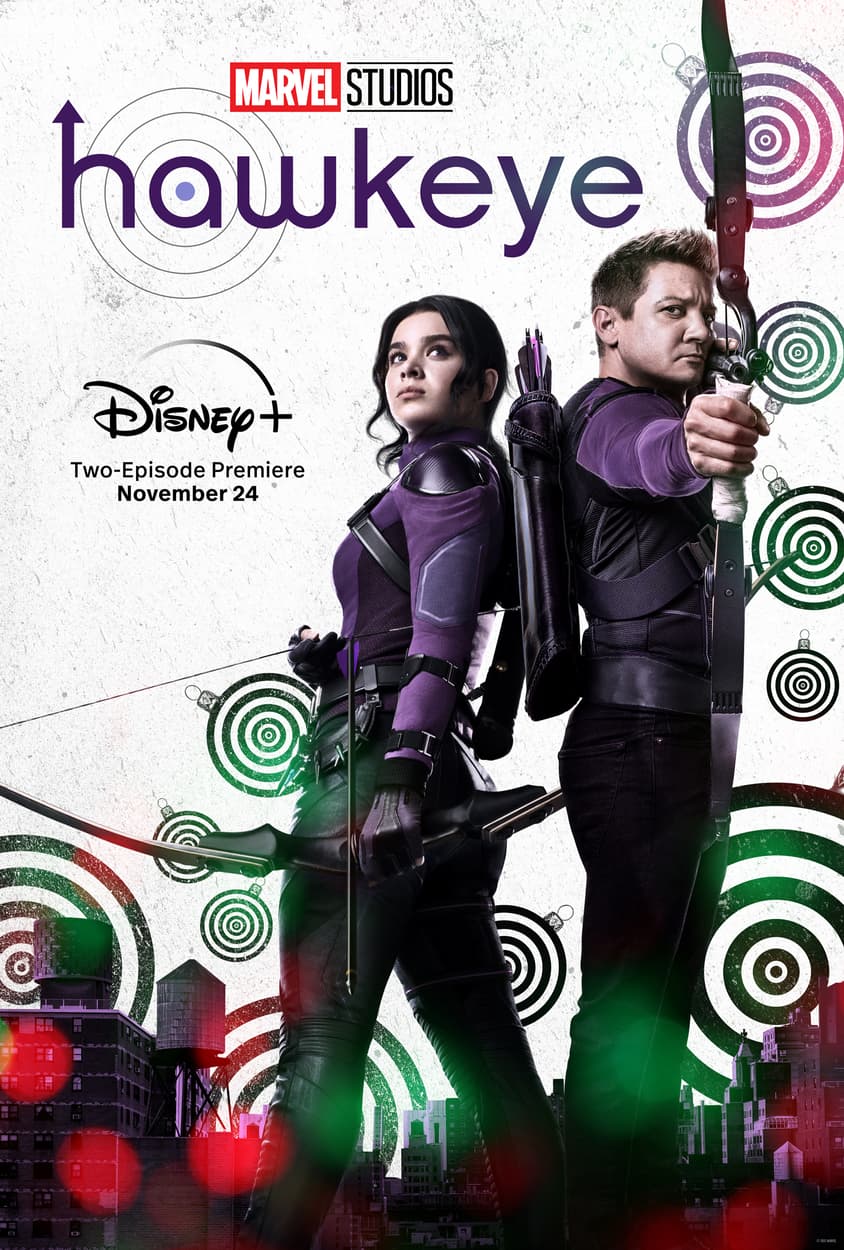 The six-part Marvel event kicks off with two episodes, streaming exclusively on Disney+ on November 24!
Hawkeye is an original new series set in post-blip New York City where former Avenger Clint Barton aka Hawkeye has a seemingly simple mission: get back to his family for Christmas. But when a threat from his past shows up, Hawkeye reluctantly teams up with Kate Bishop, a 22-year-old skilled archer, and his biggest fan, to unravel a criminal conspiracy.
Starring Jeremy Renner as Clint Barton/Hawkeye and Hailee Steinfeld as Kate Bishop, Hawkeye also features Vera Farmiga, Fra Fee, Tony Dalton, Zahn McClarnon, Brian d'Arcy James, and newcomer Alaqua Cox as Maya Lopez. Helmed by Rhys Thomas and directing duo Bert and Bertie, Hawkeye debuts exclusively on Disney+ on November 24, 2021.
Looking for more festive cheer? Follow Hawkeye on Twitter, Instagram, and Facebook!
Stay tuned to Marvel.com for more details and sign up for Disney+ and start streaming now! And be sure to follow Disney+ on Facebook, Twitter, and Instagram for more.
The Hype Box
Can't-miss news and updates from across the Marvel Universe!