TV Shows
Published November 10, 2023
'Loki': Loki and Mobius in Episode 6
"Mobius and Loki are kind of an odd couple but, they found a friendship. They make each other better."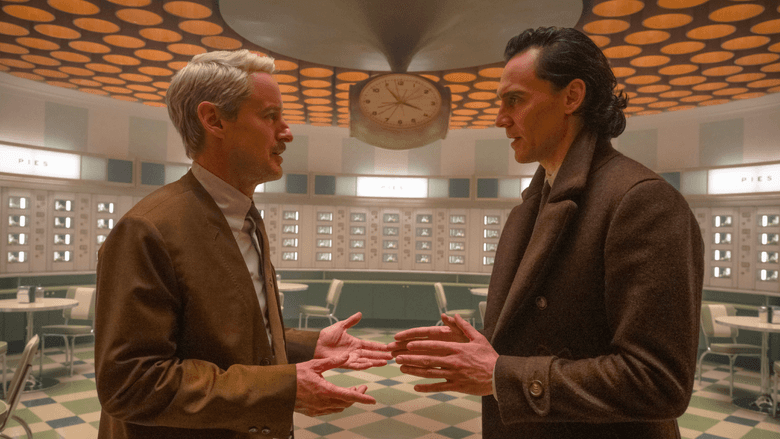 The first scene filmed for Season 2 of Marvel Studios' Loki was the one from Episode 6, specifically when Loki time slips back into the Time Variance Authority to speak to Mobius. It's a mirror of the scene directly pulled from the first episode of the first season, where Mobius has brought Loki to a time theater to interrogate him about some of his past transgressions. Loki, way back when, does not want to partake in any of this and threatens to burn the place to the ground. But now, at the end of Season 2, the scene takes on a different tone as Loki has returned here to ask for help, and essentially say goodbye to his best friend.
While getting ready to film this scene on set on Day 1, in a behind-the-scenes interview, Tom Hiddleston reflected on what a full circle moment it was for him and the character.
"Loki has to go back, right back to the beginning of the story, to see if he can find an answer to a question in his mind," He explains. "He needs to go back to where it all began. It reminds me of that T. S. Eliot poem, the "Four Quartets," 'and the end of all of our, oh no we shall not cease, we shall not cease from exploration and the end of all of our exploring will be to arrive where we started and know the place for the first time.'"
All season long, Loki has been on a mission — across the timelines — to try and save the TVA and his friends. It hasn't worked out in his favor so far. He's eventually faced with an impossible task and begins to slowly realize what he must do, but not before slipping back to talk to Mobius one last time. He wants to say goodbye. 
"I think structurally we felt as soon as Loki gets back into the Temporal Core control room, the story's got to pick up, and you're going to move into this fully different thing. There's no time to stop down and have that sort of goodbye with Mobius," Executive Producer Kevin Wright explains to Marvel.com. "When you start talking about, OK, we need to carve out some way that we can get somewhere and have a goodbye with Mobius. And Mobius doesn't know it's a goodbye. Literally, in his timeline, he's just meeting this guy. But to Loki, this is the goodbye."
Head Writer Eric Martin viewed the scene as one last time for these characters to have one of their tried-and-true conversations across a table. "Loki already knows what he's going to do. He already knows what he has to do. So, when you sit down to write that, it's just like, all right, we have to have him express where he is right now and get what he needs out of Mobius, but he's engaging emotionally, too."
As Wright notes, unlike the scene in Season 1 Episode 1, the script is flipped on the integration this time, as it's Loki who's asking Mobius all sorts of questions. It's at this point that Loki, and viewers, learn Mobius' own origin story with the TVA and some of the hard choices he's had to make over the years. Loki, staring down his own hard choice, needs to hear some of these things himself.
"That was always really important, revealing more about Mobius than maybe we ever realized in two seasons, what his past was, and it was sort of then a flip of that season one interrogation, where it was so antagonistic, and this time it's Loki going back to try to get advice on how to handle a really difficult situation," Wright continues. "This Mobius doesn't even realize that's the conversation he's having."
The two men talk for a bit, but it can't last forever. Loki asks about what it's like to make hard decisions, and eventually, Mobius tells Loki exactly what he needs to hear: "Most purpose is more burden than glory, trust me you never want to be the guy who avoids it because you can't live with the burden."
With tears in his eyes, Loki shakes Mobius' hand and says thank you before he slips away, again. If you're emotional, know that that emotion you're seeing between the two men on screen is real.
"It's a special thing, because Tom and Owen, they have a real connection on screen," Martin adds. "That chemistry is there. It's there in person. They work so well together. I think it's touching for everybody on set because you're just feeling a little bit of magic. It's the last magic that everybody will see."
Hiddleston knows that what he's got with Wilson as a scene partner is special, and that's what makes this goodbye so much harder. "Owen is kind of elevated the whole series, he's so intelligent and imaginative and witty. Mobius and Loki are kind of an odd couple but, they found a friendship. They make each other better."
For all time, always! Loki Season 2 is now streaming on Disney+. 
The Hype Box
Can't-miss news and updates from across the Marvel Universe!