TV Shows
Published October 5, 2023
'Loki': Tom Hiddleston on Finding The God of Mischief's New Family with the TVA
"Maybe there's more burden and less glory in the purpose this time."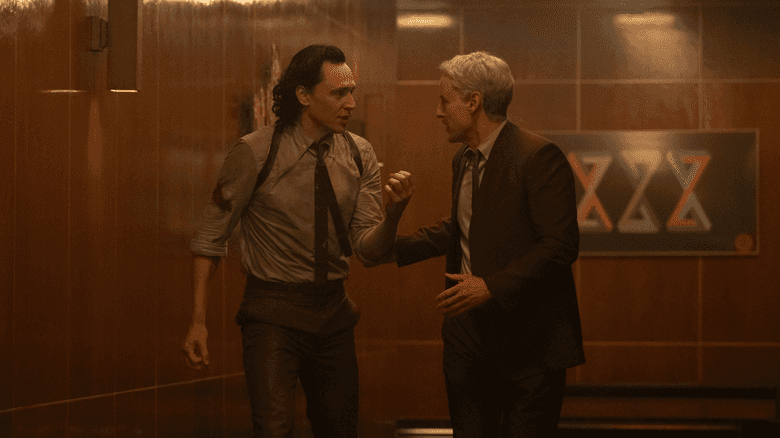 In the first episode of Season 1 of Marvel Studio's Loki, Tom Hiddleston's mischievous scamp is plucked from the Sacred Timeline, brought before a judge at the Time Variance Authority, sentenced to be pruned for his actions, and only saved at the last second by curious TVA Agent Mobius who needs Loki's help. Loki, being Loki, is less than thrilled about everything going on and in true Loki fashion snarls, "I'm going to burn this place to the ground."
Fast forward a little bit — one trip to the Void and the end of time later — and Loki's singing a different tune. He no longer wants to burn the Time Variance Authority and everyone inside its walls to the ground; now he's trying to save it.
Season 1 ends with Loki arriving back at the TVA but things look much, much different than when he left them. After some painful Time Slipping back and forth, Loki realizes that he's being transported through the past, present, and future of the TVA…but that's still not the biggest headache on his hands. Thanks to Sylvie killing He Who Remains, no one is regulating the timelines, let alone the Temporal Loom which is overloaded and very close to bursting. Loki, now more than ever, is under a time crunch to figure out what is happening and stop it before any more catastrophic events take place. 
"The stakes are higher, the clock is running down, and reality is going to be destroyed including everyone in it and everyone he loves, so Loki is propelled by this momentum and this urgency to try to put the brakes on the dissolution and destruction of reality," Returning star Tom Hiddleston explains. Not only is he trying to save the timelines, but more importantly, he's trying to save his newfound family — Mobius, Hunter B-15, Casey, and everyone else at the TVA.
"Loki always struggled with family in the MCU, but he's found a new family in the TVA," Hiddleston continues. "In the breakdown of understanding himself and having his sense of self opened up, broken down, and rebuilt by Mobius and his colleagues at the TVA, there's a new awareness and a capacity to connect with other people."
It's a big 180° shift, considering Loki first walked the TVA halls threatening destruction, and now his only goal is to make sure the TVA doesn't explode.
"He's a character who, as long as I've played him has been searching for meaning," Hiddleston adds. "Even when he wasn't aware of it, he was full of grievance and anger and emotional destabilization because he didn't feel he had purpose or meaning. He was looking for meaning in the wrong places and now I think he's found a way of giving himself purpose, which is to try to reorganize, to help Mobius and Hunter B-15 and the TVA."
It's a major shift for the character as viewers dive into the new season, and Hiddleston knows it, "If Season 1 was about self-awareness and self-acceptance, Season 2 is about taking responsibility and trying to find a new purpose. Maybe there's more burden and less glory in the purpose this time."
Either way, Hiddleston is thrilled to be putting back on Loki's TVA jacket.
"I can't believe I'm back. Season 1 felt like a new beginning because we were stripping Loki of everything that was familiar to him it was taking him away from, from the timeline and Asgard and Thor and Odin and all the things that I was familiar with. It's a new beginning, a new story, a new chapter, and hoping that the audience will accept, and you know and be inspired by our new story… Let's see if we can do it all again but better."
Editor's note: The following interview was conducted before the SAG-AFTRA strike began on July 14, 2023.
For all time, always! Loki Season 2 arrives on the timeline at 6:00 PM PT on Thursday, October 5 exclusively on Disney+. All subsequent episodes will also be available starting Thursdays at 6:00 PM PT.
The Hype Box
Can't-miss news and updates from across the Marvel Universe!