TV Shows
Published July 14, 2021
'Loki': How the Cliffhanger Ending Sets the Stage for What's Next
"Something has changed reality, including the reality of the TVA," Tom Hiddleston says.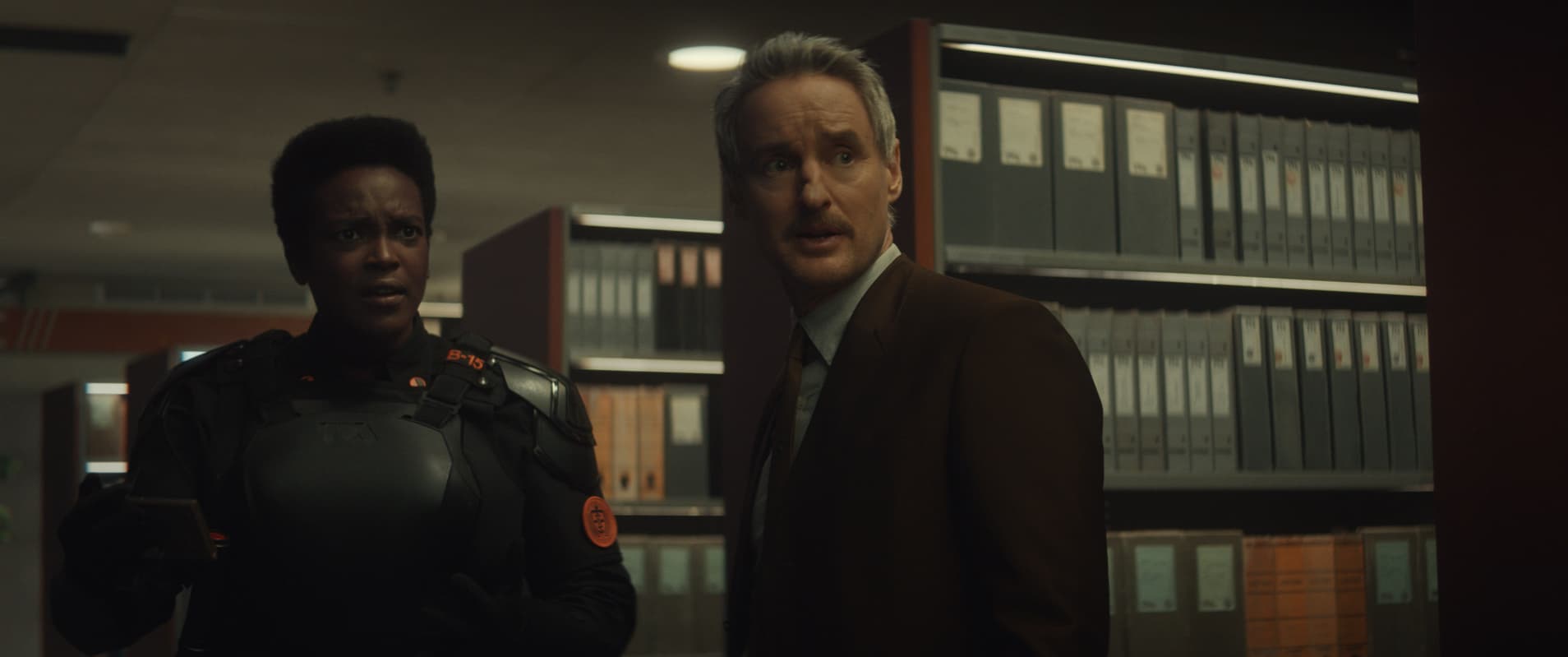 "Who are you? What's your name?" Mobius asks Loki in the final moments of Episode 6 of Marvel Studios' Loki. And it's in this moment that Loki (and viewers) realize that something isn't right. Mobius doesn't recognize his friend, and suddenly panic sets in as the God of Mischief gazes around the Time Variance Authority he once knew. But he doesn't know this place anymore. It's different. The biggest indication being that the three giant Time Keeper statues have been replaced by one lone figure: a variant of He Who Remains.
Episode 6, "For All Time. Always.," ends on a major cliffhanger as Loki realizes that He Who Remains was telling the truth with his warning. Loki and Sylvie broke the Sacred Timeline, and now they're going to have to deal with the fallout and consequences. The most pressing one being that Loki finds himself in an unfamiliar world.
The creative team behind the show went through a few different endings for the episode, before landing on this reveal that completely pulls the rug out from underneath Loki.
"There were different versions of it [and] it was something that was developed over the hiatus," head writer Michael Waldron tells Marvel.com. "It was finally kind of locked in, like, alright this feels right. We've maybe closed one chapter of the story and that is something that gives us thrilling propulsive energy into whatever happens next."
"We wanted to end Loki's story well, but also there's this cliffhanger of, 'Where's he going to go?'" director Kate Herron says. "It was an ending that we all knew we wanted...that the multiverse would be born and open again, and here he goes."
It's an emotional journey to get to this point for both Loki the character and Loki the show, as the mischievous scamp has literally just faced his first real heartbreak. After a confession to Sylvie and a kiss, she pushes him through a nearby Time Door so she can finish her mission to take down the TVA — and kill He Who Remains. Loki finds himself back inside a Time Theater, forced to reflect, alone, about what just happened.
"He is a changed character by the end," Herron continues. "I feel quite emotional when I see that scene [in the Time Theater]. You see him at his lowest ebb, and you just don't know how he's going to move past it. Then he takes that breath in. And he's like, no, I still have a fight. For me, that was really important to show people he still has a fight in his heart. I really wanted to just show that moment of hope. It's cheesy, but better to have loved and lost, right?"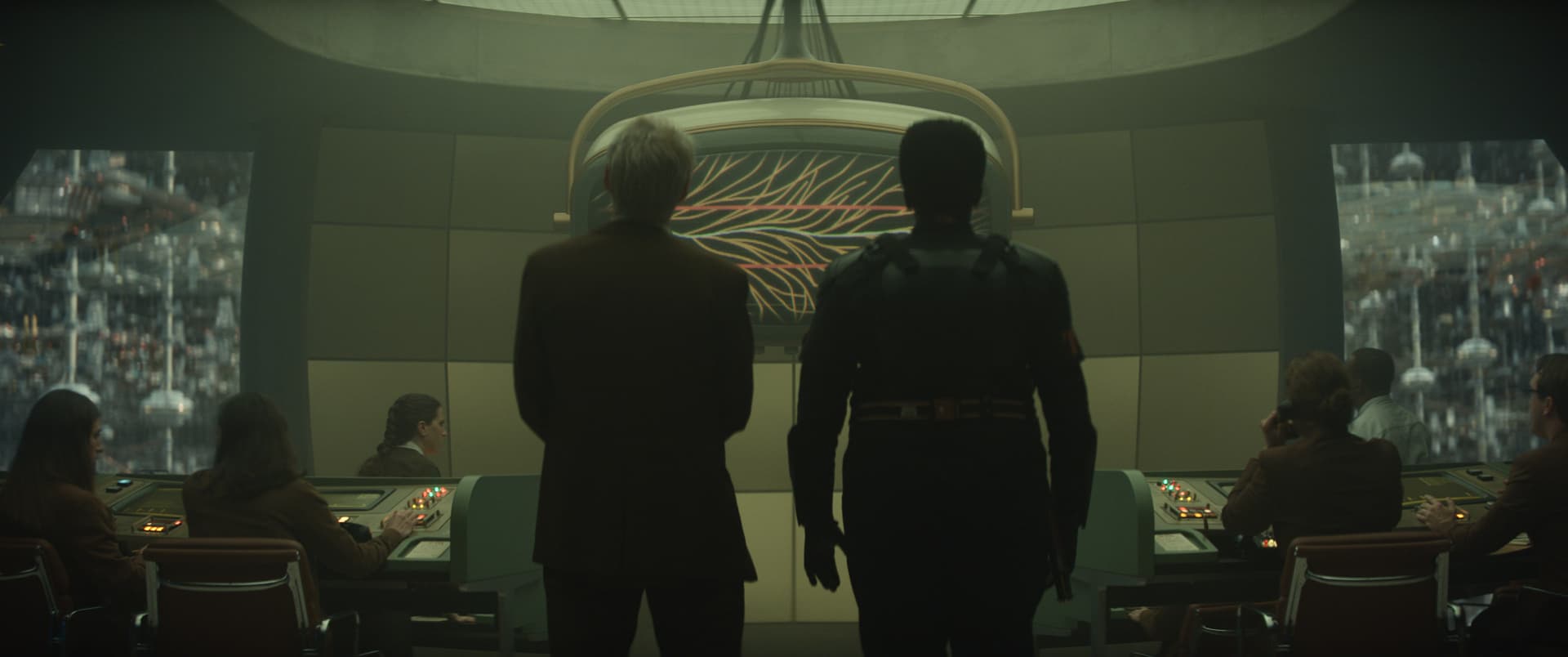 That scene in the Time Theater was actually the first scene shot after production resumed following the pandemic hiatus, with Tom Hiddleston noting that picking up there was, "an intense restart."  Though there's no dialogue in this scene, Hiddleston's face conveys everything viewers need to know, as Loki processes Sylvie's decision and where he is now.
"It crushes his soul," Hiddleston says, reflecting on Sylvie's betrayal at the 11th hour. "For perhaps the first time, one of the only times in his life, he was brave and he lost. He made a brave choice and it didn't work. The confusion is unprecedented and it shatters him internally. He doesn't even know how to process what he's feeling. This is why it registers as a shock [for him]. But then he becomes determined that there is still something he can do. Perhaps he can get to Mobius and Hunter B-15, and enlist their support."
It's a good plan that quickly goes sideways. No sooner does he reach Mobius and Hunter B-15, "He realizes that in the time he's been sitting on that step, something has changed."
"Something has changed reality, including the reality of the TVA," Hiddleston says. "The three statues of the Time Keepers are no more. In their place is a statue of Kang. And that his friend Mobius doesn't recognize him and doesn't know who he is. His destabilization in that moment is profound."
Starring up at that statue, Loki and everyone else in the TVA might not know the ramifications of it, but Kang is certainly a name to be feared. Herron was thrilled to be the one to bring him to life for the first time, though he's not really Kang — he's one of his variants with a dire warning.
"It sets the table for future outings with them," Herron continues. "It was a massive responsibility and privileged to bring that character to the screen. He's such a different villain to Thanos. I remember what I saw in the outline when I first pitched [to direct the series]. I was, 'It would be awesome if we got to do that.' But things can change at the drop of a hat. I thought, 'Well, maybe they'll change it and say we're not allowed.' But they never did. That's what's so exciting about these TV shows, that they are going to interconnect with the movies in a big way. I found that really exciting, not only as a fan but just as a filmmaker."
All six episodes from the first season of Marvel Studios' Loki are now streaming exclusively on Disney+. 
Looking for more mischief? Find more Loki on Twitter, Facebook, and Instagram! 
This is just the beginning of the Phase 4 news. Stay tuned to Marvel.com for more details and sign up for Disney+ and start streaming now! And be sure to follow Disney+ on Facebook, Twitter, and Instagram for more.
The Hype Box
Can't-miss news and updates from across the Marvel Universe!