TV Shows
Published November 10, 2023
'Loki' Behind-the-Scenes of the Opening of Episode 6
"We kind of lied to them about what was happening to sell a really insane performance."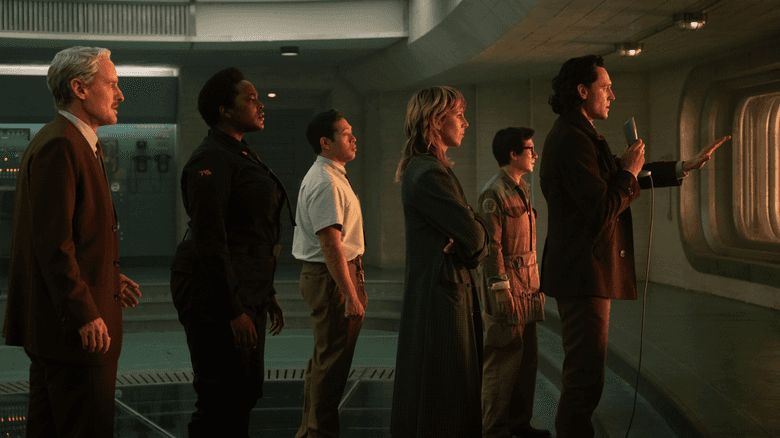 The easiest way to save the Time Variance Authority and the timelines from imploding on themselves? Why, Time Slip again and again into the same scenario hundreds, if not thousands, or maybe millions of times until you get it right (this is not actually how to save the TVA, but that's a story for another time…).
The beginning of Episode 6 of Marvel Studios' Loki is essentially Loki reliving a no-good, very bad day again, and again, and again in hopes of just once getting the Temporal Loom to stop overloading. Loki literally spends centuries trying to figure this out, which means that on-screen everyone at the TVA is reliving the same scenario again and again…and again. And again.
Behind the scenes, that meant that the cast had to film scenes from Episode 4 again (and again and again) to mesh into Loki's quest in Episode 6. While Loki might be frustrated with having to replay this multiple times the rest of the cast was left very bewildered — mimicking what we see on screen for the TVA characters.
"I think the funniest part of all of that, though, was as we were shooting it, you are essentially replaying that Episode 4 over and over and over again, as performers, as actors, they just start to lose track of days, and where we are in the story and what's actually happening," Executive Producer Kevin Wright explains to Marvel.com. But taking everything a step further, star Tom Hiddleston was clued into what was happening in the latter half of the season with this constant reply of Episode 4. The rest of his friends at the TVA? Not so much. 
"I would say the way that Episode 4 ended, the way it was shot, our cast, outside of Tom, thought something very different was happening," Wright adds with a laugh. "We kind of lied to them about what was happening to sell a really insane performance. Up until I think they had all seen the episodes, they had thought something very different was going to happen at the end of 4. I think there was all this extra level of confusion for them, as we're repeating this moment over and over and over again, trying to figure out why that is happening and what is going on."
And the cast certainly felt this confusion. Season 1 of the series was filmed in order, while Season 2 was filmed out of order, so no one questioned why one scene was being filmed again and again (and again for centuries).
"Sometimes we're the end before we've shot the beginning before we've shot the middle before we've shot the beginning of the middle and then the end of the middle and then the end of the beginning," Star Sophia Di Martino jokes. "It's already a head melt trying to get your head around this series and all the time slipping and to-ing and fro-ing between universes but then shooting out of sequence is like a hat on a hat and the hat is really confusing."
But Di Martino didn't care how many times they had to film it because it just meant she got to see her friends every day on set.
"We did a lot of days in [Temporal Core] room, over and over again. There were some really fun times when we were all going a little bit stir crazy, Cabin fever on the edge, but it was really lovely knowing I was going to come to work every and see all those guys every day."
To the surprise of no one, Tom Hiddleston kept everyone's spirits up, because as Wunmi Mosaku notes, "He has the whole script in his head at every moment and he can tell you exactly where you were just coming from and where you're going."
"He's always reminding us like, this is the first time even though we've shot this a thousand times, this is the first time we've done this. The repetition of the scenes was really, really hard to keep the intensity equal as well because it's a repeated scene. Honestly, some people are just magicians, and I would say Tom Hiddleston is one of those, I don't know how he keeps happy, and chirpy, he doesn't dream about [filming] it all night. He keeps the joy in the room."
Not only was he the cheerleader, but Hiddleston was also working extra hard to keep an air of mystery for the scene, continuing to film while others had left.
"Oftentimes, a lot of that with Tom specifically was shot when the cast would go on their lunch breaks," Wright adds. "They would all go away, and Tom would stay back with our directors and our camera operator and everybody and kind of just like churn through so many different versions of these. It was weirdly a thing that I think we all had the same idea of what it was going to be, but only Tom kind of had it in his head of how it would end up."
Don't worry, Hiddleston always took a lunch, too, as Wright notes, "he just did it later."
For all time, always! Loki Season 2 is now streaming on Disney+. 
The Hype Box
Can't-miss news and updates from across the Marvel Universe!