TV Shows
Published October 12, 2023
'Loki': Sophia Di Martino on Sylvie's New Life on the Timeline
"Loki is a threat to Sylvie in this series because he is asking for her help but he's asking for her to step away from this life."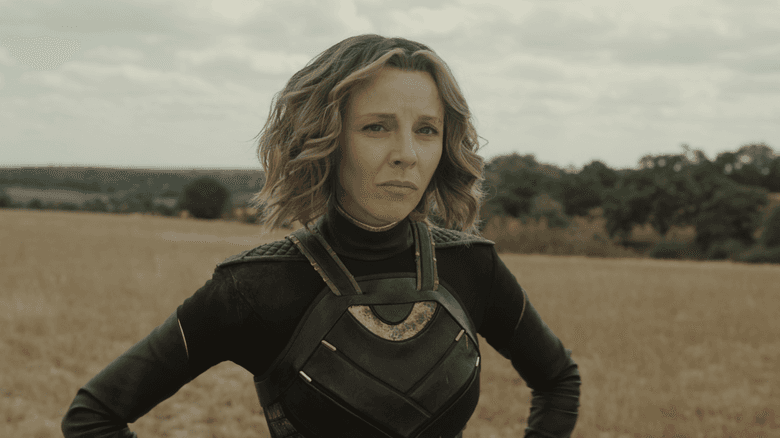 At the end of Season 1 of Marvel Studios' Loki, Executive Producer Kevin Wright asked star Sophia Di Martino where she thought her character, Loki Variant Sylvie might go next — you know, considering she had just fulfilled her life-long quest of killing He Who Remains. Di Martino mentioned to Wright that she thought Sylvie might be "really hungry" considering the ups and downs of her life and the toll it's taken on her.
"That was my lesson in being careful what you say, to producers because next thing I know [Sylvie's] in a McDonald's ordering everything on the menu," Di Martino laughs. But her feast at McDonald's represents something so much bigger. "It's a metaphor for Sylvie wanting to experience what it's like to be in the world and not have to be on the run the whole time."
The first episode of Season 2 of Loki ends with Sylvie on a branched timeline in Broxton, Oklahoma. Now what? She wanders into a McDonald's and after asking what's good, Sylvie looks around at all the people sitting inside there — friends, families, couples. She realizes everything she's been missing out on hiding in apocalypses, and for Sylvie, finally catching her breath, her main goal is simply to experience "what it's like to be normal, to have a normal human life where you can take your time and decide what you want to eat."
And Sylvie is more than content just to put roots down — finally. "She begins to make connections with just a few human beings, and she starts to realize how important that is to her and how little she's had of that throughout her life. She gets to know people and to spend more time with them then, just you, a few hours at the end of the world, in an apocalypse somewhere. [Now,] she makes friends."
Sylvie's stop into this McDonald's turns into so much more when she lands a job there behind the counter. Things seem to be going a-ok for her, and this is unfortunately when Loki comes back into her life. He's on a mission himself to get to the bottom of what the Time Variance Authority is up to (and stop the Temporal Loom from overloading and exploding), and that brings him to Sylvie's branched timeline. It's a shock for Sylvie, and something Di Martino compares it to "bumping into an ex that you don't really want to see."
In just a matter of seconds, Loki has disrupted Sylvie's new, quiet life. "Loki is a threat to Sylvie in this series because he is asking for her help but he's asking for her to step away from this life. She [explains to him] I'm out I, I don't want anything to do with this. I am living a happy life, and I don't want to go backward. I'm only interested in going forward. So, the tension between Sylvie and Loki is still there and it's very much a frosty atmosphere between them."
While Loki's feelings about the TVA have done a complete 180, Sylvie's have not. She is less than thrilled to be asked for help, especially on her break from work! "She never wants to go back there, she's allergic to the place, she hates it," Di Martino continues. "From a very deep place within her, she hates the place, she doesn't care if it burns down."
It might not just burn down, it might explode. With some convincing, and a little enchantment, off Sylvie goes to the last place she ever wants to see again, and time will only tell how her feelings towards the TVA — and Loki — change over the coming episodes. Stepping back into this bigger world, Di Martino is excited to don Sylvie's trench coat again and be "trusted with a character" like her.
"It's great having the confidence to be able to know exactly what Sylvie would do because I know her pretty well now, and I'm getting to know her more and more. It's just such a perfect way to get to know a character, to see what happens when they are literally out of their comfort zone… to be the shepherd of our own characters is amazing."
Editor's note: The following interview was conducted before the SAG-AFTRA strike began on July 14, 2023.
For all time, always! Loki Season 2 is now streaming exclusively on Disney+. New episodes arrive on the timeline Thursdays at 6:00 PM PT. 
The Hype Box
Can't-miss news and updates from across the Marvel Universe!