TV Shows
Published June 30, 2021
'Loki': Inside the Decision to Have Him 'Fall In Love With Another Version of Himself'
When Loki met Sylvie…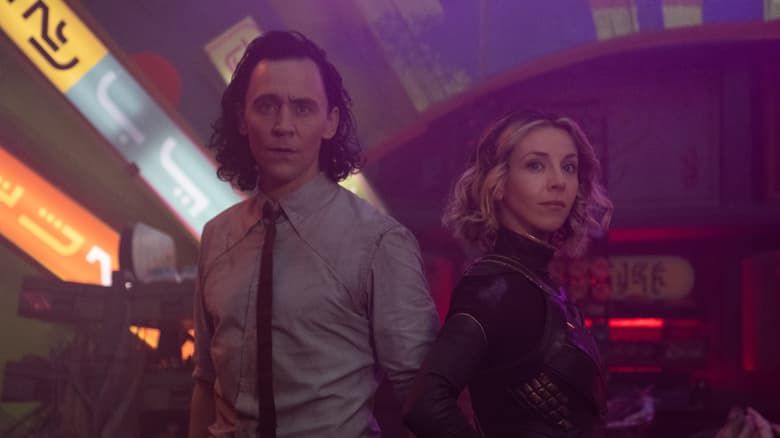 "Two variants of the same being, especially you, forming this kind of sick twisted romantic relationship? That's pure chaos! That could break reality. It's breaking my reality right now! What an incredible seismic narcissist! You fell for yourself!"
That's what Mobius practically yells at Loki in the latest episode of Marvel Studios' Loki. In trying to get to the bottom of what caused the Nexus Event on Lamentis-1, Mobius starts asking questions and prodding the God of Mischief in just the right way to get a confession out of him, without Loki actually confessing to anything. After putting the pieces together from Loki's context cues, Mobius arrives at the only logical conclusion: Loki's fallen for the other Variant, aka Sylvie. "You like her! Does she like you?" teases Mobius.
"That was one of the cruxes of my pitch [for the series], that there was going to be a love story," head writer Michael Waldron explains to Marvel.com. "We went back and forth for a little bit about, like do we really want to have this guy fall in love with another version of himself? Is that too crazy? But in a series that, to me, is ultimately about self-love, self-reflection, and forgiving yourself, it just felt right that that would be Loki's first real love story."
Loki and Sylvie's love story has an apocalyptic beginning since that's where the two first begin to bond. Trapped on a moon on the verge of total destruction, the two are forced to work together to find a way out of this situation, only to have it completely fail before their eyes. Feeling defeated, Sylvie wonders if Lokis are always destined to lose?
Loki reassures her that while they might lose, they don't die — they survive. He goes on to call Sylvie "amazing" for how she almost took down the TVA on her own, and it's clear from the look on his face that even though they've only been together a short while, Loki's already come to admire and respect her. As the moon literally crumbles around them, Sylvie places a hand on Loki's arm, and that's when it happens: A branch on the Sacred Timeline. These two Lokis are having a moment they were never supposed to have, which as Mobius puts it, is "pure chaos."
"The look that they share, that moment, [it started as] a blossoming friendship," continues Waldron. "Then for the first time, they both feel that twinge of, 'Oh, could this be something more? What is this I'm feeling?' These are two beings of pure chaos that are the same person falling in love with one another. That's a straight-up and down branch, and exactly the sort of thing that would terrify the TVA."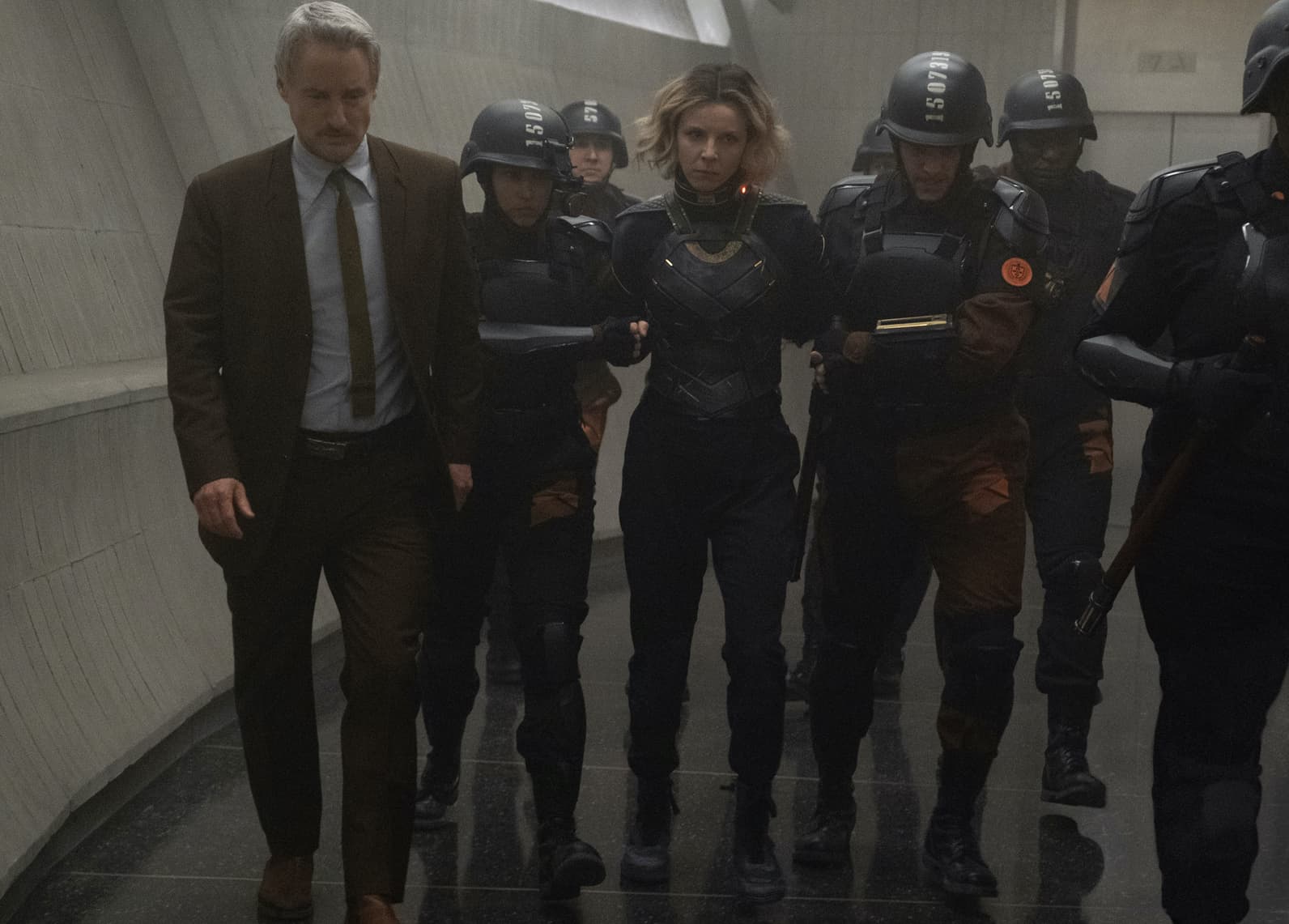 Thankfully this branch also leads to the two variants being located on Lamentis-1; unfortunately, their rescue leads to them immediately thrown into captivity at the TVA.
But what happened on Lamentis-1 clearly affects both of them in different ways, with Loki slowly coming to grips with the fact that he does have feelings for Sylvie — even though she's "difficult, irritating, and tries to hit [him] all the time."
This is only made more pronounced after Loki finds himself trapped in a time loop with Lady Sif back on Asgard shortly following his past-self committing a cruel prank and cutting off her hair. Sif not only beats him up (and rightfully so), but tells him many times, "You deserve to be alone and you always will be." For the first time, Loki realizes he doesn't want to be alone, and that there might be someone out there for him, who he can connect with on another level.
Even more so than Loki just realizing he is capable of loving someone other than himself, Loki is finally willing to accept himself and all his flaws. "I don't think Loki's relationship with himself has been very healthy," Tom Hiddleston explains. "Trying to accept those aspects of himself, which he's been on the run from, was a way of thinking about that in a really interesting way. Also, Sylvie's not Loki. Sylvie is Sylvie. That's interesting, too. I'm really excited to see what people make of it."
As Mobius notes, it might just be a case of extreme narcissism, but it also makes complete sense for the character.
"Who's a better match for Loki than himself?" director Kate Herron chimes in. "The whole show is about identity. It's about him, and he is on a very different path, and he is on a different journey. He sees things in Sylvie that he is like, 'Oh, I've been there. I know what you feel.' But she's like, 'Well, I don't feel that way.' And I think that was the kind of fun thing about it. She is him, but she's not him. They've had such different life experiences. So just from an identity perspective, it was interesting to dig into that."
"When Loki meets Sylvie, he's inspired solely by curiosity," reveals Hiddleston. "He wants to talk to her and understand her and try to discern what was similar about their experiences, and what was different. He keeps asking her questions because he wants to see if his experience was also her experience. I think he realizes, and she realizes, that while they're the same, they're not the same."
Herron was careful setting up this relationship. "It was just about giving it the space to breathe and digging into it in a way that felt earned," she explains.
Considering partnerships are 50/50, credit has to be paid to Sophia Di Martino, taking on the role of Sylvie and becoming someone who can match Loki's own energy and chaos.
"I think something that Sophia captured really beautifully is that she's in a different space," continues Herron. "She's almost where Loki was in Thor in some ways where she's dealing with a lot of pain. For different reasons, obviously. It was really interesting having her in a different headspace of a different Loki."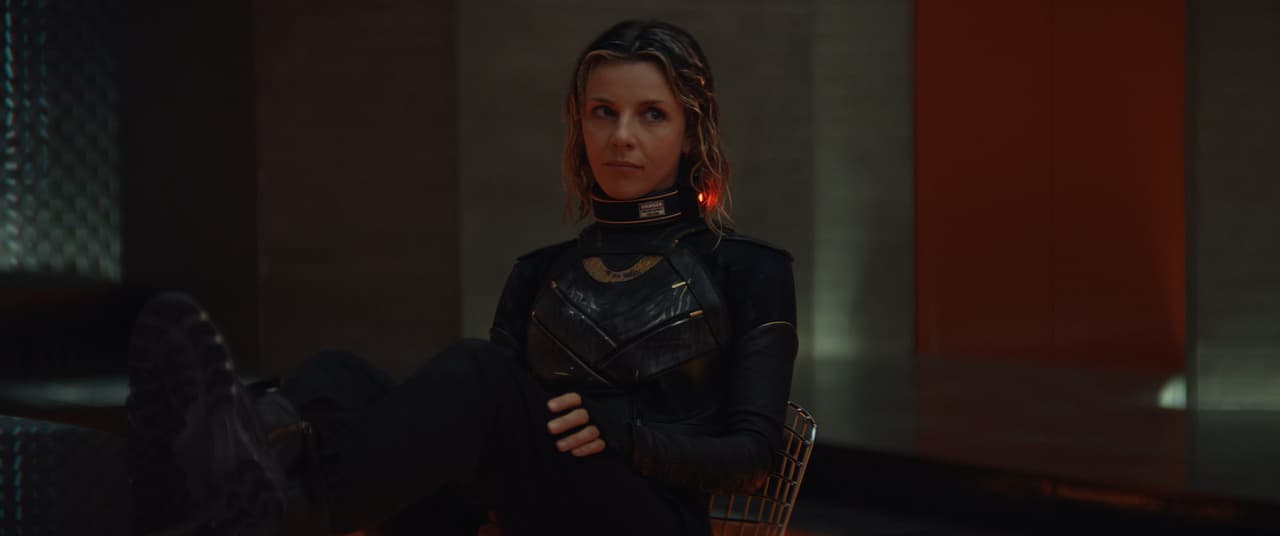 When production was shut down at the start of the pandemic, Herron kept working, putting together what had already been filmed. She realized that "there were tonally some things that were coming to the surface" between Loki and Sylvie that she could explore deeper.
"As we were cutting it together in the studio, everyone was, 'Oh, this [relationship] is really cool. Let's dig into that more,'" shares Herron. "When we went back to filming, we added or tweaked scripts basically to [emphasize it]."
Marvel Studios' Loki is now streaming exclusively on Disney+. 
Looking for more mischief? Find more Loki on Twitter, Facebook, and Instagram! 
This is just the beginning of the Phase 4 news. Stay tuned to Marvel.com for more details and sign up for Disney+ and start streaming now! And be sure to follow Disney+ on Facebook, Twitter, and Instagram for more.
The Hype Box
Can't-miss news and updates from across the Marvel Universe!