TV Shows
Published October 16, 2018
'Marvel's Daredevil' Season 3: Supporting the Devil
Elden Henson, Deborah Ann Woll, and Joanne Whalley discuss Foggy, Karen, and Sister Maggie's roles in Season 3, debuting October 19 on Netflix!
When "Marvel's Defenders" ended, Foggy Nelson and Karen Page waited in vain for their friend Matt Murdock to return to them after the disaster at Midland Circle. Instead of Matt coming back to his friends, fans saw the battered Man Without Fear being tended to by nuns, with one of them calling for "Sister Maggie." Marvel.com visited the set of the third season of "Marvel's Daredevil," debuting October 19 on Netflix, and spoke to the actors playing some of the most important people in Matt's life: Elden Henson ("Foggy Nelson"), Deborah Ann Woll ("Karen Page"), and new cast member Joanne Whalley, who plays Sister Maggie.
Henson addressed the complicated feelings Foggy is feeling at the beginning of the season, believing his best friend is dead. "I think with how close Matt and Foggy are, much like brothers, no matter what happens there's always that love there. But I think also like with family, you can fight a lot worse than you would with someone you're maybe not as close with. So I think there's a lot going on for Foggy in terms of how he feels about Matt."
Being away from Matt has also given Foggy the chance to "step out from Matt's shadow a little bit," Henson noted. A bit of light will be shined on Foggy's life outside of practicing law alongside Matt, and for Henson, it's a return to form for the show. "I think Foggy talked about his family in Season 1, and going back and meeting them now and seeing how he fits into that family dynamic, in many ways feels like we're getting back to Season 1."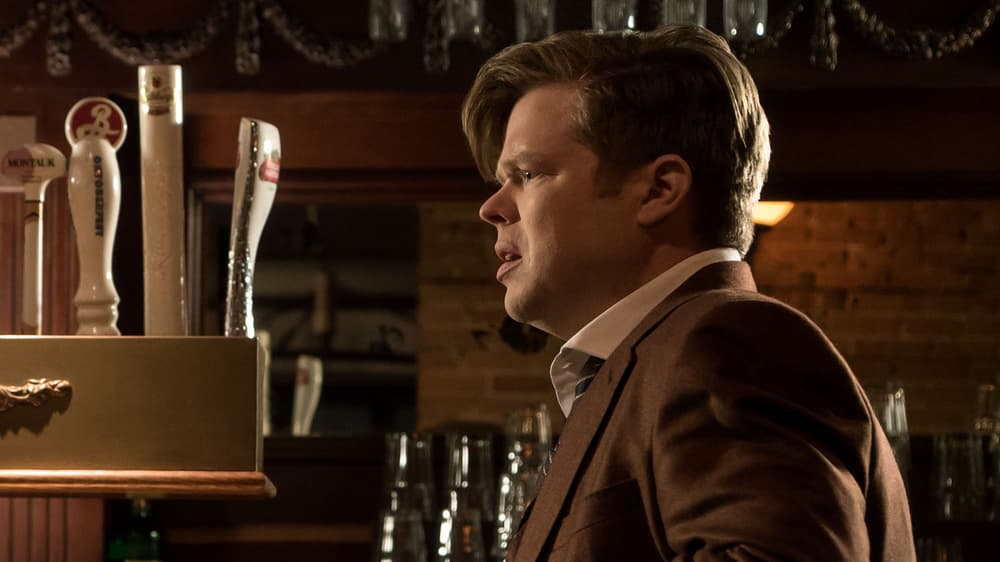 Then there's Foggy's chosen family, Matt and Karen. Said Henson, "I think there's always going to be a really strong connection between the three of them, and I think a cool thing that [Executive Producer/Showrunner] Erik Oleson's done this season is that even though these characters have broken out on their own, they find they always do ultimately need each other and that bond they have is always going to be really strong."
For her part, Woll says that Karen's struggle is slightly different from Foggy's in the beginning of the season. As Woll explained, "The first half of the season is dealing with the grief of [losing Matt], do you believe it or not, the denial of it. And then, do you keep fighting? Do you take on this fight that you think killed your friend and keep pushing on it? And I think, of course, Karen will never let go."
Fans have watched Karen Page evolve in her career as an investigative journalist, but there have always been hints that something from her past might be driving her – or holding her back. This season, Woll said that some of those hidden layers will be peeled back. "I think for me, the most fun has been that we really start to open up Karen's past, and a lot of the mysteries, the hints that have been dropped that haven't really been filled in… They've done an amazing job. I could not have asked for a better backstory."
When it came to diving into Karen's backstory, Woll noted, "It was crazy collaborative with the supervising writer, the writer who wrote the episode, and the director, myself, and Erik. And all these great, other characters that we brought in. Everyone was on point and collaborative and open to every idea. We could throw anything out and say 'Okay, well, maybe that won't work. Let's try this one.' It was two of the most exciting and fun weeks of my career, working on that material."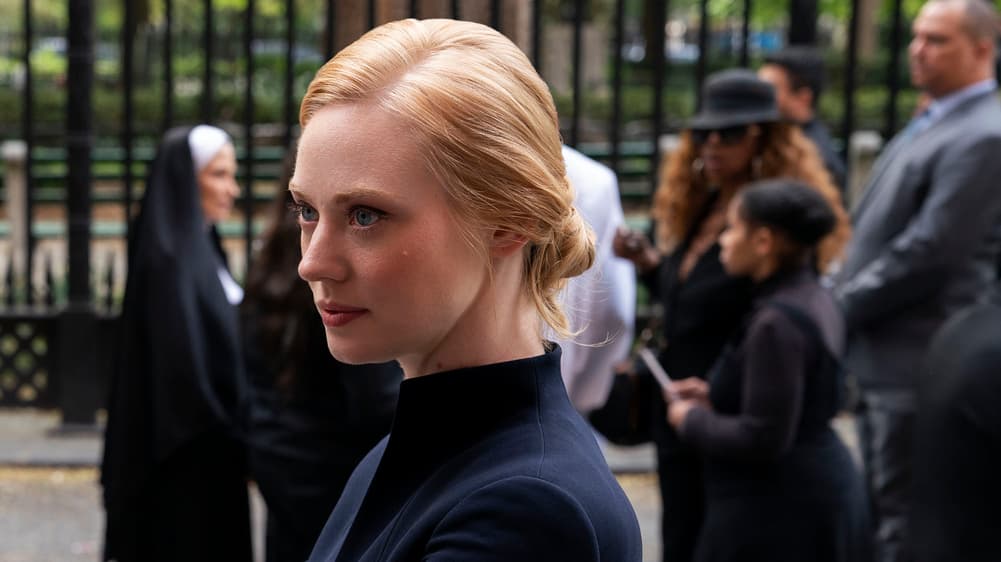 Woll also teased a confrontation between Karen and Wilson Fisk, revealing, "I finally got to do a scene with Vincent [D'Onofrio], and it was fantastic. We were both so excited because he killed my Ben Urich and [unbeknownst to him] I killed his James Wesley, so we have a mutual hate. A very Shakespearean mutual disgust for one another. But as actors, I think we both have tremendous respect for one another, and the opportunity to get to play with him in this brilliantly flamboyant performance that he gives, which is very much a contrast to Karen, you know? So it's just great to get both of those energies in a room and see how they play off each other, and it was a great day. There was a snowstorm out when we shot it, so it felt like we were all stuck on this little sound stage, and the winds are roaring outside and the emotions were roaring inside. It was very cool."
While such a meeting may seem perilous, Woll actually relishes the way Karen chooses to defend herself, saying, "In terms of fighting and wardrobe, I really enjoy that Karen is not a physical fighter. Because it suggests that you're not strong if you don't fight that way. And I love the fact that because I can't punch you and win, I have to be smarter than you. I have to be three steps ahead of you. So, my strength and my super power is involved in something else. And it's good, because it makes us a better team. That if Matt's the physical force, and Foggy is the kind of logical, law-abiding [type], then I'm the intelligent, 'how to beat them at their own game' type. Then we all kind of cover each other's tracks a little bit.
"Look, Karen is not afraid to get physical. We'll definitely go back and look in her past, we'll see that violence, physical violence, is not unknown to her. But I enjoy that it's not my first instinct. That my first instinct is to go, 'I know what you're thinking, and I'm going to get there a day before you and prepare everything so that you're screwed when you get there.' That's kind of fun for me, that it's a different kind of strength."
While Foggy and Karen have grief and Fisk to contend with, Sister Maggie is helping Matt Murdock get back on his feet. Joanne Whalley joked a few times about the idea of  Maggie having super powers and fight scenes, but provided some more information about the mysterious Sister Maggie and how she plays into the story of Daredevil this season.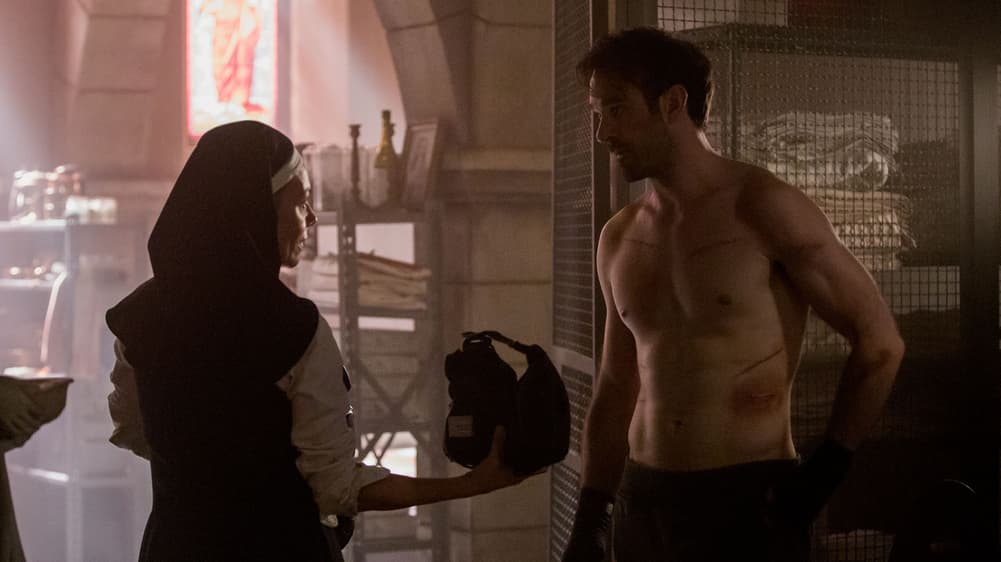 Said Whalley, "She's really annoyed that Father Lanton has brought this mess into her finely-tuned and finely-running establishment. And it's the wrong place. There are other hospitals and the police force. We're not that kind of service. But then she finds out who it is, and then, of course, it's a different story."
As we've learned, Matt is brought back to the church-run orphanage where he was raised after the death of his father, which is why Sister Maggie recognizes him. And while she may be all about routines and order, there's more to Maggie than meets the eye. As Whalley explained, "You know what I particularly liked in the writing was the way Maggie handles someone who doesn't necessarily share the same faith. She's not judgmental about that. She knows that people call things by different names, and it's no reflection whether you're a good or a bad person. She has a great sense of humor. And that's one of the things I love about it. She has a little bit of a sharp tongue, and she's very quick-witted sometimes. She's been around the block. She knows a good person when she sees one, and she knows someone who isn't. And she's generous with her faith. Of course she'd love it if everyone were Catholics and came to church, so you take what you can get. She's wise enough to know that if you try and force something down someone's throat, they're not going to choose it willingly."
Whalley wasn't at liberty to reveal much more about Sister Maggie, but she did express how much she enjoyed working on "Marvel's Daredevil," which was a new kind of show for her: "The big surprise was how enjoyable it is because it's so driven by the characters, and all of the characters. All the characters have stuff. We talk in between, the actors, and we say, 'Did you see what happens to me? Oh my god…' We have these table readings, before each episode… we get to sit down and read together. It's a really great thing because normally, you can do entire shows and never meet the other actors you are in that world with because you don't necessarily have scenes together. But this, it's a really great experience to work that way because they don't really let me out of the church that often. But I feel very involved and I feel very involved in everyone's journey, and the more we get to have these readings which are such a luxury."
"Marvel's Daredevil" Season 3 premieres Friday, October 19th on Netflix.
Make sure to follow @Daredevil on Twitter and like "Marvel's Daredevil" on Facebook, and check out Marvel.com's "Marvel's Daredevil" section for more about the Man Without Fear! 
The Hype Box
Can't-miss news and updates from across the Marvel Universe!