TV Shows
Published December 18, 2017
Marvel Debuts 'Marvel's Agents of S.H.I.E.L.D.: The Road to 100' Art Program
Megan Thomas Bradner discusses the program and first piece commemorating Season One.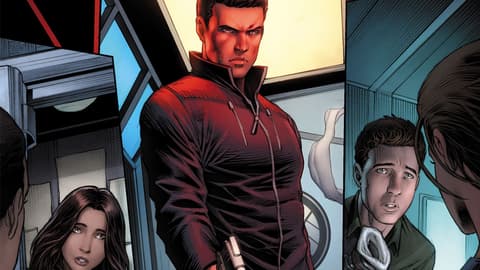 As the fifth season of "Marvel's Agents of S.H.I.E.L.D." takes Coulson and team to uncharted territory, our agents are about to tackle another milestone together – its 100th episode! To celebrate this "S.H.I.E.L.D." and Marvel Television milestone, Marvel has kicked off a "Marvel's Agents of S.H.I.E.L.D.: The Road to 100" art program with the release of the first art piece.
"Marvel's Agents of S.H.I.E.L.D.: The Road to 100" art program will feature five posters, in total, to celebrate the first 100 episodes. Each poster will represent key pivotal moments of each season. Fans of the Marvel Television series can collect the art pieces with adapted comic book variant covers for Marvel's upcoming March titles. Take a look at the first piece by artist Dale Keown below.
Marvel.com had the opportunity to talk to Megan Thomas Bradner, VP, Development and Production, Live Action at Marvel TV about the program and the Season One art piece by Keown.
Marvel.com: What inspired the "Marvel's Agents of S.H.I.E.L.D.: The Road to 100" program?
Megan Thomas Bradner: We were inspired to commemorate "Marvel's Agents of S.H.I.E.L.D." reaching 100 episodes through the medium where all things Marvel started – comics.  In this era of short orders and cancelled-before-they-leave-the-starting-gate, it's quite a feat to reach 100 episodes, and it felt special enough to share with the fans that got us here.  By working with some of our favorite comic artists, we felt we could show a large variety of meaningful moments and the characters that helped get us to a 100.
Marvel.com: The Keown piece highlights four key moments and several key players. Can you share the significance of each scene depicted?
Megan Thomas Bradner: These moments are pulled from Season One, and in their own way, were turning points that upended expectations of the series.  In the first panel, pulled from the first ever episode, there's the moment Coulson and Ward pulled Skye from her van. Initially at odds, this would bring S.H.I.E.L.D. and the agent who would become Daisy Johnson together.
Depicted on the bottom of the artwork is Coulson at the Guest House, the secret S.H.I.E.L.D. facility, where he discovered how he survived the Battle of New York was the T.A.H.I.T.I. program and a drug from…a half-dissected alien corpse.
The center of the art piece showcases the moment when the until-then straight-arrow Agent Grant Ward reveals himself to be a traitor to S.H.I.E.L.D. as he shoots and kills Victoria Hand.
The last scene, on the right panel, is one of our favorites from the Season One finale. Fitz and Simmons had been stranded at the bottom of the ocean and were rapidly running out of oxygen. They had only been colleagues and friends, but in an effort to save Simmons, Fitz gave her the last remaining oxygen and declared his love for her – this signifies just the start of their tortured journey through the seasons.
These are all moments that have had a lasting impact on the show today.
Marvel.com: Megan, you've been a part of "S.H.I.E.L.D." since day one. What has it been like to see all the fan reception the past five years? From its first conception to the series we see today?
Megan Thomas Bradner: It's been gratifying to see the outpouring of love for the show and the characters. Jeff [Bell], Jed [Whedon] and Maurissa [Tancharoen] are behind everything that our fans love about the show. They've managed to weave something that's funny, sad, wonderful and beautiful, all at once.
To see our cast grow in their roles has also been a treat—Clark Gregg is our fearless leader off- and on- set. It still amazes me to see Ming-Na Wen transform from a gregarious ray of sunshine into a stoic warrior every episode.  I've enjoyed watching Iain [De Caestecker] and Elizabeth [Henstridge] take these two cute scientist sidekicks and turn them into a great love story that simultaneously breaks your heart and makes you cheer.
It was amazing to see Brett Dalton play good, bad and everything in between. Then, to be joined by Henry Simmons and Natalia Cordova-Buckley, who make me laugh and say every line I want to yell at the TV before I can.   And then there's Chloe Bennet, who became a super hero before our very eyes when she became Daisy Johnson a.k.a. Quake. I'm sure in 5-10 years, we'll be seeing the effect her character had on a whole generation of young girls who grew up with S.H.I.E.L.D. on TV. This "Road to 100" project commemorates these creators, the actors, the characters and a hundred amazing stories.
The 100th episode of "Marvel's Agents of S.H.I.E.L.D." will air Friday, March 9 at 9|8c on ABC. Catch Season Five at its new night and time, Fridays at 9|8c!
For more information on "Marvel's Agents of S.H.I.E.L.D.," visit ABC.com, follow @AgentsofSHIELD on Twitter, and like "Marvel's Agents Of S.H.I.E.L.D." on Facebook for all the latest news and updates!
The Hype Box
Can't-miss news and updates from across the Marvel Universe!