TV Shows
Published February 27, 2017
Marvel Remembers Bill Paxton
Our thoughts, prayers, and support go out to all those who mourn his loss.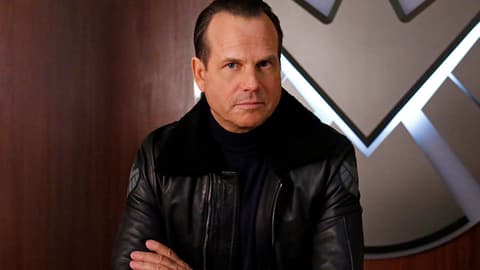 Born in Fort Worth, Texas in 1955, William "Bill" Paxton grew up under the watchful eye of a devout Roman Catholic mother and a hard working father who occasionally dabbled in acting himself. Bill would make his first foray into acting at the age of 20 and score his first recognizable part in Fish Heads, a purposely bizarre short—set to the Barnes and Barnes song of the same name—that he directed as well for Saturday Night Live in 1980.
Although he initially gravitated towards the comedic—his role as mean older brother Chet in "Weird Science" immediately comes to mind—Paxton quickly began to tap into a natural skill for conveying the duality of man. With seeming ease, he slipped into the skins of men with two very different sides, their public and private faces—fro the hyper masculine Space Marine Private Hudson who slowly reveals himself to be a deeply scared man nearly unable to adjust to the realities of his world in "Aliens," to the good ol' boy sheriff Dale "Hurricane" Dixon who proves to be far more than he initially seems in "One False Move" and the everyday guy who also happens to be a committed polygamist in the TV series "Big Love."
Throughout his career, Paxton's talent for playing the average man also helped him showcase how people can become driven by obsession, whether it be as the James Cameron analogue in "Titanic" or the storm chasing Bill Harding in "Twister."
As his career progressed, Paxton, with seeming relish, embraced his dark side. Having already proven he had a gift for the nasty heavy early on as a gleeful vampire in "Near Dark," he showed his skill at capturing callow con artist types—"True Lies"—men who take to crime entirely too readily—"A Simple Plan"—and mentor-types with designs on dragging their charges into the shawdows—TV's "Training Day" and, of course, "Marvel's Agents of S.H.I.E.L.D."
What matters most is how someone treats the people around him and on that count, Paxton appears a giant. Fellow actors have long spoken to his talent and his commitment to being a good collaborator. More than a few Marvel employees who have had the fortune of meeting over the years found him gracious and open in person. Lastly and most importantly, he spent his time as a dedicated and loving father to his two children and spouse to his wife Louise.
"Bill was one of the greats," said "Marvel's Agents of S.H.I.E.L.D." Executive Producer Maurissa Tancharoen. "A kind and wonderful man, and always such a joy to be around. Our hearts are broken. We will miss you."
"Bill Paxton made everything he was in better, deeper and funnier with his big open heart and his world-class artistry," tweeted Clark Gregg, who worked with Paxton on Season 1 of "Marvel's Agents of S.H.I.E.L.D." "He was an actor's actor, a talented filmmaker, a warm, hilarious mensch with an endless supply of epic stories. It sucks that he's gone."
Our thoughts, prayers, and support go out to all those who mourn his loss.
The Hype Box
Can't-miss news and updates from across the Marvel Universe!