TV Shows
Published January 11, 2019
'Marvel's The Punisher' Season 2: Frank's Support Team
Marvel.com visited the set of the Netflix series to hear about the characters who stand by Frank... Sometimes, at least.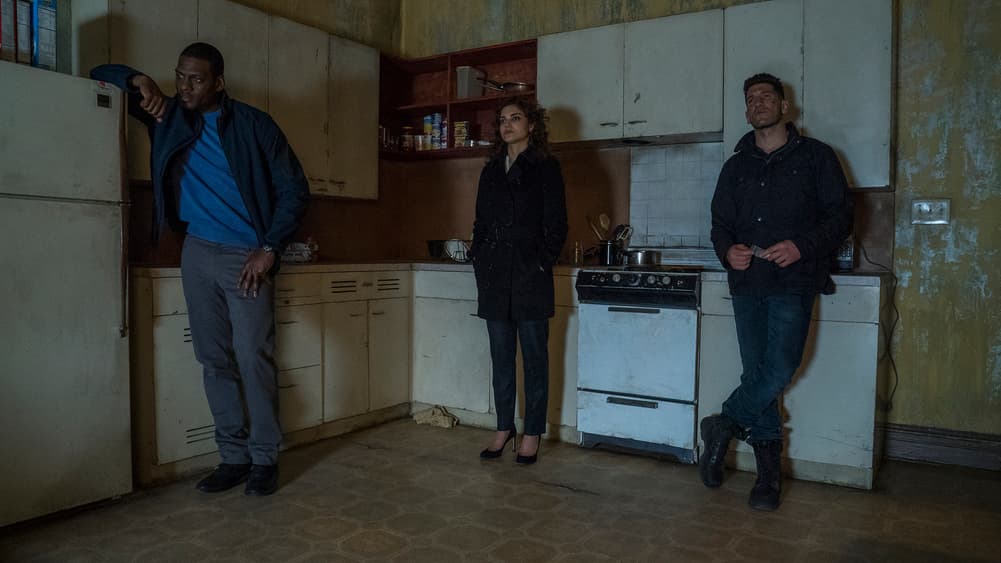 Season 2 of Marvel's "The Punisher" arrives on Netflix one week from today – Friday, January 18 – and Marvel.com visited the set during production to see what we could find out. While there were plenty of secrets to be kept, the cast and crew were still able to share some information about the next part of Frank Castle's violent journey.
And while Frank prefers to work alone, he can't avoid running into people along the way. Marvel.com sat down with three of the show's supporting cast members – Amber Rose Revah (Dinah Madani), Jason R. Moore (Curtis Hoyle), and Season 2 newcomer Giorgia Whigham, who plays Amy Bendix, a young runaway who befriends Frank while he's on the road.
Right off the bat, the tight-lipped nature of the show made for a good joke; when asked about how the second season of the show was described to the cast, Moore responded, "Was it?"
What they could tell us was where their respective characters found themselves at the beginning of this new chapter and how they were handling the events of the previous one. For starters, why would any of these people want anything to do with Frank Castle after everything that went down? Curtis has a long-standing relationship with Frank, to which Moore spoke: "[Frank]'s a good friend of Curtis. And he's going to do what it takes to help his buddy out. That's what brings Curtis back. It's not so easy, though. He would want to wash his hands clean of all that stuff, it's just not so easy, because he's a long-time, trusted friend."
Dinah Madani, however, is not. But after her experiences with Billy Russo (Ben Barnes), she might find some common ground with the man with an eye for payback. Explained Revah: "I think she finds a kind of empathy with [Frank] on that level, which leads her to want to interact with him again, but we start the season in a very different place with her, because she's solely focused on Billy and exacting that revenge. Because as you've seen in Season 1, he kind of betrays her in the worst way possible. And she's still dealing with that PTSD… from them killing Stein in Season 1. That's her main focus, but of course there is the interaction through the series."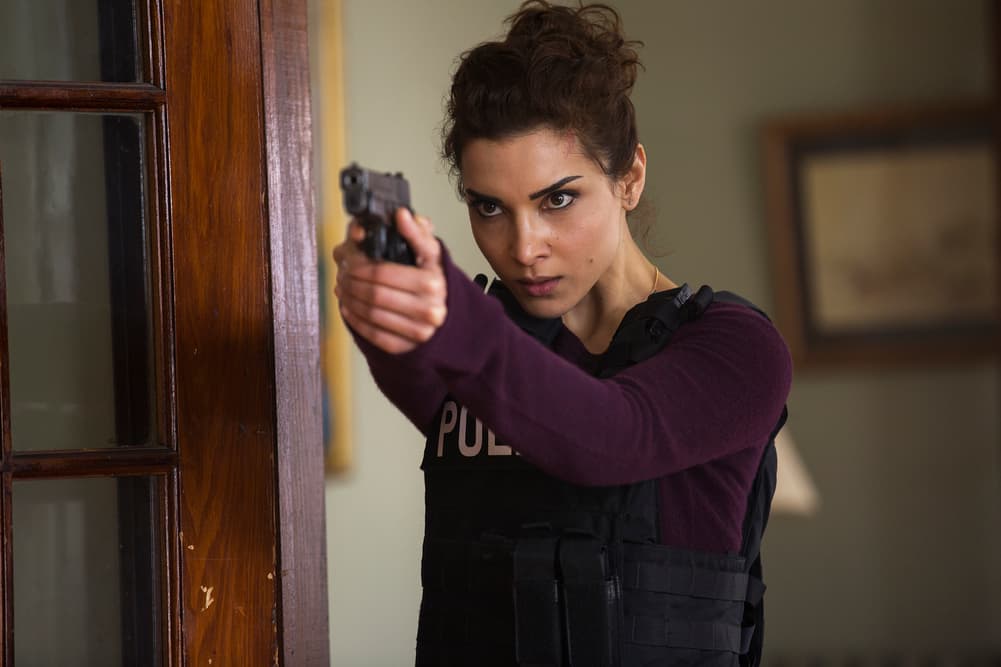 Frank's actions obviously have consequences and aftershocks for both characters. Revah went into the "darker" direction Madani has taken in Season 2, noting, "She was already looking into everything that was happening in Season 1, and she was skeptical about the bigger picture and the betrayal from the company and the CIA involvement, but when we come to this year, she doesn't trust anyone. And then she's had the bullet [injury], but she's survived. Obviously she's heavily self-medicating. She's drinking. She's promiscuous at some points. You'll see a bit of that in this season. I think she's going through a lot when we start up the season."
Moore also says that Curtis' military background is hard to shake when it comes to Frank. "I guess you could look forward to a lot of head-butting with Frank... Only because Frank Castle's a madman in Curtis' eyes. He's just like, 'There's no room for that.' Curtis is still a soldier, and he's still a corpsman. So, there's definitely going to be more of that to look forward to. But [mostly], head-butting with Frank, no matter how much he loves him. It's going to be an interesting dynamic there, of Curtis trying to stop him, and then also support him."
Very early on in the second season, we are introduced to Amy Bendix. Whigham describes her as a "free spirit" who felt trapped by her previous situation. Her curiosity ends up getting her mixed up in something dangerous. "She starts to go off on her own and make friends and meet people… and then she gets caught up in something that she shouldn't have got tied into. And then through that, Frank ends up helping her out, and he realizes she's only 16. She can't do it on her own. She doesn't have her parents anymore. She doesn't have people to help her out. She's very solo, and as tough as she is, she's very young. She meets Frank Castle and she realizes that he could help her in a lot of ways."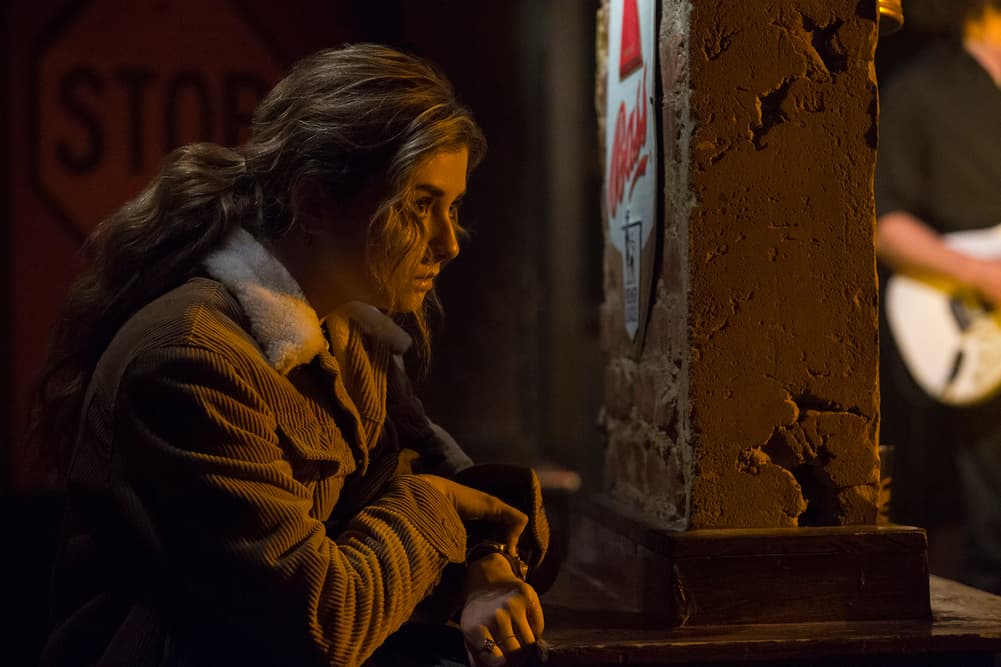 One person whom Amy run afoul of is the new antagonist Pilgrim, played by Josh Stewart. Not much was revealed about him, except that there was a religious element to his motivations. Whigham hinted that Pilgrim's own conflicts play into the larger picture of the second season: "I think Pilgrim has to ask himself what does it truly mean to be a man of God and why is he in that position?"
Revah and Moore praised showrunner Steven Lightfoot for not being afraid to touch on subjects like politics and religion. Said Revah: "He opens up the question to an audience. He doesn't try to answer it. And I think that's very important in today's climate, politically and just always. I think it's very important for media to do. The fact that Netflix is shown throughout the world and has so many people viewing the shows makes it very important."
Returning to Frank, whom Revah described as "a thorn in Dinah's side," the cast described the very complicated motivations for continuing to associate themselves with the man we know as the Punisher.
She continued: "The best people in our lives, they're the people that are there and you want to get rid of them, but you never can, you know? It's that kind of love-hate. I think those people are the people you end up going through life parallel with. So, for Dinah, I think that's the relationship with him." Then she joked: "We're talking about Frank, not Jon, right? Just to be clear."
Moore described how he sees Curtis as the polar opposite of Frank, but the balance that his friend needs. "I don't think it's a mistake that he is the Punisher's best friend. Both extremes of this spectrum, and he's challenging [Frank]. And he's not soft about it, either. He goes at Frank with it. And he's not passive about it. This is why they butt heads. … Curtis plays this moral compass of the show throughout the whole thing, who's reluctant partaking in that sort of violence. And using guns, even though he could, he just doesn't want to do it. He's like, 'I don't even want to fight you.' That's how we talk."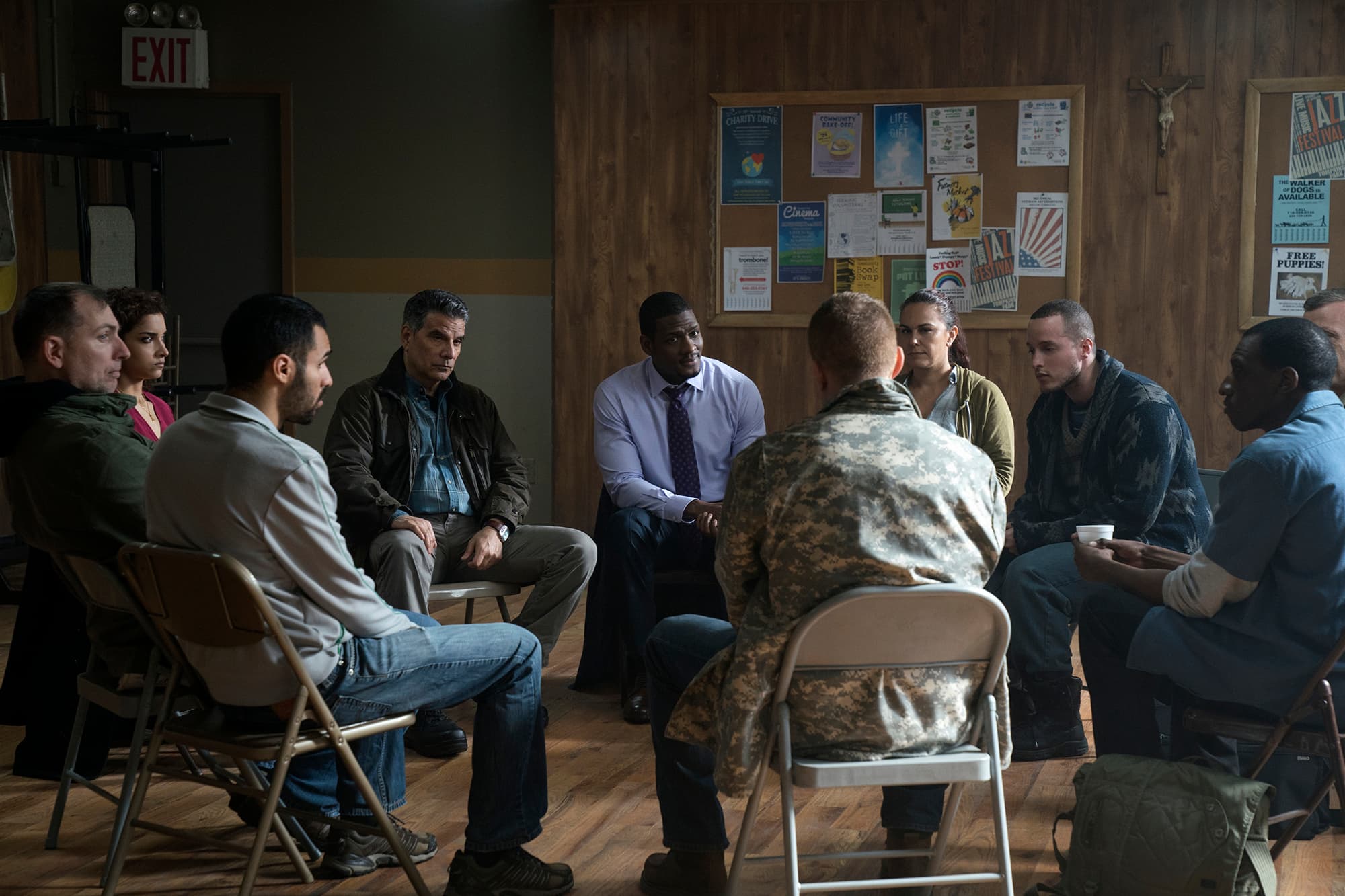 But while Moore sees Curtis as a moral compass, Revah went into more detail with how Dinah Madani now relates to Frank Castle's taste for vengeance: "I think with Dinah, she goes back and forth from understanding. I think at times she doesn't have a clue what's going on in there, and then at times, she feels like, you know what? You are also someone that's been betrayed in such a visceral manner with his family, his wife, and his kids. And what he's trying to do, at least, is something good. And that's similar to what she's trying to do in some aspects. I think with her it's a constant battle with 'Do I understand' or not? And then it gets really interesting in this season, where we have a semi-revelation for her where she kind of makes a decision. So, that's definitely really interesting."
Whigham addressed how coming into contact with someone so willing to use violence to solve problems affected Amy, remarking, "I think it's really, really scary for Amy at first. Probably, the scariest thing she's ever come in contact with. She sees him and what he does firsthand, and she's kind of like, 'How can you like... kill people?' That just doesn't compute for somebody like Amy. She's strong and she's ready to fight back emotionally. It takes everybody a while to understand Frank. I think once she starts to understand him, she really understands him. And it's not just 'Why are you like this?' I know why you're like this and I know how to also assist you in a way, emotionally. I think it's more of an emotional relationship."
Whether Frank Castle will allow the people in his life to access his emotions will be a major question in the second season of "Marvel's The Punisher."
Check back at Marvel.com for more on "Marvel's The Punisher" as we head towards Season 2, debuting January 18th on Netflix!  
"Marvel's The Punisher" Season 1 is now streaming on Netflix.  Make sure to follow @ThePunisher on Twitter and like "Marvel's The Punisher" on Facebook. You can also see more about the show at Marvel.com's section for "Marvel's The Punisher."  
The Hype Box
Can't-miss news and updates from across the Marvel Universe!