TV Shows
Published April 27, 2022
'Moon Knight': Antonia Salib on Bringing Taweret to Life
Playing Taweret was, "so much fun, it didn't feel like work, to be honest."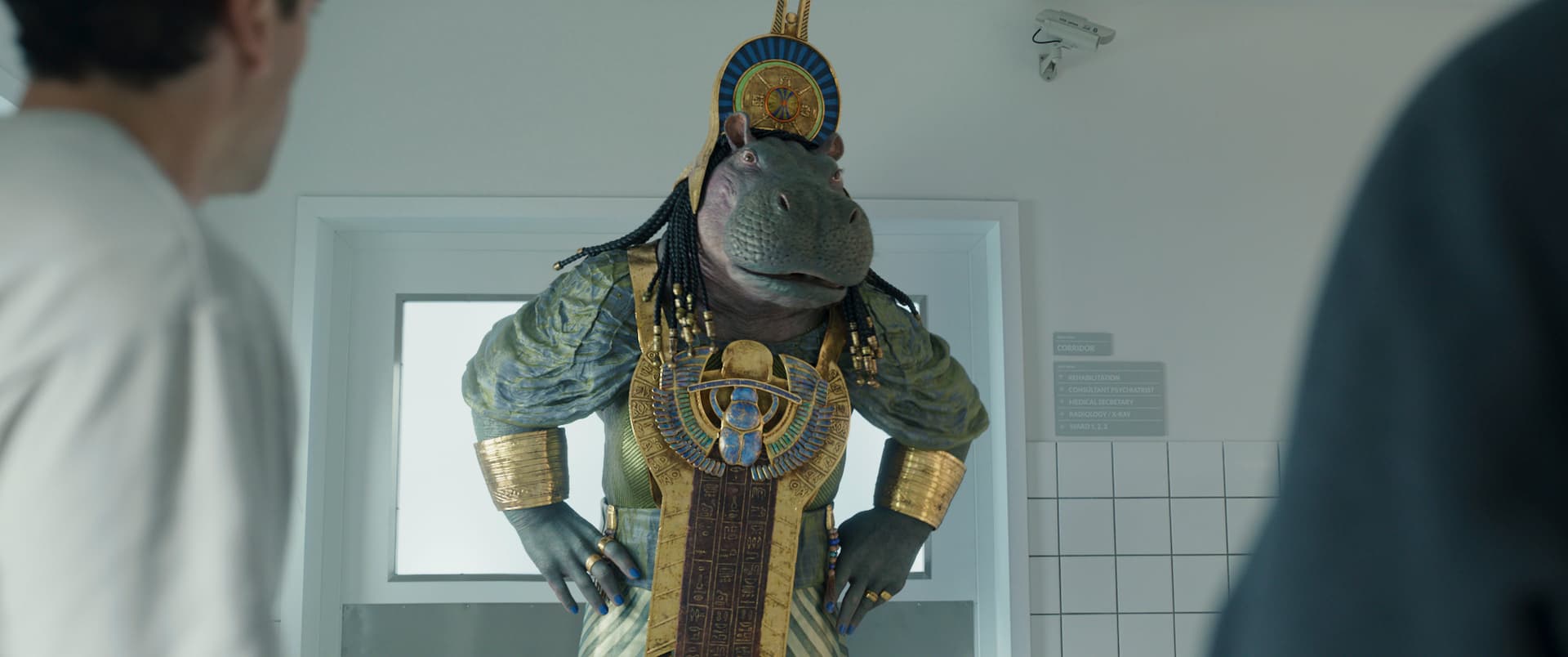 Taweret has entered the building.
During the final seconds of Episode 4 of Marvel Studios' Moon Knight, both Steven Grant and Marc Spector come face to face with a larger-than-life hippopotamus. Introducing herself as the Egyptian deity Taweret, she explains to a befuddled Steve and Marc that she's there to help them travel through the Duat and arrive at the Field of Reeds — if their hearts were balanced on the scales against the feather of Maat by the end of the journey, that is.
So as Steven and Marc go on a journey of inner-self-discovery, Taweret serves as their only ally and guide as they unlock painful past memories. And considering how heavy Episode 5 is, Taweret might just be the only bright, sunny spot for the two (and viewers) on an otherwise emotional adventure.
The character has actually been mentioned subtly throughout the series, going so far back as Episode 1, but getting her physically into the show was a goal for head writer and executive producer Jeremy Slater. After starring at a poster of the deity in the writers' room for a full week, he was determined to bring the hippo to life. Considering she's the goddess of women and children who guided people through the Duat, it only made sense to have to kill off Marc and Steven.
"Once I locked in that I needed that hippo in the show, then we knew that meant there's probably some sort of journey to the Egyptian underworld," Slater explains to Marvel.com. "That gave us our big back-story episode. It gave me my weird swing. And most importantly, it got my favorite hippo into the show."
In the series, Taweret is played by Antonia Salib who not only does the voice for the character, but also the motion capture performance as well. Like with many things Marvel-adjacent, while she knew she was auditioning for something in the MCU, she had no idea she was stepping into the world of Moon Knight — let alone Taweret's big shoes.
"[The character] was a complete surprise. I knew I was auditioning for Marvel Studios and I knew it was for a lead — an Egyptian woman," she tells Marvel.com. "They kind of gave me a fake name, and they had a dummy script. it was only once I was about to meet the director, and the casting team, they just mentioned, 'By the way, you're going to be a CGI hippo.' I was like 'OK, sounds great, let's do it!'"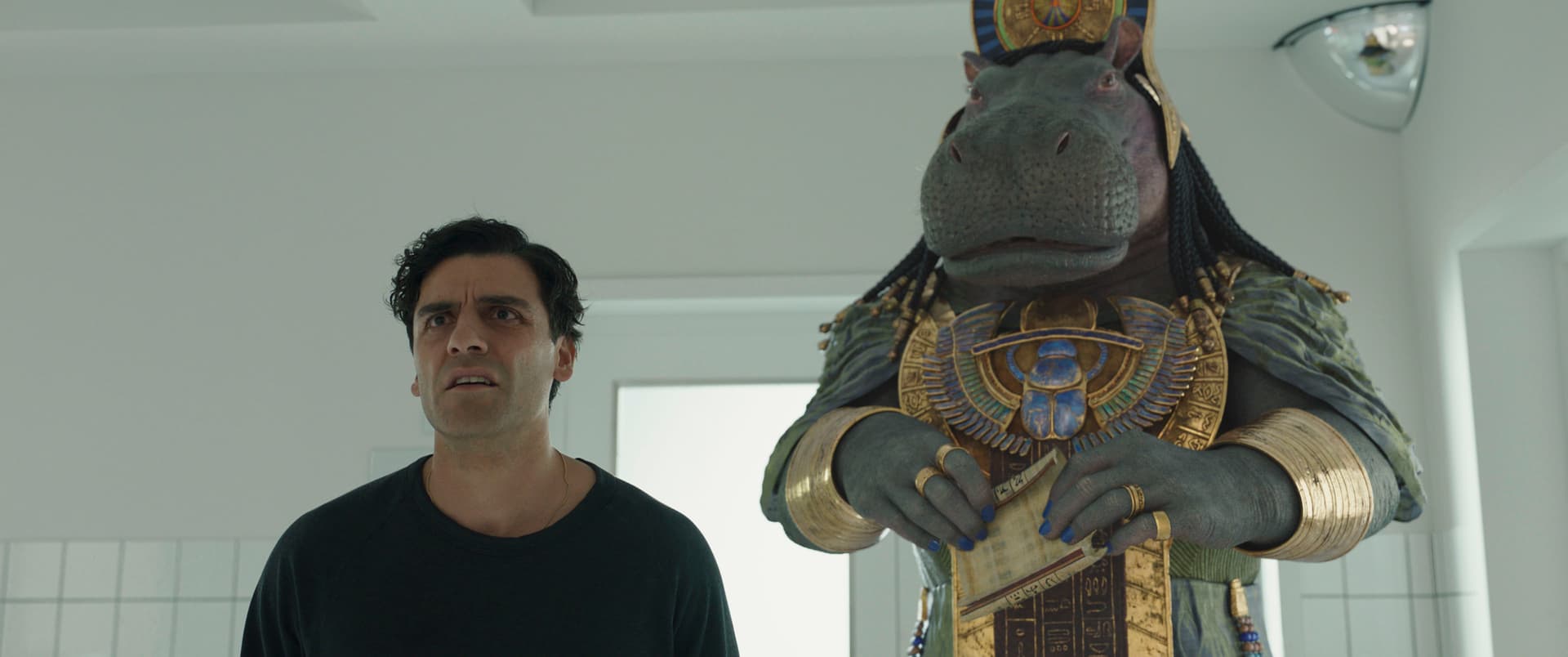 Moon Knight marks Salib's first television role, an experience she describes as "jumping in the deep end," but is quick to add that the atmosphere on-set and the team working behind-the-scenes made it easy; and besides, Taweret "is so much fun, it didn't feel like work, to be honest."
Usually, with motion-captured performances, the actors are dressed in motion capture suits, but not Taweret. While Salib did have a giant pole attached to her back to emulate the hippo's height compared to Marc and Steven, she was actually dressed in some of Taweret's costume to give the actress a better understanding of just how the deity would move wearing her ornate garb.
"I wore these huge platform shoes…they were [supposed] to be hippo feet," she recalls. "There was this gorgeous scarab, and hieroglyphs carved into my costume. It was kind of a big breastplate that I wore around my neck. And I had several layers of feathers that plumed out. She's a very fashionable goddess. [I had] these brilliant bracelets, and it was just beautiful, all gold. The joy of having this incredible costume, and these beautiful sets, was just that it really helped elevate me to this godly hippo status so that I rise to the role."
Wearing a Taweret costume did in fact enhance Salib's performance, as she continues, "[director] Mohamed [Diab] told me, when I started production, that I did something during my auditions where I was playing around with [the costume] and then did something funny with my knees. They were like, 'oh, we've got to include that,' so the costume department brilliantly changed the costume — It was going to be this long, trailing costume apparently, and they shortened the skirt so they could just see a bit more [of me]."
But, even with all the jewelry and fine linens, Salib was still attached to the motion capture pole, which oftentimes proved to be a problem.
"It was very light and had a tennis ball on the top for Oscar to use for sightlines. I was trying to give my best acting performance, really going for it. I'd forget I had [the motion capture pole] on because it was so light, and I'd be bounding around with these platform shoes, and this long pole. Everyone was like 'no, no!' because there'd be lights, and cameras above me, and I just be bounding into them. So, sorry if any equipment was damaged," she says with a laugh.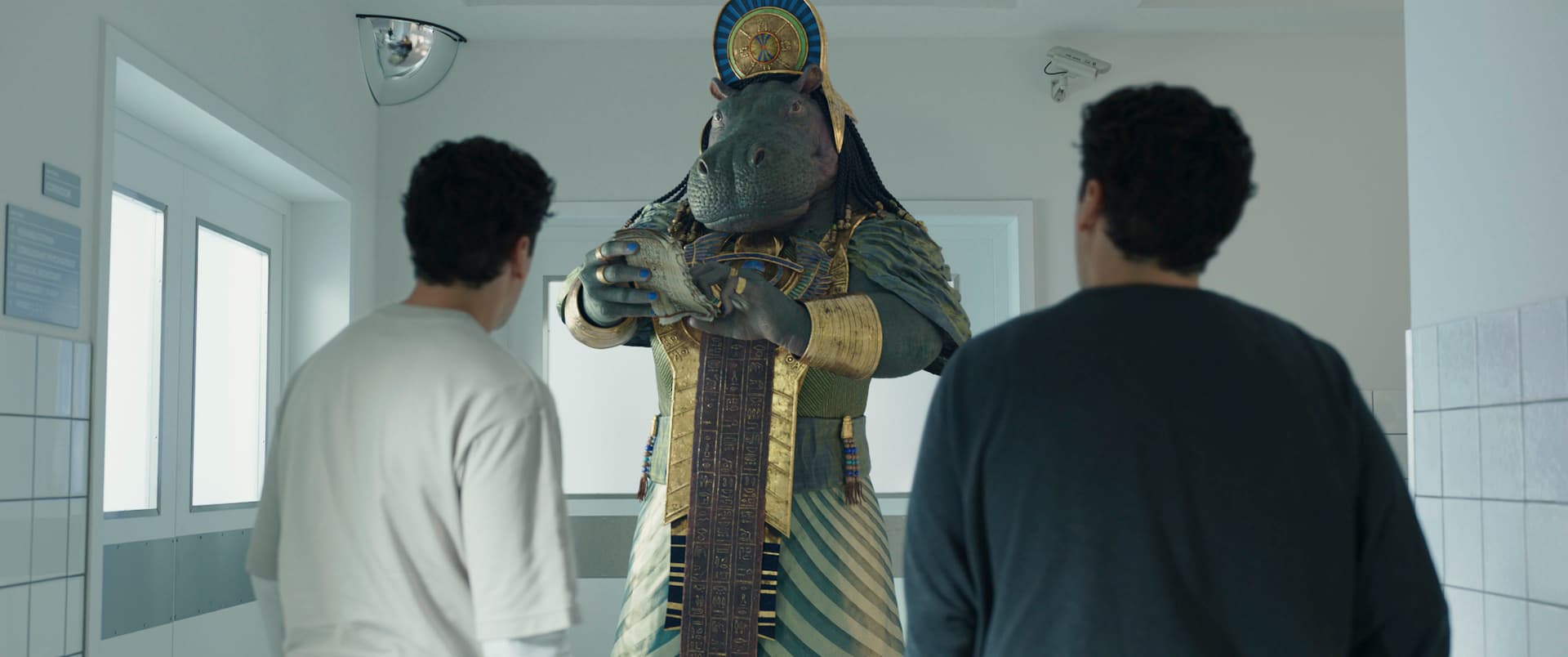 If the hippo costume and motion capture equipment weren't enough, another layer to Salib's performance is that for the majority of Episode 5, it's literally just her, Oscar Isaac and Oscar Isaac's double, Michael Benjamin Hernandez, the entire time. Even with such a small group on Taweret's boat, Salib explains filming "didn't feel small."
"There were so many amazing people around. It was really nice that it was only Oscar and myself in certain scenes. You know he's brilliant, and he was so welcoming leading this project. It was great to bounce off one another, and also his doubles, including his brother. We just had a lot of fun filming bringing very different energies and physicality. It was wild to see in person, it was great."
Considering this is her first major television role, and she's acting opposite powerhouse Isaac, did he offer up any sound advice for the future? During the scene where Taweret first has to pull Marc and Steven's hearts out of their chests proved to be a bit of a problem.
"I remember at one point, there were so many directions I was thinking about the physicality and voice, and there were some technical stuff going on. I had to pull the hearts out of Mark and Steven, and I was pulling it out of Oscar's stomach. He did tell me, 'My heart's a bit higher up.' That was more a biology lesson than an acting lesson."
Moon Knight is now streaming exclusively on Disney+.
Embrace the chaos and follow Moon Knight on Twitter, Facebook, and Instagram. 
The Hype Box
Can't-miss news and updates from across the Marvel Universe!