TV Shows
Published July 15, 2020
Natalia Cordova-Buckley and Ming-Na Wen On Finding Strength and Breaking the Mold on 'Marvel's Agents of S.H.I.E.L.D.'
A new episode airs tonight, Wednesday, July 15 at 10p/9c on ABC!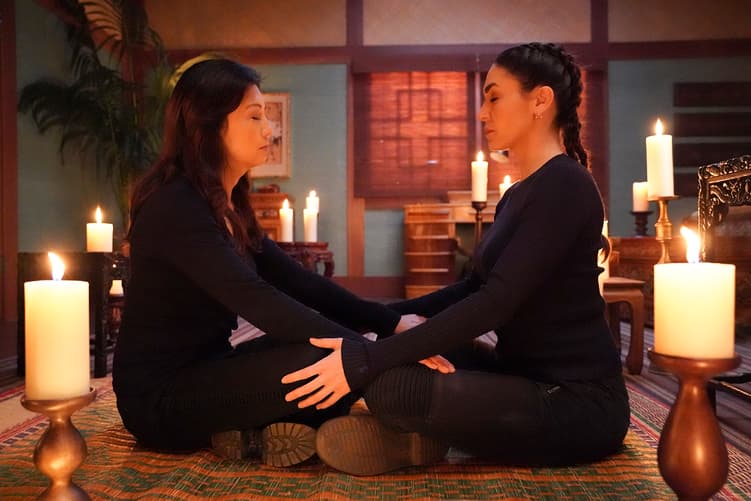 In sharp contrast to the shaky friendship displayed by Mack and Deke in last week's episode of Marvel's Agents of S.H.I.E.L.D., in tonight's brand new episode "After, Before," we witness the strong and unwavering display of friendship between Agent Melinda May and Agent Elena "Yo-Yo" Rodriguez.
With the Zephyr's time drive malfunctioning, the team is quite literally hurling toward disaster and Yo-Yo may be their only hope. The only problem? To get her powers back, she'll need to enlist the help of an old adversary and revisit part of her past long hidden away.
The old adversary is none other than the Inhuman Jiaying, Agent Daisy Johnson's mother, who would have had started her Inhuman compound Afterlife during this period in time. Get a preview of what the team is up against in a clip below:
Marvel.com had the opportunity to chat with Natalia Cordova-Buckley, who plays Yo-Yo, and Ming-Na Wen, who plays May, this week about what we can expect to see in "After, Before." For all the shippers keeping track, like 'Skimmons' before them, the shipping name for Yo-Yo and May is 'May-Yo.'
Marvel.com: Please tell us all your feelings about 'May-Yo'!
Ming-Na Wen: I love it! We have so much fun [together], especially with this episode. It's great to portray two women -- two strong, powerful, dynamic women who don't have any sort of jealousy or pettiness, that aren't pitted against each other that way. May and Yo-Yo are completely respectful and love each other as soldiers and as friends.
In this situation right now, Yo-Yo is in a bad situation and May is there to support her.
Natalia Cordova-Buckley: Ming said it brilliantly. The narrative among women characters and in real life has been that they pit us against each other, that there's always this cattiness, this competitiveness between women. It's been part of the cultural narrative. Ming and I have discussed it; it's something I love about my friendship with Ming, which is very reflective of Yo-Yo and May. Ming and I both are sort of foreigners in some way to this country; we've both fought very hard to get to where we're at. We weren't given things for free.
In May, they're very similar and they have much more control of her emotions, whereas, Yo-Yo is much more of a firecracker. In terms of who they are as agents, they are so similar and so professional; the team comes first. Their emotions don't get the best of them when it comes to work. In that similarity, they started to become very close and I loved find those threads of similarity between fiction and our real lives. I love that reflection of what Ming just said, they're friends, they support each other. They find their reflection in each other. And it doesn't involve the typical portrayal of female friendship that's 'let's go shopping,' 'let's hold hands.' This is a deep and profound relationship. They're dealing with profound trauma, and they're helping each other out.
Marvel.com: Speaking on tonight's episode, despite the seriousness of trying to heal Yo-Yo and the effects of the Shrike on her Inhuman abilities, you can see how much fun the two of you are having and it radiates off the screen.
Ming-Na Wen: We were laughing so hard when we were trying to get May and Yo-Yo to relax! That is not their cup of tea. We were sitting there and just trying to keep a straight face with each other, and it was really really difficult.
Natalia Cordova-Buckley: But I love that! I love that they gave us characters that instead of wanting a spa day, they're like, 'No, let's break the bone.'
Ming-Na Wen: That's our way of relaxing!
Marvel.com: Let's touch upon how both May and Yo-Yo endured the most at the end of last season and now having both characters deal with their absolute nightmare. They're the opposite of who they are. May is now an empath, and Yo-Yo has to contend with normal human speed. What was it like tackling this new facet of your characters?
Ming-Na Wen: They gave May the worst power that they could ever give her, which is the ability to feel other people's emotions. And you know, she doesn't even want to feel her own, that's the joke!
Natalia Cordova-Buckley: No, I love it. I Love that so much! For both of them, they are not very happy with what they have to do in terms of reliving what they went through at the end of Six. It's something that made them similar. Something happened to them dramatically and they don't dwell. They want to move on. Let's go, let's go, let's go! I love that!
But you know, as any human, you have to heal your traumas or they will come and haunt you. It's partly what's happening to them in this episode, whether they like it or not, they have to heal and they have to process their pain so they can move on to the future.
As far as May, I love that they gave her that super power. We've been watching May with no emotion for six years, and all of a sudden, she's feeling everyone. It was nothing to everything. I just thought it was hilarious!
Ming-Na Wen: They just like to mess with me!
Witness May and Yo-Yo find their inner peace with Jiaying and Afterlife in tonight's brand-new episode!
Season 7 of Marvel's Agents of S.H.I.E.L.D. airs Wednesdays at 10 p.m. ET/PT on ABC.
For more information on "Marvel's Agents of S.H.I.E.L.D.," visit ABC.com, follow @AgentsofSHIELD on Twitter, and like "Marvel's Agents Of S.H.I.E.L.D." on Facebook for all the latest news and updates.
The Hype Box
Can't-miss news and updates from across the Marvel Universe!