TV Shows
Published December 22, 2017
Nick Blood Talks His Return to 'Marvel's Agents of S.H.I.E.L.D.'
Watch a brand new episode of 'Marvel's Agents of S.H.I.E.L.D.' TONIGHT at 9|8c on ABC!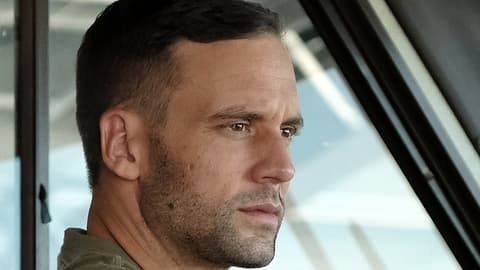 Lance Hunter is back on "Marvel's Agents of S.H.I.E.L.D."!
The former S.H.I.E.L.D. agent returns in tonight's brand new episode of the ABC series. We learn what Fitz has been up to while our Coulson and his team is stranded somewhere on Earth 74 years into the future. In the episode titled "Rewind," nothing will stop Fitz from finding his teammates who vanished without a trace. Check out the clip above to see Lance Hunter coming to Fitz's aid!
Marvel.com had the opportunity to chat with Nick Blood about reprising his role and his real-life friendship with Iain De Caestecker:
Marvel.com: What was it like when you heard from the team that they wanted you to come back for Season 5?
Nick Blood: There's been a lot of talk about it. Jed and Maurissa had said a few times that they had a few ideas. I actually heard via Iain first, even though he wasn't meant to. He kind of told me this is what they're planning and stuff. We were both excited to get the chance to do a whole episode together. It was just nice to be back amongst all the crew, who are a great bunch of people, who make the show such an enjoyable experience to be a part of. And to just hang out with my mate for a couple of weeks, acting together was a lot of fun.
Marvel.com: In previous seasons, Hunter didn't have a lot of one-on-one time with Fitz. What was it like getting to explore their dynamic together in this episode?
Nick Blood: We haven't had a great bit of opportunity to work solely together. We're such good friends off-screen that it was a joy, really. We were really excited to spend that time together and have some fun and just bounce off of each other. I think the showrunners probably knew that about us off-screen and felt like they could have some fun and infuse a buddy cop vibe to it.
Marvel.com: What was it like to get back into character?
Nick Blood: It was a real laugh. A lot of your enjoyment of it is when you're having a joke with the crew. It's always a good crack playing the part and I did get to test out that new dynamic with Fitz. It's not exactly the same Fitz as Hunter knew before. It was fun discovering that. You slip into it pretty quickly, pretty easy, playing him again.
Watch Lance Hunter's return on a brand new episode of "Marvel's Agents of S.H.I.E.L.D." tonight at 9|8c on ABC!
For more information on "Marvel's Agents of S.H.I.E.L.D.," visit ABC.com, follow @AgentsofSHIELD on Twitter, and like "Marvel's Agents Of S.H.I.E.L.D." on Facebook for all the latest news and updates!
The Hype Box
Can't-miss news and updates from across the Marvel Universe!