TV Shows
Published November 12, 2019
Why You Should Watch 'Spider-Man and His Amazing Friends' First on Disney+
All 24 episodes are now streaming!
Since 2008, the Marvel Cinematic Universe has been capturing the imaginations of people everywhere. Whether you're eight or 80, the MCU helps bring your favorite characters to life. However, 11 years isn't exactly a long time. If you were a child of the '70s or '80s, it was tough to find something which could produce the same emotional attachment as Captain America picking up Mjolnir.
For three seasons, from 1981 to 1983, an animated cartoon did its best to fill a void fans didn't even know they were missing with Marvel — and the premiere of Spider-Man and his Amazing Friends changed all that. Even though the series only consisted of 24 episodes in total, it left a lasting impression on viewers which still exists to this day. For many, it was their first introduction to Spider-Man as a character, let alone Marvel as a whole! 
With the now streaming on Disney+, this is an excellent opportunity for fans — both young and old — to introduce themselves to arguably its most significant character (and his friends). Let's examine why Spider-Man and His Amazing Friends is an excellent jumping-off point for anyone looking to stream some of Marvel's animated series from yesteryear.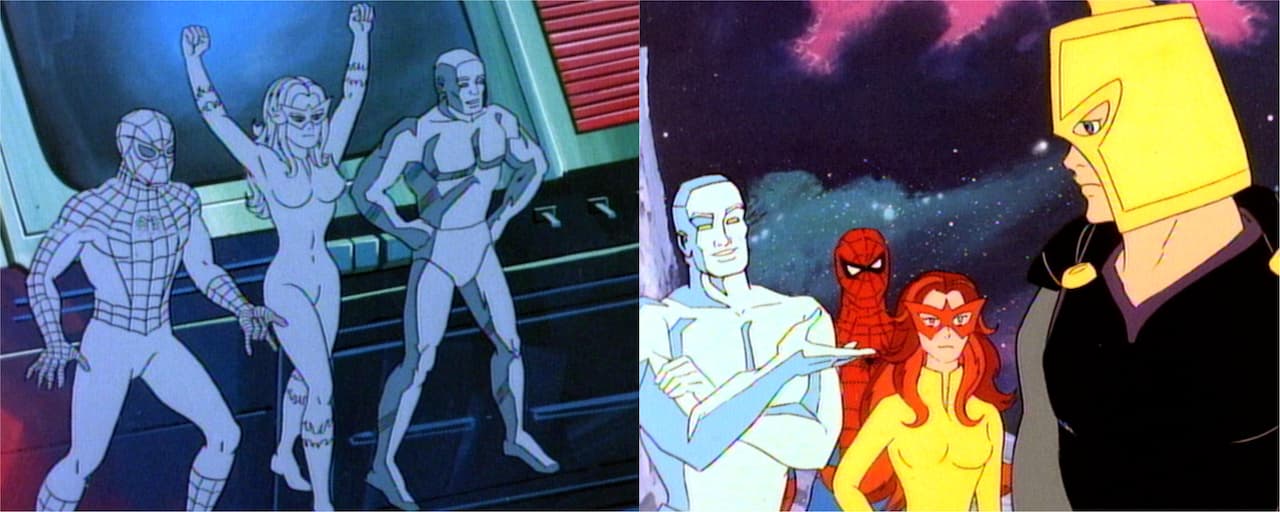 Each episode is self-contained
You can start watching any of the 24 episodes of Amazing Friends, and not miss a beat. Thanks to exposition and narration, viewers will understand the main characters, the villains, and the premise of the story within the first five minutes. The point of this show is not to tell an overarching story with twists and turns, but to let fans see Spider-Man, Iceman, and Firestar suit up, battle, and defeat a super-villain within a 22-minute time frame.
Stan Lee plays a major role in the series
From an "acting" standpoint, many modern fans only know Stan Lee from his various cameos across the Marvel movies. However, for fans who grew up in the early '80s, his highly recognizable voice still resonates as he was the narrator of Amazing Friends. He would start each episode with "Hey there, True Believers!" and it was done with the same enthusiasm as he delivered his cameo lines. Stan's job throughout the episode was to give fans a heads up regarding who certain characters were, as well as fill in any plot details the story might be missing. Before the show, the comic books were the only way to see Stan's words. Now you got to hear them.
Other Marvel heroes pop in and out of the action 
Throughout the series, the Spider-Friends faced some enemies they weren't necessarily able to handle on their own. Therefore, they enlisted the help of some other heroes of the Marvel Universe. Captain America, Daredevil, Iron Man, and Doctor Strange all made appearances throughout the series, and the X-Men popped up three times! (Since both Firestar and Iceman are mutants, it's only fitting.) It doesn't seem like a lot, but when the show is only 24 episodes, three is more than you might think. Thanks to the simple plots and Stan's amazing (pun intended) narration, you felt as if these guest stars had been part of the show the entire time.
It's Only 24 episodes!
In 2019, it's all about binging. It's also about finding time to watch everything. With so many great shows to choose from, sometimes you want to watch something you can finish in a few days. Spider-Man and His Amazing Friends is perfect for this. 24 episodes at 22 minutes apiece makes the whole series roughly only nine hours of pure, simple, Marvel fun.
So this week, as you are going through the various menus of Disney+ with your family and friends and they want to start getting into Marvel, Spider-Man and His Amazing Friends is a great place to start.
Sign up for Disney+ and start streaming now! And be sure to follow Disney+ on Facebook, Twitter, and Instagram for more.
The Hype Box
Can't-miss news and updates from across the Marvel Universe!