TV Shows
Published May 16, 2019
Tandy, Brigid, and Evita Go To Great Lengths For Tyrone in Brand New 'Marvel's Cloak & Dagger'
A new episode airs tonight, May 16 on Freeform.
We can't stand to see Tyrone like this; a good man is suffering.
Last's week's episode of "Marvel's Cloak & Dagger," "Vikingtown Sound," as Tyrone tore through the city in search of the kidnapped Tandy, pushing his powers to its max. At the end of the episode, when our Divine Pairing are finally reunited, an exhausted Tyrone collapses in front of Tandy with his dark energy spilling out of him and enveloping him. To learn more about that scene, Earth's Mightiest Show got the chance to sit down with the show's VFX producer to discuss the making of that final scene. 
In the sneak peek above, we find Tyrone in an awful state following the events of the last episode. Tandy reaches out to Evita for her help, and Brigid arrived as quickly as she could after discovering a torn up motel that trafficked kidnapped girls.
Pushing down her recent trauma, Tandy is determined to do whatever it takes to save Tyrone and pull him out of his comatose state. In an offering, Evita makes an offering in hopes of opening the gates to Tyrone's gates while he's unconscious. In an act of bravery, Brigid offers to take the leap into Tyrone's cloak into the Loa Dimension with Tandy. 
Ready or not, Evita, Tandy, and Brigid will have to go to great lengths for Tyrone. Will they be successful? Tune into a brand-new episode of "Marvel's Cloak & Dagger," "Two Player," tonight, Thursday, May 16 on Freeform at 8p/7c!
Tandy will have to play a game for Tyrone's life. Get a look at the 208 episode poster for "Marvel's Cloak & Dagger" by artist Brian Stelfreeze!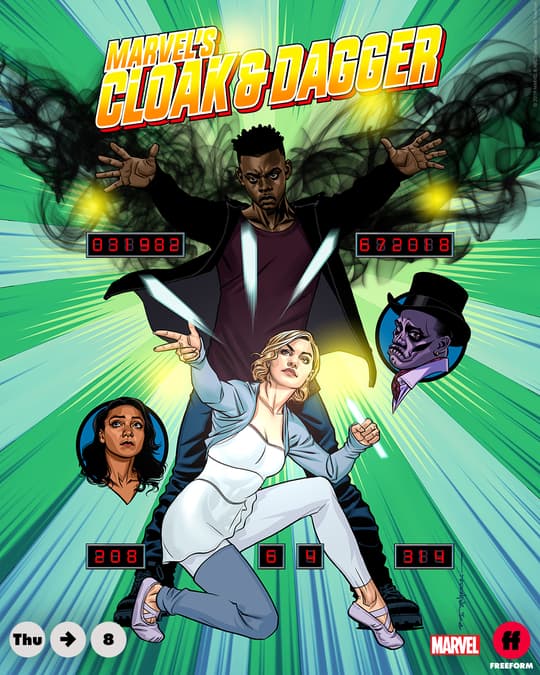 Watch "Marvel's Cloak & Dagger" Season 2 every Thursday at 8|7c on Freeform! Stream new episodes the next day on Hulu, On Demand or Freeform.com.
A brand-new episode of The Marvel After Show podcast will be available for download at www.marvel.com/aftershow, Apple Podcasts, Spotify, and your favorite podcast app directly after each episode of "Marvel's Cloak & Dagger" airs on Freeform.
Stay tuned to Marvel.com for the latest on "Marvel's Cloak & Dagger" and Marvel Television! Be sure to follow @CloakandDaggeron Twitter and like the official "Marvel's Cloak & Dagger" Facebook page!
The Hype Box
Can't-miss news and updates from across the Marvel Universe!