TV Shows
Published January 11, 2019
The Late Stan Lee Guest Stars Alongside Mark Hamill on Sunday's 'Marvel's Avengers: Black Panther's Quest'
The Marvel legend can be heard in the episode airing Sunday, January 13th at 9:00pm ET/PT on Disney XD.
A very notable and special episode of "Marvel's Avengers: Black Panther's Quest" airs this coming Sunday on Disney XD. The episode, "T'Chanda," features guest stars Mark Hamill, Hayley Atwell, and the late, great Stan Lee, making his final appearance in animation, following many memorable and popular roles. 
In "T'Chanda," Black Panther (James C. Mathis III) discovers secrets about his grandfather, T'Chanda (Corey Jones), in an episode that involves scenes set in the 1940s that include Captain America (Roger Craig Smith), Peggy Carter (Atwell) and the villainous Arnim Zola (Hamill). Lee voices an Army General, giving a powerful statement about intolerance – which you can watch in the clip above – that is of particular significance to those who make "Marvel's Avengers: Black Panther's Quest" because of how it reflected Stan's own beliefs. 
As Marvel's Senior Vice President, Animation & Family Entertainment, Cort Lane, explained to Marvel.com, "It made an impression, the things that Stan had to say about prejudice and hate. He always stood up. I actually have the Stan's Soapbox from 1968 that was distributed pretty widely after he passed. He talked about hate and that hate will never win. And that stuck. For me personally, that was the year I was born - I have those comics. That's always been very meaningful for me. I've worked with Stan dozens of times, but we wanted to capture that essence in the speech that the General has in this episode because it's set during World War II and that's when Stan started writing comics. A lot of the comics he wrote were about the evils of the Nazis. So without being that explicit, we wanted to capture that. So it had personal reasons for me and for Stan to talk about the evils of hate. We were inspired by that 1968 Stan's Soapbox column."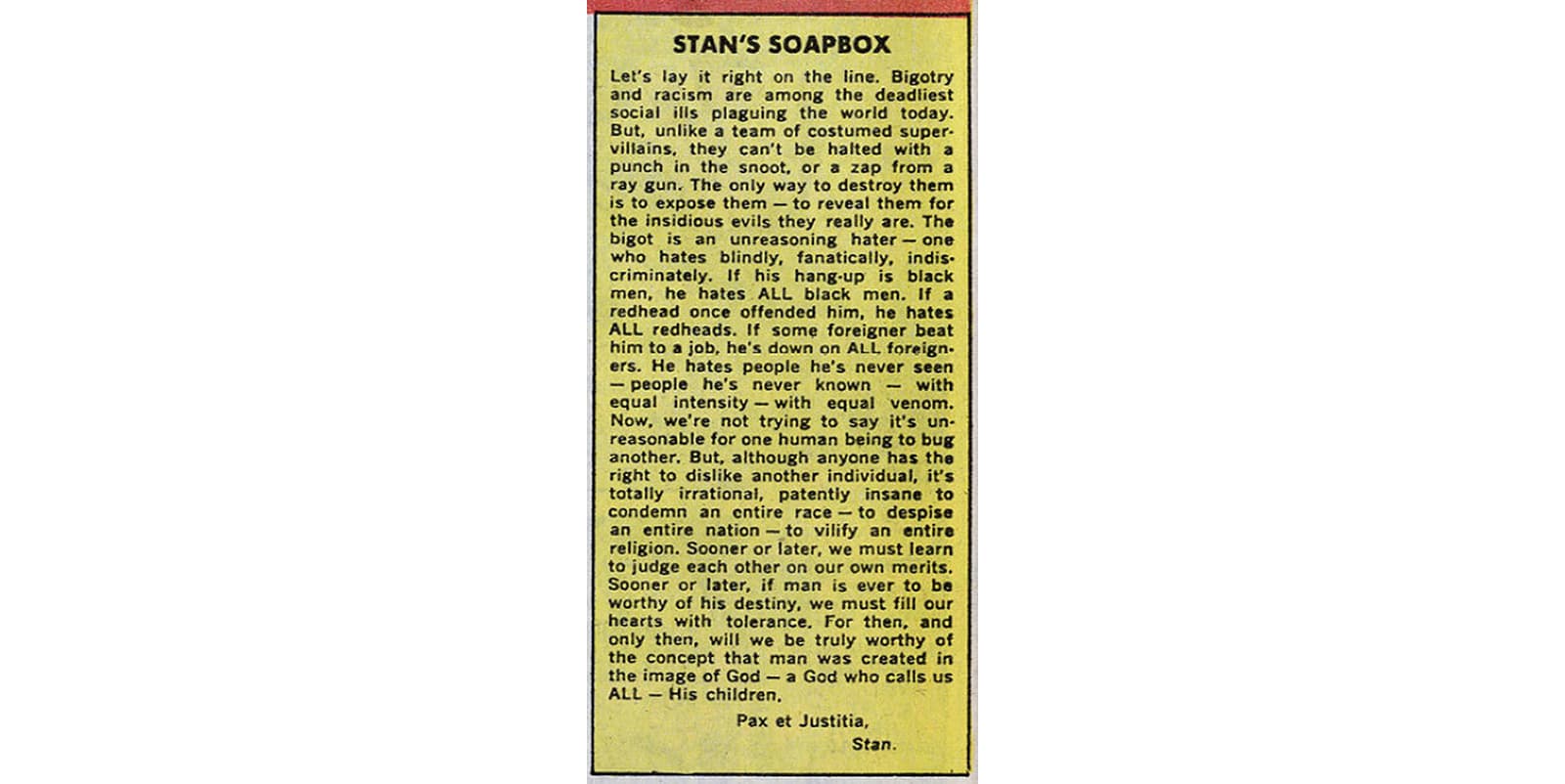 As Lane recalled, "We had Stan come in nearly forty times since Marvel Animation has been created. It started with cameos and turned into full-fledged episodes. There's one [episode] for "The Super Hero Squad Show" called "Election of Evil" and it's all about him and his loss during the election of the Mayor of the city. He did twelve episodes of that show with extended appearances. Same for "Ultimate Spider-Man," where they thought he was the janitor and we revealed that he was actually the very first S.H.I.E.L.D. agent sent there by Nick Fury to keep an eye on Peter Parker. We just did all these wonderful things with him." 
Lane added, "That particular episode [of "Marvel's Avengers: Black Panther's Quest"] has personal meaning for me. I believe it's his last recorded appearance in animation. It's bittersweet, but I'm so glad we were able to capture a message that was very true to how Stan felt about the world and that inspired him to write a lot of the stories that he did."
Stan recorded alongside Mark Hamill for "Marvel's Avengers: Black Panther's Quest," and Lane said that when it came to having the two legends in together, "We were going crazy. But they were loving it too. Mark's a fan of him and he was a fan of Mark. And that's pretty much every day with Stan. Mark obviously is a celebrity but every voice actor there was a fan of Stan's. He was so impressed by what they did for a living, especially because they played multiple characters. He loved being a part of it. He was so impressed with them. It was, every single time, an incredibly fun experience and that's why we did it nearly forty times." 
Marvel.com was lucky enough to speak to Mark Hamill and Stan Lee when they recorded together for the episode, and Hamill noted Stan's connection with his fans, remarking, "Stan created a real bond with his audience in the bullpen. He had this snarky humor. He would give out 'No-Prizes,' because people were always pointing out boo boos and mistakes. And he really had a personality that came across over the pages. He was sort of this avuncular uncle you wish you had. On television it was Walt Disney, and in comic books it was Stan the Man. Excelsior!"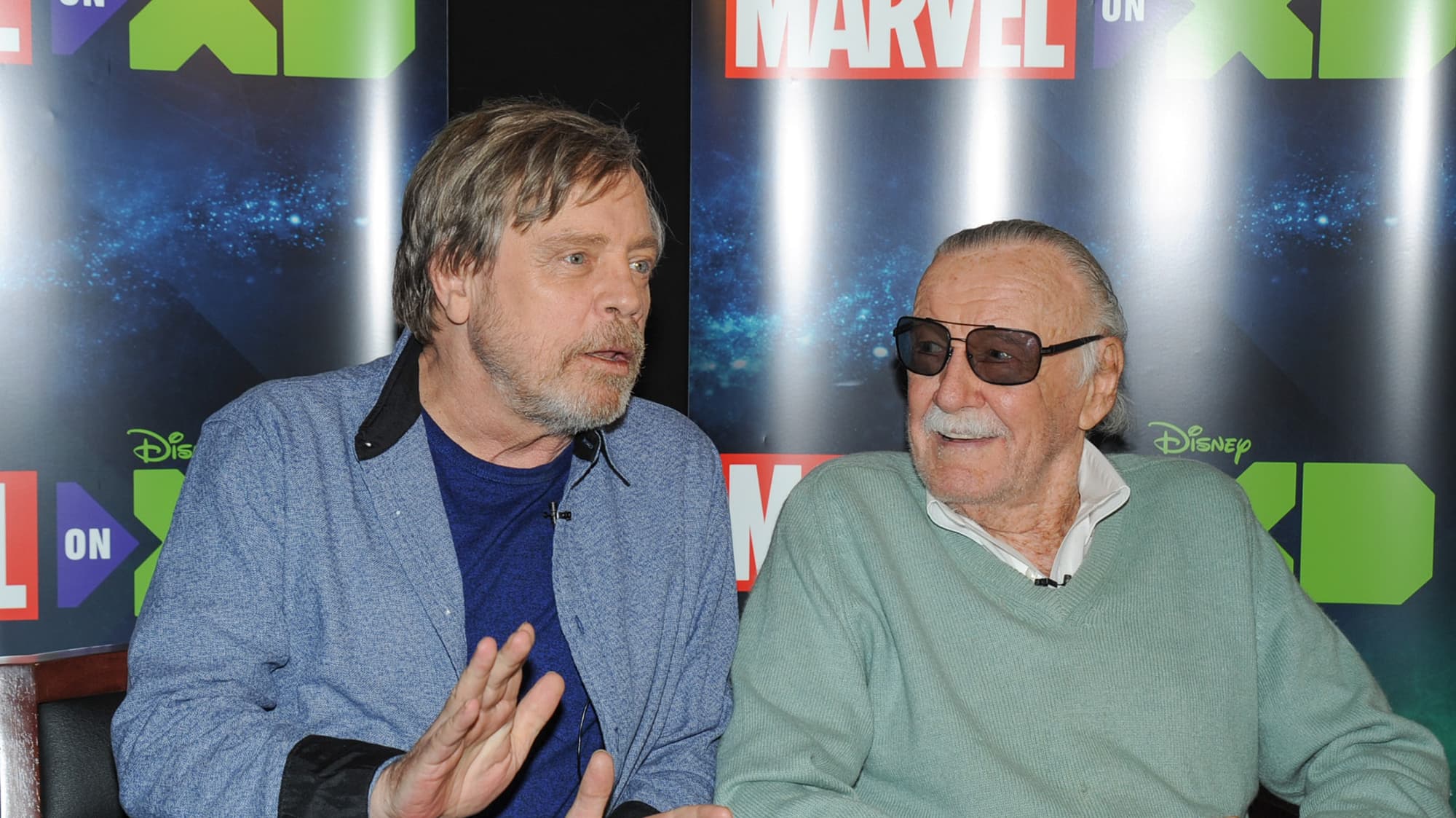 Hamill is known for voicing many villains in animation, including Arnim Zola, and when we spoke to him that day, Stan commented upon the key to creating a good Super Villain, saying, "Well, first of all, he has to have more than just an evil power. There has to be something interesting about him, his personal life, or what he wants. You take someone like Dr. Doom. He wants to conquer the world. Everyone considered him a terrible villain. But if you think about it, you can go to a policeman outside and tap him on the shoulder and say 'Officer, I want to conquer the world.' He can't arrest you! It's not a crime to want to conquer the world. Our villains, really, are not the kind of villains that are so obvious - 'Let's kill them!' They have their own motivations, their own differences, their own ambitions. They're more interesting than the heroes, I think."
Stan then added, pointing to Hamill in the seat next to him, "You give me a good villain and… he'll probably do a great voice for it!" 
You can watch our full interview with Stan Lee and Mark Hamill below and hear them both on "Marvel's Avengers: Black Panther's Quest," airing Sunday, January 13that 9:00pm ET/PT on Disney XD. To see another clip from the upcoming episode, head over to Marvel HQ.
Click on the links below for more of Stan's appearances in Marvel Animation. 
"The Super Hero Squad" – "Election of Evil!"
"LEGO Marvel Super Heroes: Maximum Overload"
"LEGO Marvel Super Heroes - Guardians of the Galaxy: The Thanos Threat"
"LEGO Marvel Super Heroes - Black Panther: Trouble in Wakanda"
The Hype Box
Can't-miss news and updates from across the Marvel Universe!