TV Shows
Published February 22, 2021
'WandaVision': Exploring Our Favorite Moments from Episode 7
Just another case of the Mondays.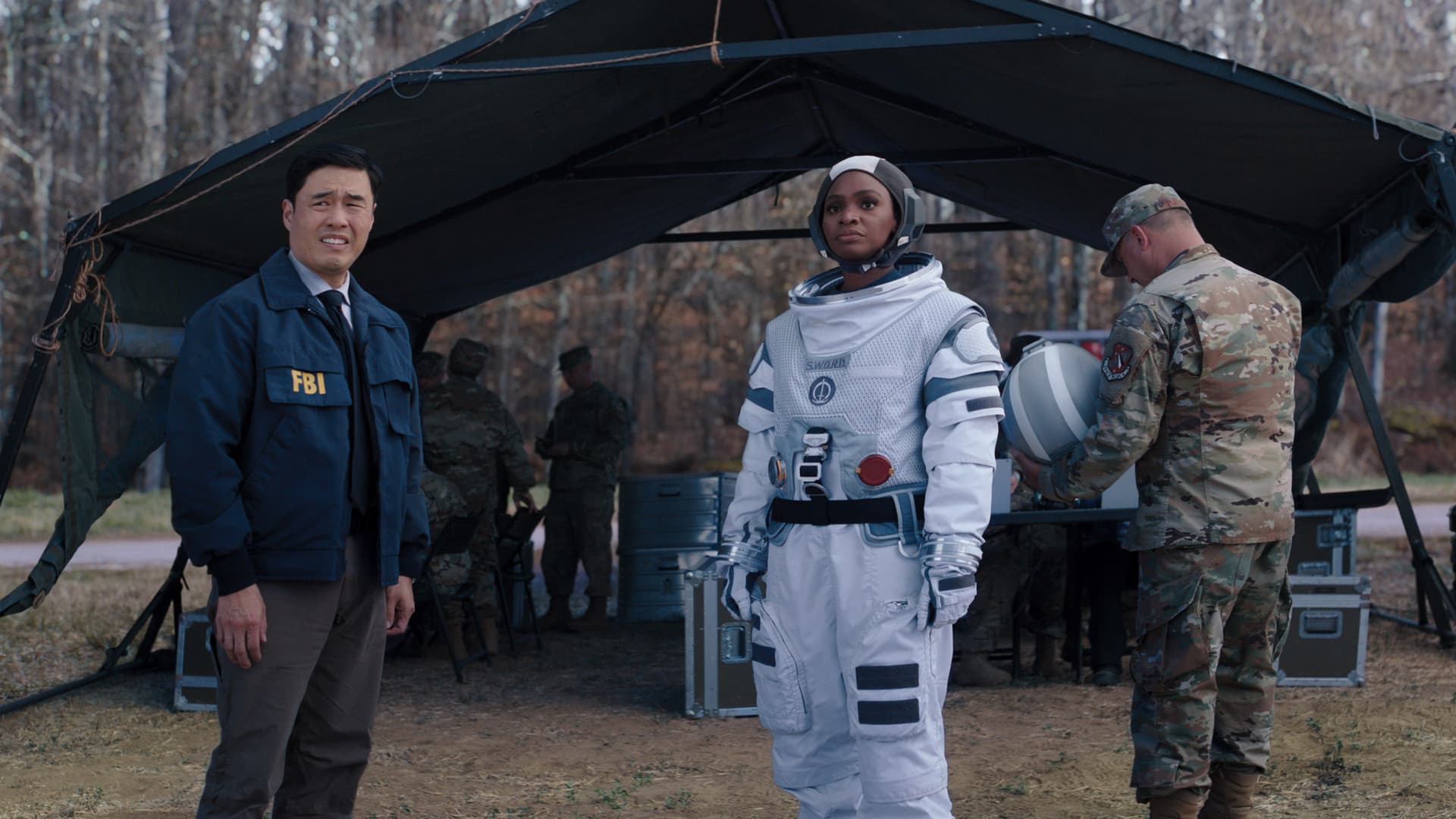 Sometimes you need to take a quarantine-style staycation in your own home, and that's what Wanda Maximoff tries to do in the latest episode of Marvel Studios' WandaVision, "Breaking the Fourth Wall." Following the events of Halloween night in Westview, the mom of two twin boys just wants to hang out in her pajamas, sit on the couch, and eat a big bowl of cereal. However, everything can't stop glitching, Vision is gone, and even though Wanda tries to reassure viewers that she's fine (she's fine, she's fine), it's clear that she's far from that.
Outside Westview, Captain Monica Rambeau is anxious to get back inside and help Wanda, and will stop at nothing to complete this mission. Elsewhere Vision...joins and then escapes the circus??!
Stream Episode 7 of WandaVision now on Disney+, and read on to find out some of our favorite moments!
Wanda's Staycation
Having one of those days where she just doesn't want to get out of bed, Wanda is forced downstairs to deal with everyday life when Billy and Tommy complain that their video game is acting all weird. Sure, Wanda will take a look, but first she's going to put her feet up and relax. Actually, if she doesn't feel like doing something, she's just not going to do it! 
Agnes' Talking Head
While Wanda takes a little "me time," Agnes steps in to take Billy and Tommy off her hands — and it's a good thing she showed up when she did, because Wanda was "one split end away from cutting her own bangs." Back at her place, Billy and Tommy settle in when Billy mentions that Agnes is quiet "on the inside." That's certainly not as weird as Agnes' confession that she once bit a kid, something we unfortunately don't have time to unpack right now.
The Circus is in Town!
When Wanda expanded the boundary, she turned the entire S.W.O.R.D. base into a circus, complete with clowns, jugglers, acrobats, mimes, lions, and carnival food, and so much more. There's also an escape artist, which happens to be Dr. Darcy Lewis, who found herself accidentally sucked inside the anomaly. Vision immediately recognizes her from the night before. Even though she tries to brush him off (wherever they go, she's ordering the lobster, btw), after jogging her memory, the two are off, now running away from the circus quite literally.
The Funnel of Love
Seeing no other way out, Darcy and Vision commandeer a funnel truck to try and make it back into the heart of Westview. However, a bunch of surprise road blocks appear in their way, as Vision realizes that Wanda is creating impediments to try and stop him from returning home. First, it's rain, then construction, and then a bunch of school children. What's next, puppies?
Glitches Galore
Though she's been in control this whole time, Wanda begins to suspect that she's slowly losing her grip on everything, telling the camera she doesn't understand what's happening, let alone, "Why it's falling apart and why I can't fix it." From behind the camera, a booming voice asks if maybe this is what she deserves, which visibly startles Wanda — and viewers. "You're not supposed to talk," a confused Wanda responds.
Code Name: Cataract
Though Darcy might be trapped inside the Westview boundary now, she's still helping FBI Agent Jimmy Woo and Captain Monica Rambeau on the outside. She was able to tap into the firewall and now Jimmy has the information Darcy obtained from Hayward's computer — a project under the name Cataract. What is it? Jimmy and Monica quickly realize that Hayward wasn't tracking Wanda this whole time; he's been following Vision. Looks like the S.W.O.R.D. director had other plans for the deceased Avenger before Wanda took him away.
Vision's Had Better Days
[Vision stares directly at the camera and makes a 'staring directly at the camera' face]
A New Technicolor View for Monica
After putting in a call in for some extra assistance, Monica gets her hands on a giant, reinforced S.W.O.R.D. vehicle that should be able to penetrate the boundary. However, it quickly fails. Refusing to give up, Monica abandons the vehicle and instead runs into the forcefield herself, pushing her way through with all her strength. Remember how Darcy warned Monica about going back through again for a third time? This is exactly why, and by the time Monica reaches the other side, she's completely unscratched — but also now seeing Westview through brand new eyes.
Who's the Villain?
Not even bothering to knock on the door, Monica races into Wanda's house to talk to her — she's got to tell Wanda that Hayward is after Vision. However, Wanda, still unwilling to trust her former Westview friend, blasts her out of the house for the second time. Except, now Monica is capable of actually handling the blast on her own. 
Monica desperately tries to reason with Wanda, refusing to let Hayward make her the villain of the story, but Wanda thinks it might already be too late. For the first time, the two women have a conversation without any sitcom gimmicks, with Monica trying to explain to Wanda that she knows the pain she's going through and it's not something that should be controlled.
What's in the Basement?
Back at Agnes' house, the nosey neighbor offers to grab Wanda a cup of tea. Wondering where her children are, Wanda starts moving towards the basement only to find it completely dark, deserted, full of odd-looking roots and darkened rooms, and a glowing spell book. Before Wanda can wonder, "what the-?" Agnes makes her introduction — as Agatha Harkness. It's been (cue the music), Agatha all along!
Commercial Break
Ask your doctor about Nexus, a unique antidepressant that works to anchor you back to your reality. Or the reality of your choice! Side effects include feeling your feelings, confronting your truth, seizing your destiny, and possibly more depression. Nexus, because the world doesn't revolve around you. Or does it? 
Wondering what happens next? Catch a brand-new episode of Marvel Studios' WandaVision this Friday, streaming exclusively on Disney+!
Want more exciting information about Phase 4? Find the latest Marvel Cinematic Universe news right here — and stay tuned for more!
This is just the beginning of the Phase 4 news. Stay tuned to Marvel.com for more details! And be sure to follow Marvel on Facebook, Twitter, and Instagram.
Looking for more Marvel movies and shows to stream? Check out everything on Disney+, Hulu, and ESPN+ right here, and where to find all your favorite Super Heroes right here. Sign up for Disney+ and start streaming now!
The Hype Box
Can't-miss news and updates from across the Marvel Universe!