TV Shows
Published January 28, 2021
'WandaVision': The Meaning Behind Wanda's Sokovian Lullaby
Sing a tune from the Marvel Studios series, now streaming on Disney+!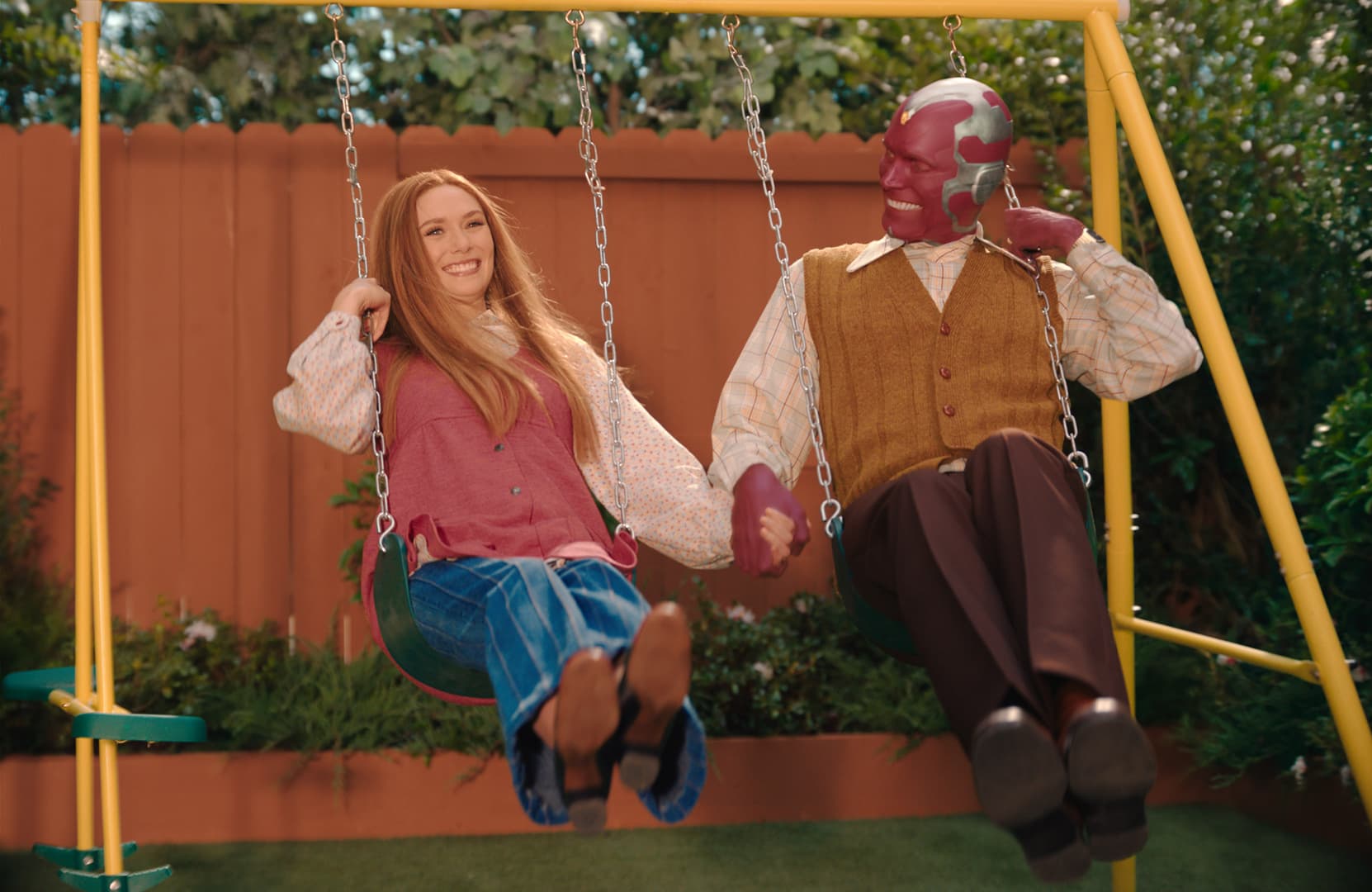 So far in Marvel Studios' WandaVision, we've heard a fair share of singing (lookin' at you, Vision, with your rendition of "Yakety Yak"). Now, Wanda's carrying a tune, too, gently singing to her newborn babies a traditional Sokovian lullaby at the end of the third episode. Considering the lullaby is sung entirely in Sokovian, it's safe to assume you didn't understand a single word of it….
The latest episode, "Now in Color," begins with Wanda in the early stages of her pregnancy, but by episode's end, giving birth to her twins, Billy and Tommy, at an unexpected and alarming rate. But that's neither here nor there, as she's now a mother and is ready to tend to every need and want of her new children! With the twins nestled in a cradle together, Wanda leans over to sing them her song, while she and Geraldine watch the babies. It's certainly beautiful tune, but what does it mean?
Turns out, the lyrics don't have any greater meaning to the larger story of WandaVision. Rather, the tune, penned by WandaVision head writer and executive producer Jac Schaeffer, is simply about a mother singing to her children.
The song, titled "Sokovian Lullaby" — which was translated into the made-up language of Sokovian by WandaVision's language coach, Courtney Young — went through a few drafts before settling on these final lyrics:
We've been waiting for you
'tie mi t͡ʃaˈjaɫəm
Now you are here
ˈʃiɪdeŋ ˈti e ˈʃte
More perfect than I imagined
ˈdrage wo t͡sto ˈmisliɫəm
Our house is now a home (our house is now a nest)
ˈdom naʃ ˈʃiɪdeŋ ˈgnieʒdo
No matter where you go
bez veˈdeɪ̆ doˈkude ˈjit͡ʃiʃ
Sunlight shines on you
ˈʃiʒa ˈsunt͡so nad tiˈe
"It's not about the larger mystery of the show," Schaeffer explained. "In my mind, at the time, it was like a sincere version of a TV sitcom theme song, like a real heartfelt one in her native language. The last part about the sunshine…. This is cheesy but I'm going to tell you, there was a song in my prenatal fitness class that was very woo-woo; that [last line references] the longtime sun that we would sing [about]. It was my first baby and I would sing it to him, so that's just a little thing for my own kid."
Want to coo the lullaby to little ones in your life? Find the sheet music used in the show below!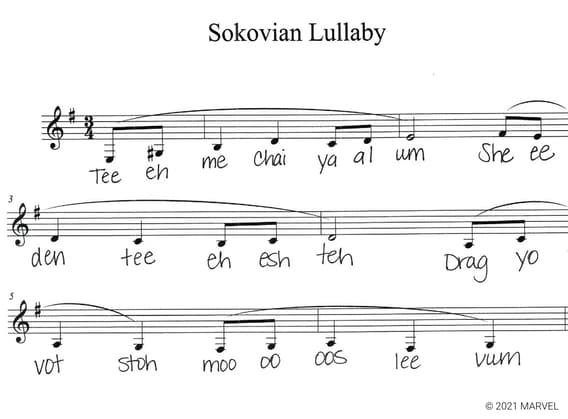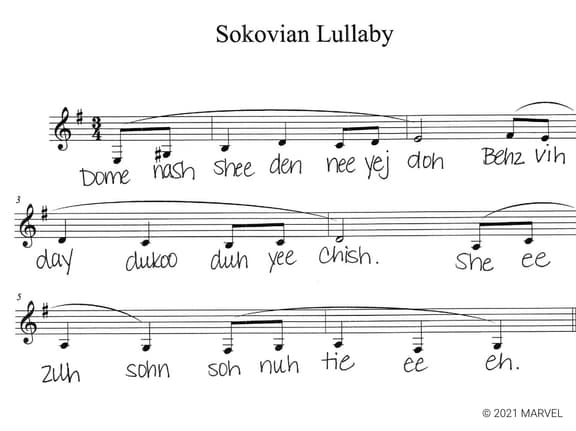 Marvel Studios' WandaVision is now streaming exclusively on Disney+.
Starring Elizabeth Olsen and Paul Bettany, WandaVision marks the first series from Marvel Studios streaming exclusively on Disney+. The series is a blend of classic television and the Marvel Cinematic Universe, and joining Olsen and Bettany are Kat Dennings, who reprises her role as Darcy Lewis from Marvel Studios' Thor and Thor: The Dark World; Randall Park, who reprises his role as Agent Jimmy Woo from Ant-Man and The Wasp; and newcomers Kathryn Hahn, who plays their plucky neighbor, and Teyonah Parris, who plays the adult Monica Rambeau, who was first introduced in Captain Marvel.
Looking for more WandaVision? Follow @WandaVision on Twitter WandaVisionOfficial on Facebook!
Want more exciting information about Phase 4? Find the latest Marvel Cinematic Universe news right here — and stay tuned for more!
This is just the beginning of the Phase 4 news. Stay tuned to Marvel.com for more details! And be sure to follow Marvel on Facebook, Twitter, and Instagram.
The Hype Box
Can't-miss news and updates from across the Marvel Universe!