TV Shows
Published March 18, 2021
Xbox Helps Falcon Remember What He Missed Out on During the Blip
Aaron aka Noobmaster69 is more than ready to answer the call and help! Plus, Anthony Mackie weighs in on the games on Sam Wilson's catch-up list.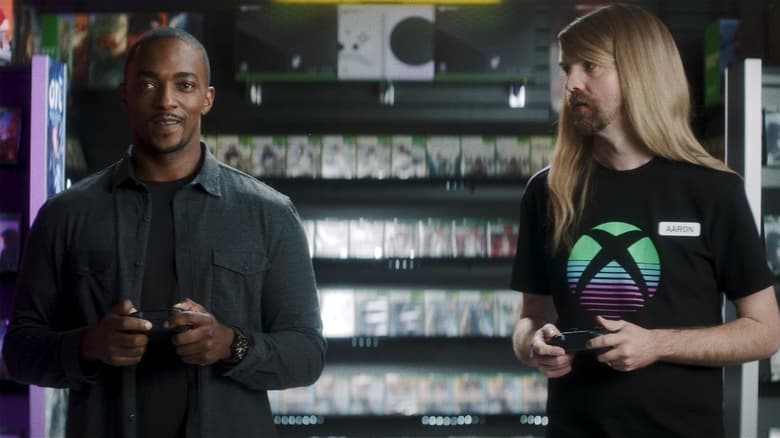 Sam Wilson (Falcon) has been away for the last five years as a result of Thanos' Snap resulting in the Blip where Sam and half of the universe's population disappeared.
Thanks to the Avengers, he's now back, and we can all agree that five years is a very long time. As seen in Xbox's "What Did I Miss?" spot above, Sam lays out his predicament to the Xbox sales associate Aaron, who was first introduced in Marvel Studios' Captain America: The Winter Soldier.
"I fought as an Avenger," explains Sam Wilson, "I took on the biggest, ugliest bad guy in the galaxy. I even met a talking tree. I thought I was ready for anything, but things got really weird. I got Blipped out of existence for five years. I missed my nephews growing up, so much to catch up on. This is where you come in. What did I miss?" 
Naturally, Aaron was quick to show Sam Wilson Xbox Series X|S, while also extolling the virtues of Xbox Game Pass. 
Actor D.C. Pierson returns as his role as Aaron, with  Xbox noting that "Aaron is definitely employee of the month."
During this past weekend's press junket, the stars and filmmakers came out in support of the upcoming release of Marvel Studios' The Falcon and The Winter Soldier, which sees Anthony Mackie returning to his role of Sam Wilson.
Marvel.com had the opportunity to chat with Mackie to discuss the Xbox spot. As fans remember, in Captain America: The Winter Soldier, with Steve Rogers (Captain America) reintegrating to present day, he had a small notebook of music, books, films and TV shows to catch up on. We asked Mackie now that he's in a similar situation, what would be the games on the top of Sam Wilson's list?
"Well, like anybody, you have to catch up on your Madden and NBA 2K games," states Mackie before noting how much of an old school gamer he is. "It's more so about catching up on the sports games because you have the ability to talk trash with camaraderie."
In Xbox's latest spot, "Super Hero Stuff," we learned that our pal Aaron has history with another Avenger coworker of Sam Wilson – the god of thunder Thor himself. We learn that Aaron's gamertag is "NoobMaster69," the very user who was heckling Thor and Korg as they were playing Fortnite in Marvel Studios' Avengers: Endgame. Check out the new spot below!
Marvel.com inquired with Mackie what Sam's gamertag would be, and the upcoming Disney+ series star joked that he's debating "doing a competition for someone to come up with a gamer tag for him," before noting Sam Wilson has to catch up with his family and saving the world first.
To learn more about Xbox Game Pass and Xbox Series X|S, head on over here: https://www.xbox.com/promotions/Marvel
Don't miss out on Anthony Mackie's return as Sam Wilson (Falcon) when Marvel Studios' The Falcon and The Winter Soldier starts streaming tomorrow on Disney+!
Want more 'The Falcon and The Winter Soldier'? Follow the series on Facebook, Twitter, and Instagram!
Stay tuned to Marvel.com for more details! And be sure to follow Marvel on Facebook, Twitter, and Instagram. 
Looking for more Marvel movies and shows to stream? Check out everything on Disney+, Hulu, and ESPN+ right here, and where to find all your favorite Super Heroes right here. Sign up for Disney+ and start streaming now! 
The Hype Box
Can't-miss news and updates from across the Marvel Universe!