Games
Published September 29, 2022
Join the Celebration of MARVEL Puzzle Quest's 9th Anniversary All Throughout October
New character drops, special events, free gifts, tokens and more!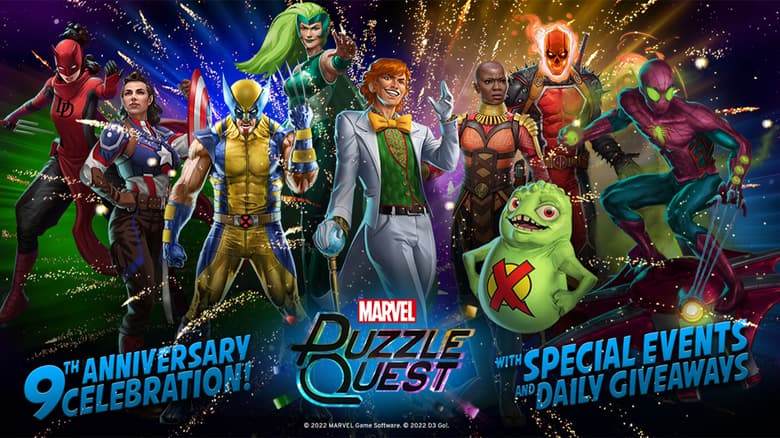 October is just around the corner, and this puzzle calls for a party! MARVEL Puzzle Quest celebrates their 9-year anniversary on October 3rd, and we've rounded up all the ways you can celebrate the epic puzzle adventure game throughout the month.
With a brand-new PVP season arriving just in time for the anniversary, keep an eye out for brand-new characters, bonuses and more. Also, you can get Double Iso all month long along with special sales and free gifts during October.
Check out the full listing below and don't miss out on the month-long MARVEL Puzzle Quest party!
SCHEDULE
10/1 - FREE GIFT
Get a Free Polaris Cover on October 1st! Log into the game to claim your free gift.
10/2 - SPECIAL TOKEN
Get two (2) Anniversary Vault Tokens on October 2nd! Log into the game to claim your free gift.
10/3 - 9 YEAR ANNIVERSARY + SPECIAL TOKEN
First released on October 3, 2013, MARVEL Puzzle Quest has come a long way in 9 years. Let us know your favorite things about the game with #MarvelPuzzleQuest on Twitter!
You can also pick up a Fan Favorite Store Token on October 3rd! Log into the game to claim your free gift.
10/5 - ANNIVERSARY PVP SEASON STARTS
Kick off the Anniversary PVP Season with the Class of 22 Tournament, which features ALL the characters released since the last anniversary!
10/6 - DOOP JOINS THE GAME + DEVIL DINOSAUR PVP
Things are about to get a little weirder, because Doop (Green One) joins as the newest character on MARVEL Puzzle Quest. Let's just say things will get more puzzling once Doop arrives...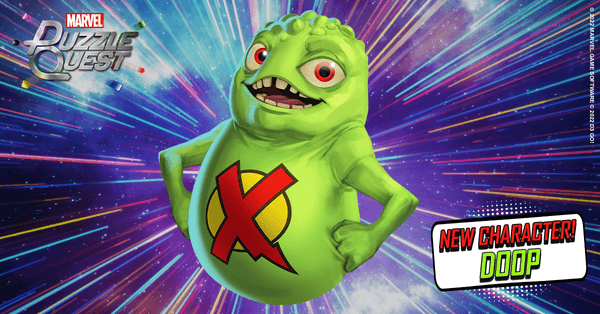 10/9 - DOOP PVP
10/10 - BOSS EVENT
Welcome to Murderworld — Join the new Boss Event which goes live on October 10th.
Players can work with their Alliance in a brand new Boss Battle to choose if they want to fight Arcade with the battle-tested methods of today at their disposal, or in the digital realm Arcade has created known as Murderworld.  Players will be teaming up with various X-Men characters and previous foes of Arcade.
10/11 - TASKMASTER PVP
10/13 - SPECIAL TOKEN + HOWARD THE DUCK PVP
Get an Anniversary Vault Mini Token on October 13th! Log into the game to claim your free gift.
10/16 - DOCTOR STRANGE PVP
10/20 - ARCADE JOINS THE GAME
Arcade (King of PWN) and Arcade (Edward Acra) drops as a new character on October 20th (3-star and a 5-star release, respectively). Who's ready for a little game?
10/23 - POLARIS PVP
10/25 - ARCADE PVP
10/27 - SHANG-CHI PVP
10/30 - MARVEL PUZZLE QUEST ORIGINALS PVP
MORE
10/1 - 10/12 - BUFF LIST
Don't miss playing with these characters while they receive special buffs during October 1-12: Storm (Ororo Munroe), Jubilee (Uncanny X-Men), Wolverine (X-Force), Dazzler (Classic) and Deadpool (It's Me, Deadpool!).
10/13 - 10/22 - DAILY PLAY TOKENS
Between October 13-22, play your chance to win an Anniversary Mini Vault Daily Play Token. Play with Howard the Duck, Devil Dino, or Taskmaster each day in any event to receive a free token.  Collect one (1) token each day.
10/5 - 11/2: DOUBLE ISO-8
All events will earn 2x Iso!
For more details on events all month long, get the full details at the FAQ.
Available on iOS and Android, play MARVEL Puzzle Quest on your phone, tablet or PC! Get it on Steam or the Amazon Appstore today and start playing!
The Hype Box
Can't-miss news and updates from across the Marvel Universe!