Comics
Published May 2, 2019
4 Times Mephisto Earned His Demonic Title
The greatest trick Mephisto ever pulled was letting any and everyone know he existed.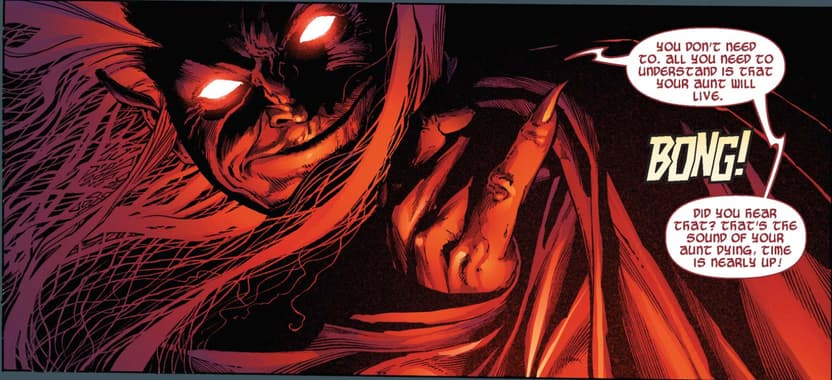 In the current issues of CHAMPIONS, Miles Morales made a deal with Mephisto to go back in time to rescue his teammates from getting killed. While the plan worked and Ms. Marvel was saved, a civilian whom Miles had initially saved died. Rather than take something from Miles right then and there, Mephisto thought the better price was to watch Miles suffer from guilt.
When you are a top banana in the underworld, being the "nice guy" isn't exactly in the job description. Here are four reasons why Mephisto has no right to worry if Hell goes through some corporate layoffs in the future.
One More Day
After being shot during the events of Civil War, May Parker was on death's door. Even after working with Doctor Strange, Peter Parker couldn't save May. Mephisto then appeared before Peter and offered to save May's life. The cost? His marriage to Mary Jane. After some soul searching, Peter and MJ decided that May's life was more important, and they agreed to his terms. A world was created in which the marriage never occurred, and it took over a decade for Peter and Mary Jane to find each other again. Mary Jane and Aunt May have always been the two most influential people in Peter Parker's life. Mephisto made him choose between them, and Peter didn't even remember making the choice. If Peter should ever regain those memories, Hell hath no fury like a spider scorned.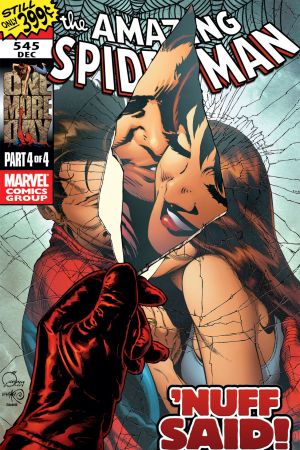 Amazing Spider-Man (1999) #545
published

added to marvel unlimited

rating

writer

colorist

letterer

colorist (cover)

inker

inker (cover)

penciler

penciler (cover)
What is Marvel Unlimited?
Creating Ghost Rider
Johnny Blaze sold his soul to Mephisto to cure Blaze's adopted father Crash Simpson of cancer. But once Simpson was cancer-free, he died during a motorcycle stunt. Mephisto still held up his end of the bargain, curing Simpson of his disease and claiming the rights to Blaze's soul. Blaze's love Roxanne was able to push Mephisto away, proclaiming her love for Johnny. Outsmarted, Mephisto bonded the demon Zarathos to Blaze as punishment, creating a new incarnation of the Ghost Rider. This turned out to be a bittersweet victory for Mephisto. He cursed Blaze with Zarathos but gave the Marvel Universe one of its greatest heroes. Sometimes it's good to look at long-term vs. short-term happiness.
Master Pandemonium
When it comes to "strangest origin stories," you don't have to look any further than Master Pandemonium. Actor Martin Preston was involved in a car crash, which cost him one of his arms. He made a deal with Mephisto, which, as we've been reading, is not a great idea. Instead of your basic "demon restores arm for soul" deal, Mephisto replaced all of Pandemonium's limbs with demons. Yes, his arms and legs are now DEMONS. All of a sudden that radioactive spider doesn't seem so far-fetched. Mephisto then made Pandemonium believe that the pentagram-shaped hole in his chest represented the five fragmented pieces of his soul. We soon learned that this was not the case.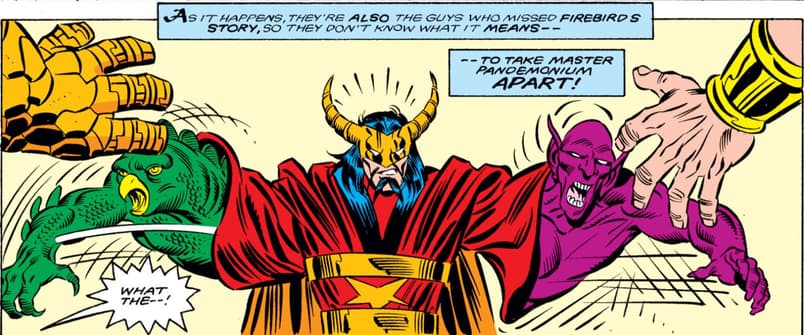 Scarlet Witch's Children
It turns out the five pieces of Pandemonium's soul were Mephisto's. By tricking Pandemonium, Mephisto was able to avoid doing the work himself. He now had a lackey. Over time, Pandemonium was able to gather the beings possessing the fragments. Unfortunately, two of the pieces were the children of the Vision and the Scarlet Witch. Using magic, Scarlet Witch believed fate blessed her with twin boys, Thomas and William. However, when Pandemonium arrived, he took the children, which gave Mephisto's soul full strength. While it was not his intention, Mephisto's plan to regain his soul left Scarlet Witch to suffer a mental breakdown. For a time she became a villain, aligning herself once again with Magneto.
Throughout the history of the Marvel Universe, Mephisto is always pulling someone's strings, from supporting players to our greatest heroes. Now he is going after the future of the Marvel Universe. We can only hope they are strong enough to stand up to him.
CHAMPIONS #5, written by Jim Zub with art by Juanan Ramirez, is on sale now online and at your local comic shop!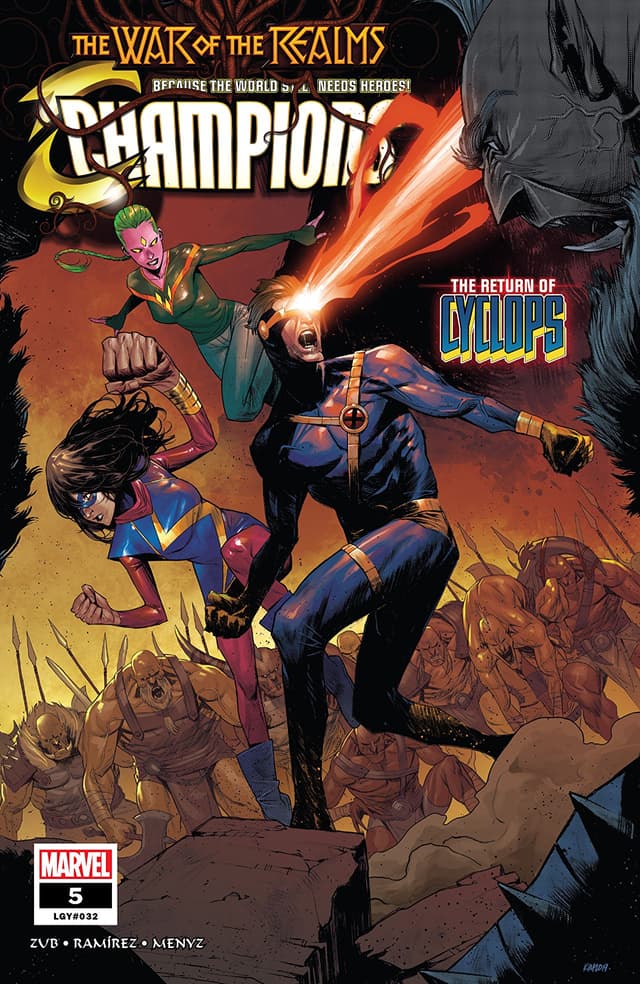 The Hype Box
Can't-miss news and updates from across the Marvel Universe!