Comics
Published January 13, 2021
5 Calamities That Transformed Gwen Stacy into Gwenom
Before reading 'Gwenom vs. Carnage' #1, revisit how Ghost-Spider became Gwenom!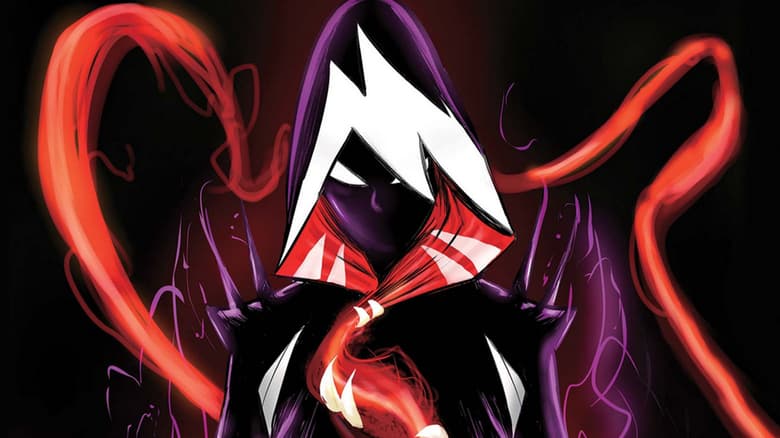 With the Symbiote God Knull leading on onslaught on Earth in KING IN BLACK, what's a Ghost-Spider to do? Considering Gwen Stacy previously bonded to her own symbiote from another reality, this planet-wide predicament has her in a tough spot. Find out what Gwen's about to face in KING IN BLACK: GWENOM VS. CARNAGE #1, the KING IN BLACK tie-in, available now!
But before diving in, how did Gwen of Earth-65 get here? We're pulling back the cowl to reveal the origins of Gwen's symbiotic powers and the series of calamities that led her to her synthetic symbiotic suit!
SPIDER-POWERS LOST
When Gwen Stacy encountered Cindy Moon's Earth-65 counterpart, the very person responsible for Gwen's spider-like abilities, it resulted in the removal of her powers altogether! See the climactic confrontation in SPIDER-GWEN (2015) #8!
ISOTOPE INJECTOR DAMAGED
After Gwen received eight radioactive isotopes that temporarily restored her abilities, Gwen was equipped to battle Frank Castle, who attacked her and discovered her secret identity. She then fended off his associate Kraven the Hunter's creatures, but he damaged her isotope injector and stole an isotope from her mid-battle. See her reaction and how her father George Stacy responded to the calamity in SPIDER-GWEN (2015) #10!
NEARLY LOSING A FIGHT WITH FRANK CASTLE
With Castle still on the loose and determined to expose Gwen as Spider-Woman, Gwen decided to fight him and had Reed Richards restore her injector. The next battle between Gwen and Castle left the city in shambles and if it wasn't for her father and ally Jean DeWolff, Castle would have killed Gwen. With Gwen unsure of how to stop the violence her and her father faced, George turned himself in to protect Gwen's right to her secret and gift in SPIDER-GWEN (2015) #12.
A BAD BARGAIN WITH THE KINGPIN OF CRIME
After making a deal with lawyer and Kingpin of Crime Matt Murdoch to defend her father, Gwen was in his debt. Plus, he gave her an supply of isotopes making her reliant on him for her artificial abilities. Later, with the help of Dr. Elsa Brock, they discovered when combining the Lizard Serum, which plagued her former friend Harry Osborn, and Cindy-65's radiation research, that they could restore Gwen's powers and cure Osborn. But the experiment resulted in a mutated version of the alien parasite known as the Venom symbiote in SPIDER-GWEN (2015) #19!
FAILING TO PROTECT HER FATHER
Once Gwen approached Harry with the cure he needed, he convinced her he was still himself despite becoming the Lizard, and to run from Murdock since he was untrustworthy. Though Gwen's betrayal led Murdock to attack her with the Venom symbiote. Luckily, Gwen rendered it inert in a sense by using music, but Murdock had already had his minion the Rhino attack her father, landing him in a coma. This news struck Gwen hard and she lost control, allowing the symbiote to bond to her entirely, and making her the symbiote-empowered Gwenom in SPIDER-GWEN (2015) #24!
WHAT CALAMITIES COULD BE NEXT?!
While Gwen's powers are unique and dependent on the synthetic symbiote, are they enough to help or hinder Earth's defense against Knull? And what does Carnage have to do with it? Find out in KING IN BLACK: GWENOM VS. CARNAGE #1, available today!
KING IN BLACK: GWENOM VS. CARNAGE #1, written by Seanan McGuire with art by Flaviano, colors by Rico Renzi, and letters by VC's Ariana Maher, is on sale now online and at your local comic shop!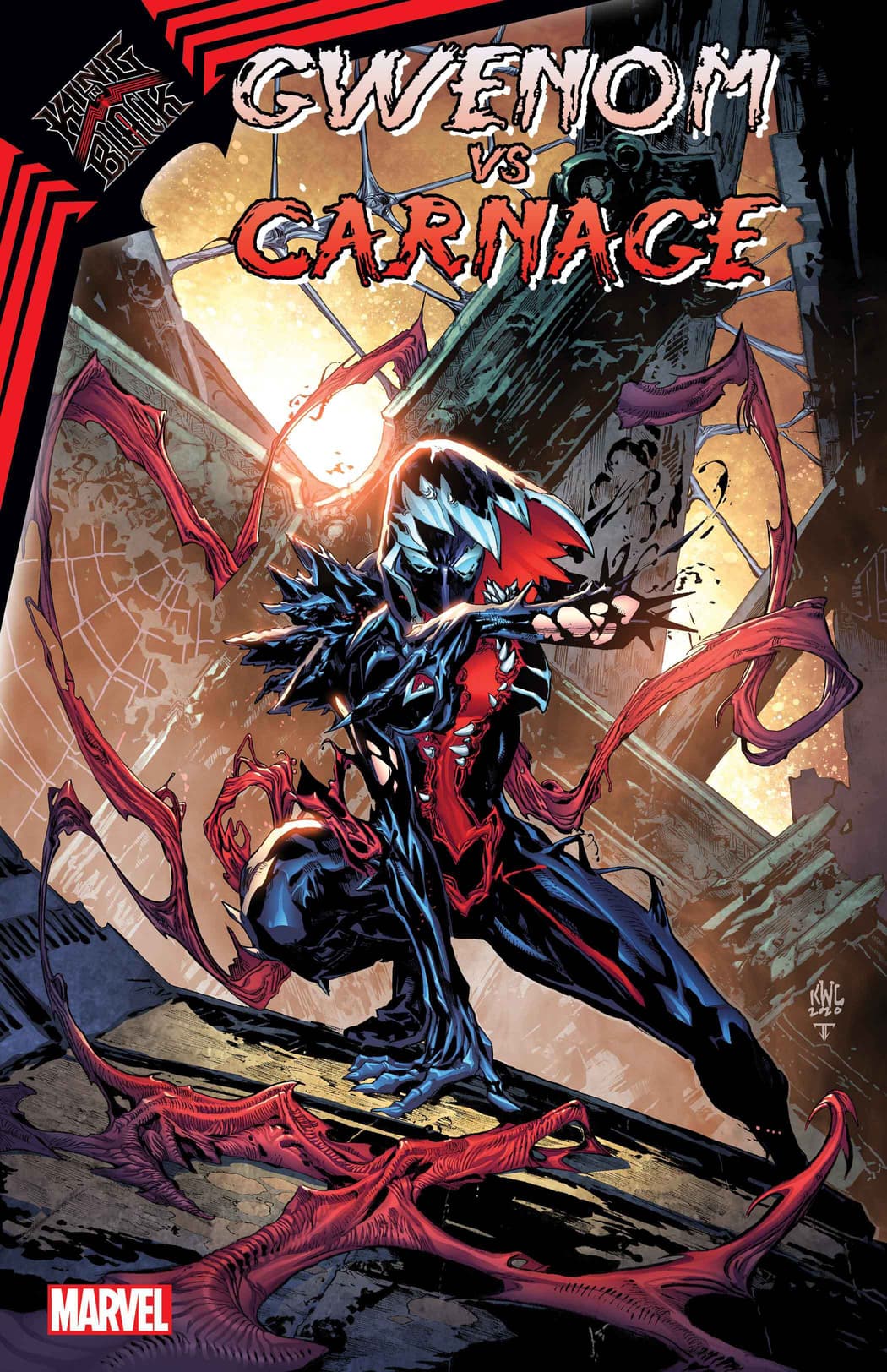 Be sure to ask your local comic book shop about their current business policies to observe social distancing or other services they may offer, including holding or creating pull lists, curbside pick-ups, special deliveries and other options to accommodate. Find and support your local comic book shop at http://comicshoplocator.com or by visiting http://marvel.com/lovecomicshops.
For digital comics, all purchases in the Marvel Comics app can be read on iPhone®, iPad® and select Android™ devices! Our smart-paneling feature provides an intuitive reader experience, ideal for all types of mobile device and tablet users!
For Marvel's most up-to-date release schedule for your favorite comics, visit http://marvel.com/newcomics.
The Hype Box
Can't-miss news and updates from across the Marvel Universe!