Comics
Published January 16, 2020
7 Must-Read Nebula Comics
Prep for February 12's 'Nebula' #1 with a look at the character's mighty Marvel history!
Nebula has been an intergalactic space pirate, attained godlike powers, and even claimed direct lineage to the Mad Titan himself, but now, she's entering brand-new territory with the launch of her very first solo series. Coming to your local comic shop on February 12 is NEBULA #1!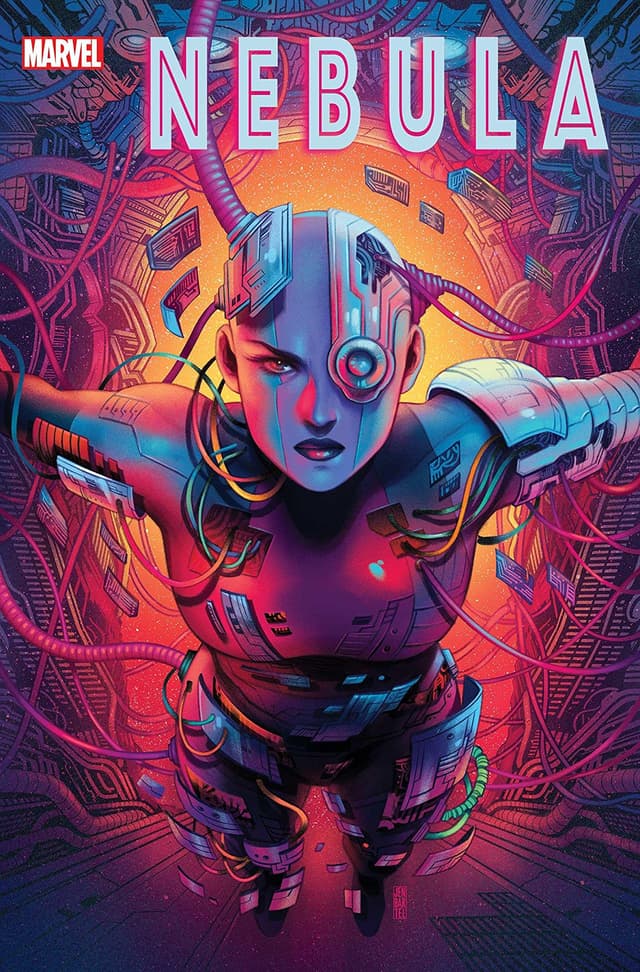 Written by Vita Ayala and drawn by Claire Roe, the book finds Nebula on the hunt for a mysterious and powerful device...but her path will lead her into conflict with forces both familiar and unexpected.
With a new adventure on the horizon, we're looking back at some of Nebula's greatest hits! 
Carrying On the Family Legacy...?
In Nebula's first story, AVENGERS (1963) #257-260, she had taken over Thanos' ship, Sanctuary II, and claimed him as her grandfather. To that end, she planned to take control of the weakened Skrull Empire with some potential help from the captured Captain Marvel (Monica Rambeau). Instead, the Avenger managed to send a distress signal to her teammates who joined forces with the Skrulls and Firelord to stop the pirate's plans. Thanks to their efforts—and an unexpected appearance by the Beyonder—she was dispatched, but not for long.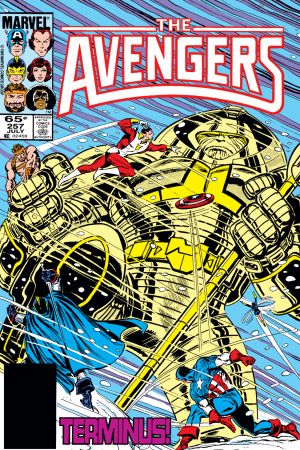 That Time She Almost Destroyed Reality
Upon her return in a tale that spans AVENGERS (1963) #311-318, Nebula set her sights on kickstarting a cosmically powerful artifact called the Infinity Union by way of an Earthling scientist's compressor machine in an attempt to attain the immense power Thanos once wielded. She pushed on even when it became clear that the compressor could wipe out Earth and much of space beyond!
Luckily, a team of Avengers survived the erasing of the universe and would have wrapped the adventure up much sooner had the Stranger not interrupted, allowing Nebula to free herself and attain god-like power. She could have done untold damage to existence had Sersi not acted quickly and decisively to remove the implant channeling her newfound might!
That Time She Saved Reality
Over the years, Nebula has proven herself a heartless killer—she destroyed Xandar and the Nova Corps at one point—but she did do one truly great thing during INFINITY GAUNTLET.
It turned out that Thanos didn't take kindly to her claiming him as kin, so, after attaining the Infinity Stones, he brought her to his side mostly-dead. Still, when the Titan was having an out-of-body experience, she managed to shamble over to his throne and slide the Gauntlet off of his hand and onto hers! She immediately undid Thanos' actions, which included snapping half of all life in reality out of existence, but didn't have enough in her to handle all that power and wound up ultimately losing the item to Adam Warlock.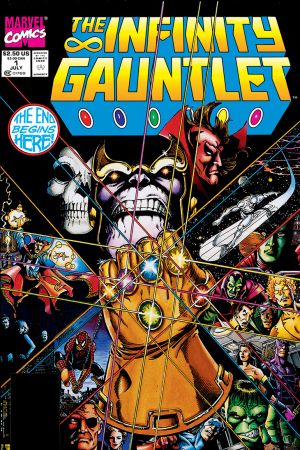 Nebula 2.0
After briefly becoming the most powerful being in the universe, Nebula's mind broke and she was locked up by Starfox. However, in the pages of SILVER SURFER (1987) #69-73, her old crew broke her out of the brig and she got turned into her more familiar cyborg form by one Dr. Mandibus. From there, she wanted to get her old gang back together, but ran into the Sentinel of the Spaceways and Jack of Hearts (in the pages of SILVER SURFER #76-78). Ultimately, Nebula joined up with another crew, Gamora's Graces, as seen in ANNIHILATION: RONAN, but didn't stand much of a chance against the wayward Accuser.
Strange Bedfellows
Throughout the beginning of the 2016-launching THANOS series, Nebula worked with Starfox, Thane, and Tryco Slatterus in a mission to kill the already-dying Mad Titan once and for all. When that whole endeavor turned out to be a way for Thane to get a hold of a Phoenix Egg, Nebula and the others flipped the script and joined forces with Thanos himself to extinguish Thane's flame. Thanos wound up doing most of the work taking his son out by issue #12, but Nebula stood witness as father beat away his offspring before leaving her and the others stranded on the edge of the God Quarry!
Ragnarok & Roll
When a new group of characters came together in ASGARDIANS OF THE GALAXY (2018), they found themselves up against one very angry Nebula. She intended to bring about Ragnarok by summoning Naglfar, a fleet of ships helmed by soulless Asgardian corpses. Nebula saw this as a way to compete with Gamora, who'd recently killed Thanos and decided to go after the Infinity Gems. Powered-up, Nebula took on the Shi'Ar Imperial Guard and Thor, but wound up falling for one of Kid Loki's tricks and dealing with a faulty space-cleaving ax that sent her somewhere very unpleasant.
A Guardian Dark
In the wake of Thanos losing his head at the hands of Gamora, the cosmos were left wondering what would happen next. Starfox gathered many intergalactic heroes together in GUARDIANS OF THE GALAXY (2019) #1 to explain that the Mad Titan fully intended to take over the body of another. After the Black Order stole Thanos' corpse, 'Fox put together a group of Dark Guardians intent on killing Gamora, thinking that she would be the next body for the Titan to inhabit. She took point on tracking Gamora down, leading them to confront first Nova and then Peter Quill's new Guardians of the Galaxy. But things went south when it turned out that Thanos intended to take over Starfox's body!
Down the line, in GOTG #11-12, Nebula reappeared, this time being controlled herself by J'Son, Peter Quill's father and the Patriarch of the Universal Church of Truth.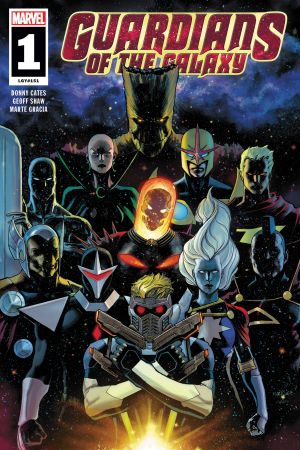 Guardians of the Galaxy (2019) #1
published

added to marvel unlimited

colorist (cover)

colorist

inker (cover)

penciler (cover)

writer

letterer

editor

inker

penciler
What is Marvel Unlimited?
The Hype Box
Can't-miss news and updates from across the Marvel Universe!