Comics
Published August 5, 2020
7 Times Hulkling and Wiccan Proved They Could Go the Distance
The long-time couple was revealed to be married in 'Empyre' #4 -- see how their relationship has stood the test of time!
Teddy Altman AKA Hulkling and Billy Kaplan AKA Wiccan have been in a long-term, intimate relationship that has had its fair share of ups and downs. This week, it was revealed in EMPYRE #4 that the couple were married! As they enter a new, strong phase in their union, here's a look back on Hulkling and Wiccan through their time as Young Avengers that led up to their current status in EMPYRE.
FLIRTATION STATION
Hulkling and Wiccan fought alongside each other on the Young Avengers. During some of their battles, they exchanged the occasional flirtation, like the one in YOUNG AVENGERS (2005) #1. It may have been a fleeting exchange but it was a defining moment, one that confirmed that their friendship was much more than just super pals taking out villains.
A TENDER MOMENT
After Super-Skrull slayed Hulkling's mother in an attempt to reveal Hulkling's true heritage as a Kree/Skrull hybrid, Teddy and Billy shared an emotional embrace in YOUNG AVENGERS (2005) #12. This tender moment showcased not only how much Billy cared for Teddy's well-being, but also Teddy's willingness to be vulnerable with him during his grief.
A WEDDING PROPOSAL
After the Young Avengers lost members Cassie and Vision, they disbanded. Billy also quit in AVENGERS: THE CHILDREN'S CRUSADE (2010) #9. Teddy tried to support him while he went through the depression that followed. When Teddy had enough, he shook Billy out of it. In what seemed like a break-up speech, it turned out to be a proposal—or at least a snippet of wedding vows—as long as Billy committed to acting instead of wallowing. 
FIRST KISS
Immediately following the semi-proposal in AVENGERS: THE CHILDREN'S CRUSADE (2010) #9, Billy and Teddy shared a passionate kiss for the first time. Though their intimate moment didn't last, thanks to an interruption by Carol Danvers (then Ms. Marvel), it left a lasting impression that these two will overcome the odds for each other.
PROCLAMATIONS OF LOVE
In YOUNG AVENGERS (2013) #1, Teddy and Billy fought about his late-night heroics. From Billy's perspective, they lost too many friends and being a hero was too risky, while Teddy refused to spend his life with his abilities going unused. Teddy's proclamations of love for Billy came out in their fight and ultimately helped resolve their issue, and it was an a-ha moment for the pair that was a long time in the making.
QUESTIONING REALITY
When an interdimensional parasite known as Mother posed as Teddy's returned mother and tried to control Billy, Teddy and Billy allied themselves with Loki—completely unaware that Loki manipulated the events leading to Mother's arrival. During this time fighting Mother, who threatened the entire multiverse, the mischievous Loki planted the idea that Billy used his reality-warping powers on Teddy, causing Teddy to question whether his love for Billy was real, and it seemed to drive a wedge between the couple. Teddy soon overcame this moment of doubt and reunited with Billy. Their love gave Billy the strength he needed to defeat Mother once and for all. See how it all went down in YOUNG AVENGERS (2013) #1-15.
PARTNERS DESPITE THE ODDS
When Teddy was asked to join the new incarnation of the Kree/Skrull Alliance in LORDS OF EMPYRE: EMPEROR HULKLING #1, he shared the offer with his fiancée Billy. He eventually accepted but learned from his subject just prior to his coronation that his relationship with Wiccan needed to cease as it was seen as a weakness. Teddy put on a brave face in front of his subjects but relayed his true feelings to Billy out of earshot. Billy, understanding the pressures Teddy faced, departed but not before reassuring him that he would be at home on Earth waiting for him.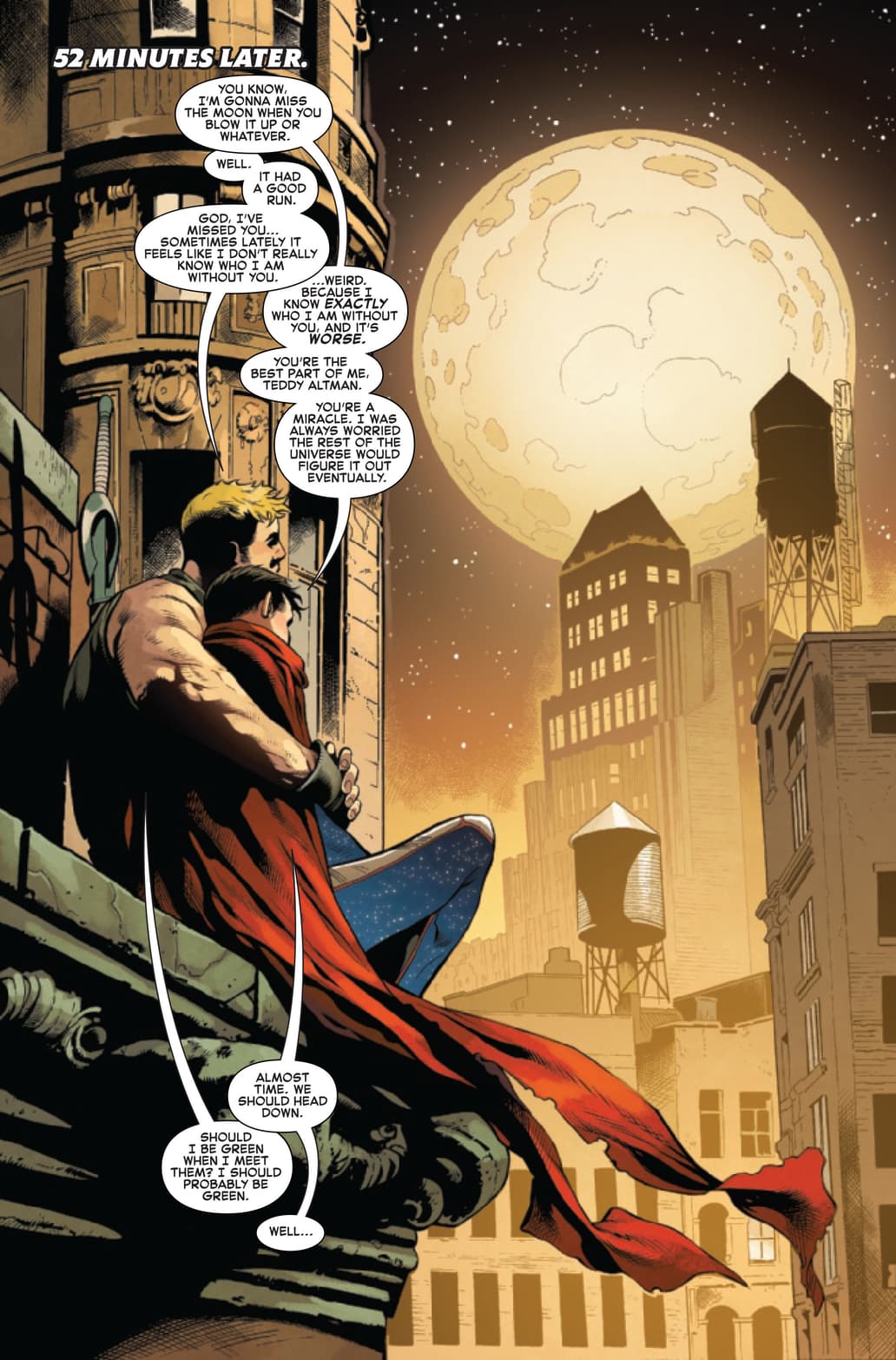 These two clearly stick together through thick and thin, and will overcome the odds no matter how impossible they seem. It only made sense that they made their union official and got married.
While their marriage certainly solidified the commitment between Billy and Teddy, the conflict of EMPYRE is far from over! Will these super spouses stay the distance through the intergalactic war? You will have to follow EMPYRE to find out!
Find out what's next for Hulkling and Wiccan in EMPYRE #5, written by Al Ewing and Dan Slott with art by Valerio Schiti, in comic shops on Wednesday, August 12, and in EMPYRE: AVENGERS AFTERMATH #1, coming this September!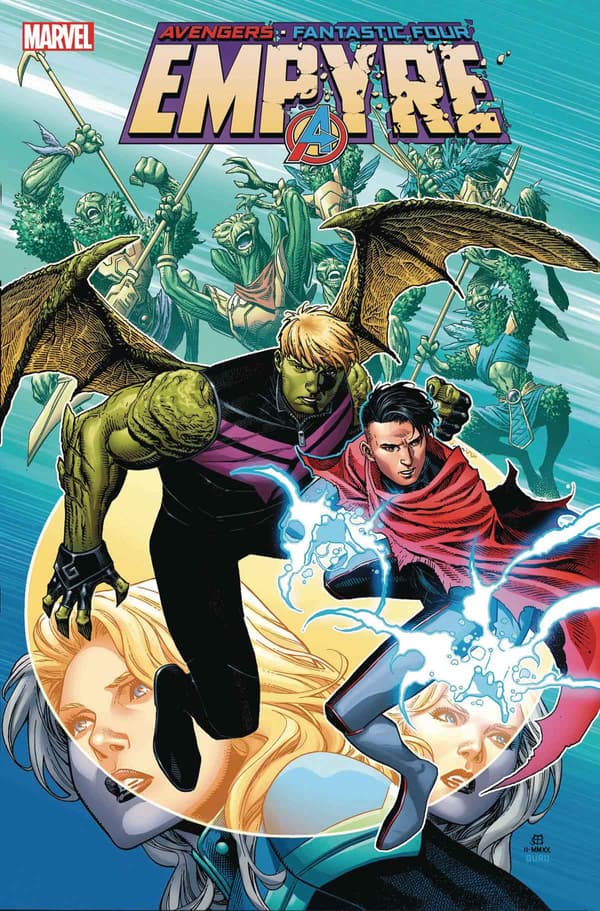 You can pick up EMPYRE #5, written by Al Ewing and Dan Slott with art by Valerio Schiti, at your favorite local comic book shop or digitally on Wednesday, August 12! Be sure to ask your local comic book shop about their current business policies to observe social distancing or other services they may offer, including holding or creating pull lists, curbside pick-ups, special deliveries and other options to accommodate. Find and support your local comic book shop at http://comicshoplocator.com or by visiting http://marvel.com/lovecomicshops.
For digital comics, all purchases in the Marvel Comics app can be read on iPhone®, iPad® and select Android™ devices! Our smart-paneling feature provides an intuitive reader experience, ideal for all types of mobile device and tablet users!
The Hype Box
Can't-miss news and updates from across the Marvel Universe!