Comics
Published October 26, 2018
Agent M's History of Marvel Horror
You heard the discussion on This Week in Marvel, now read the comics!
We wanted to do a bit of a Marvel Horror Comics Primer, diving into some of the history of Marvel's horror and monster comics. But first, to do that, I need to set the stage.
Picture it: Comics in the 1940s. Captain America was punching Hitler, publishers were testing out all kinds of pulp and Super Hero characters, and the world was at war. As the decade rolled on, Super Heroes started to wane in popularity, with true crime and horror stories and even romance comics gaining more popularity. Marvel, then known as Timely, included more horror elements across the board.
Didja know that Captain America Comics was changed to Captain America's Weird Tales at the end of 1949? It only lasted two issues, one of which didn't even include Captain America. But the first of those two issues has Red Skull getting a hold of Satan's book of damned souls, Cap riding across the River Styx, Cap and Skull fighting in the afterlife, and more. The cover to WEIRD TALES #74 is super creepy with a Red Skull with long fingers. It's intense.
Around that time, EC Comics was running the horror game with HAUNT OF FEAR, VAULT OF HORROR, CRYPT OF TERROR /TALES FROM THE CRYPT, horror/menace anthologies with creepy narrators. Things were blowing up for horror and crime and creepsy comics.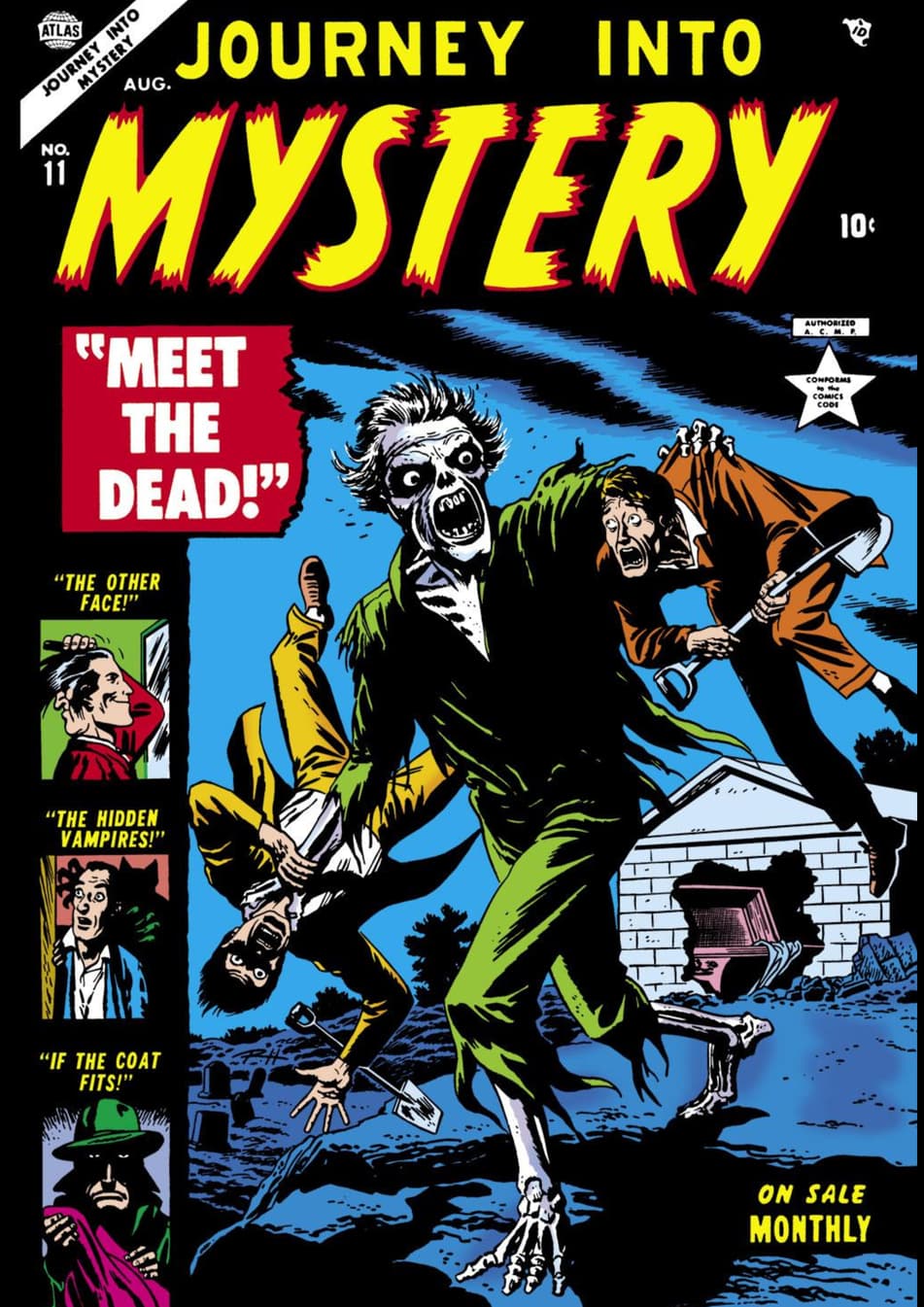 In the '50s, Timely had become Atlas Comics. Atlas had ADVENTURES INTO WEIRD WORLD, ADVENTURES INTO TERROR, MENACE, MYSTIC, ASTONISHING, JOURNEY INTO MYSTERY, STRANGE TALES, MARVEL TALES, and so many more. Over the course of about FIVE years, Atlas published almost 400 horror comics across 18 titles.
We don't have a lot of these books fully digitized, so I've not read tons of them, but I've looked at the covers and dug into some resources. Some really gnarly stuff. MENACE, for example, is super neat. Stan Lee and Bill Everett and John Romita, Sr., George Tuska, and Gene Colan and others doing creepsy tales in the early '50s. Lee and Everett introduced Zombie Simon Garth in MENACE #5, and that's a character that was brought back in the '70s and several times since—most recently in the MARVEL ZOMBIE one-shot this month!
A book like ADVENTURES INTO TERROR was very similar. Lots of short stories of vampires and monsters and skeletons and witches, with stories by creators who'd go on to do much more in the super hero space. Stan, Tuska, Gil Kane, Carmine Infantino, Werner Roth, and even Basil Wolverton(!).
BUT! The era of horror books would end after the 1954 publication of "Seduction of the Innocent" by comics' true most horrific villain: Fredric Wertham. Wertham argued that comics would negatively affect kids' actions and personalities with excessive violence, drug use, occult scenarios, sexual themes, and more. Much of his ire was directed at EC and their admittedly gruesome stories, but he went after pretty much all crime, horror, and Super Hero comics. You can read tons and tons about "Seduction of the Innocent" and Wertham, but his crusade helped usher in the creation of the Comics Code Authority, a form of self-imposed censorship of comics content. Comics were submitted to the Comics Code Authority and if they passed, the book was able to display the seal on their cover—and thus be seen as friendly to parents and kids.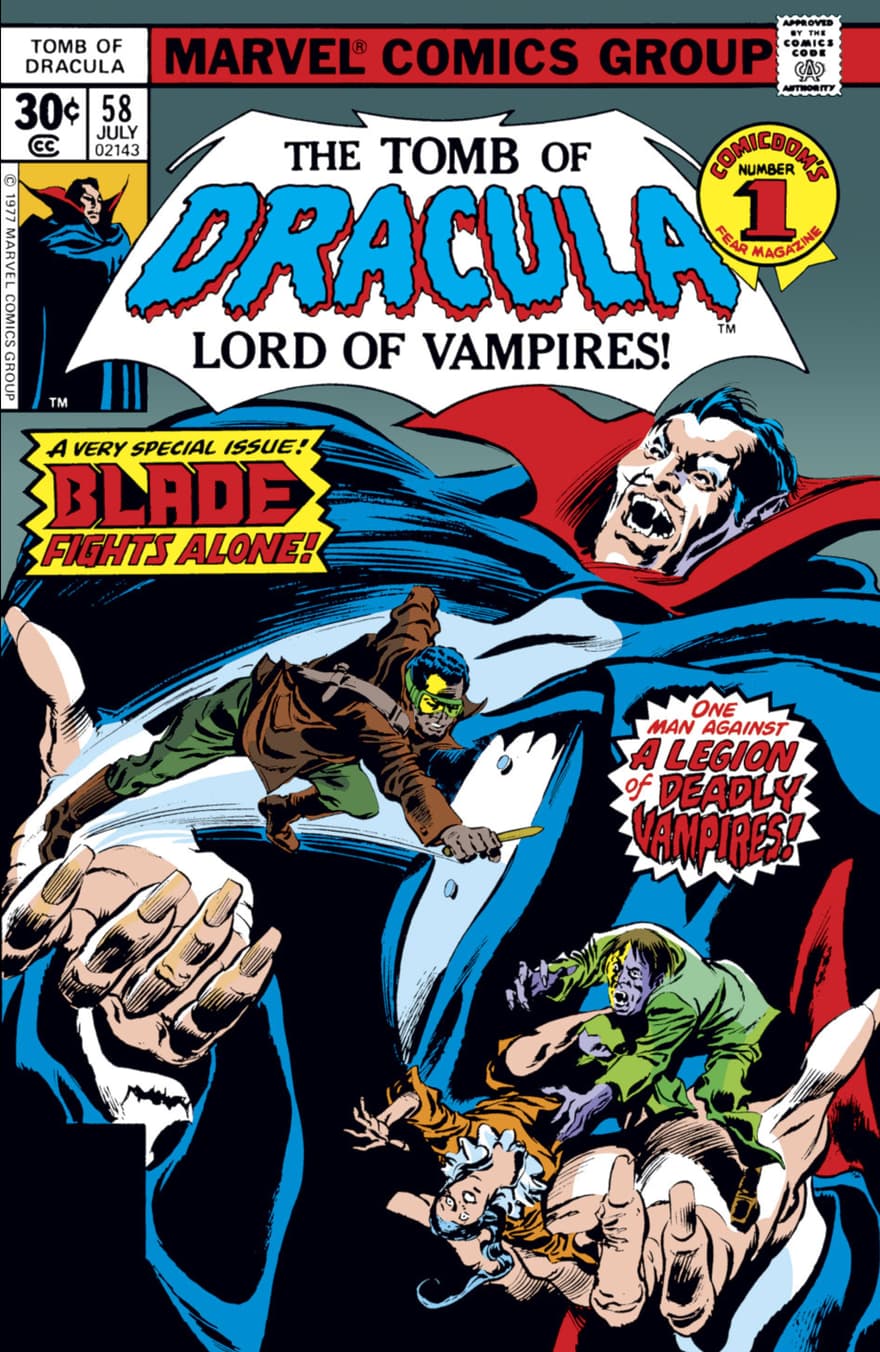 So horror comics? Kinda out of the question, at least the way they had been done to that point. A series like MARVEL TALES, which had been running for years, made a shift from really cool horror to adventure and sci-fi in 1955. MARVEL TALES #116 from July 1953 actually had a story called "Werewolf by Night!" which will provide a nice call-back in the '70s.
All the Atlas books shifted from horror monsters to more sci-fi style monsters. So, while the Code meant we'd no longer have stories of zombies or murder skeletons, who knows if we'd have gotten Jack Kirby, Steve Ditko, and folks creating amazing monsters such as Fin Fang Foom, Groot, and more in a Code-less world.
I often mention the '70s boom of Marvel horror (and kung fu and other genre) stories and that's in part because the Comics Code Authority rules changed, and in 1971, stories featuring vampires, ghouls, and werewolves were fair game. That's how we got TOMB OF DRACULA, Werewolf by Night, Son of Satan, Ghost Rider, Morbius the Living Vampire, Frankenstein's Monster, Manphibian, Man-Thing, Satana, Blade, the Darkhold, and SO much more.
Another thing that happened here and through the '70s at Marvel was the launch of tons of non-Comics Code Authority-branded black and white, large format magazines. We had kung-Fu, swords and sorcery, humor, sci-fi and more—but of course we had horror mags! HAUNT OF HORROR, DRACULA LIVES, MONSTERS UNLEASHED, TALES OF THE ZOMBIE, VAMPIRE TALES, and a few others. A number of these you can check out on Marvel Unlimited, and they had several black and white comics stories, plus editorials and prose features.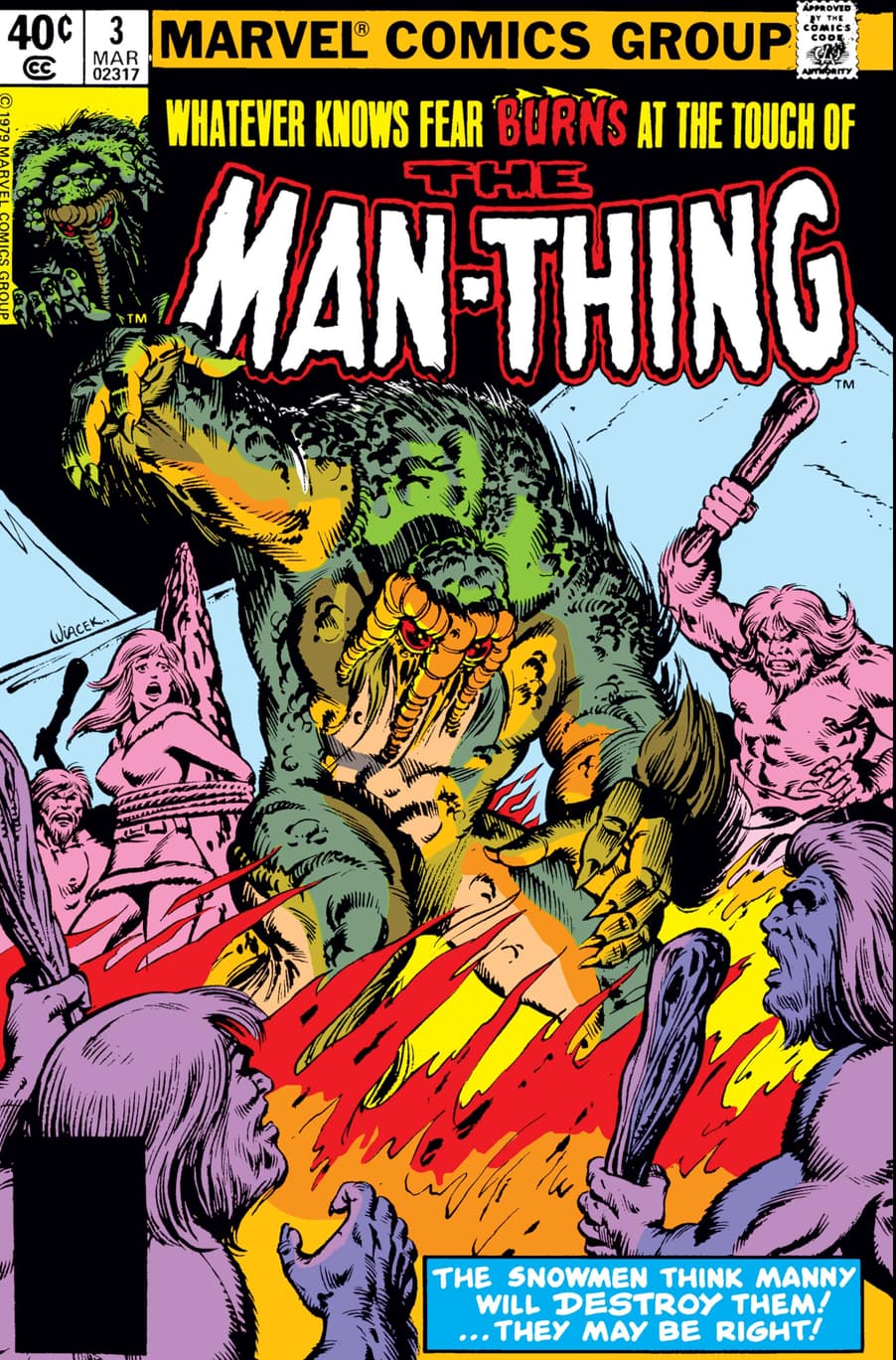 An aside for anyone curious: Marvel dumped the Comics Code Authority fully in 2001 for our own ratings system, and that's that.
So from the '70s on, horror stories and characters were just a cool part of the Marvel array.
Over the last few decades, we'd see a Ghost Rider join the Champions and the Avengers; Dracula battle the X-Men—and have Storm, Wolverine, and Jubilee get vamped up at times; Deadpool marry a monster queen named Shiklah and live in the Monster Metropolis under Manhattan; Blade and Ghost Rider hit the big screen; the Darkhold and a new Ghost Rider show up on "Marvel's Agents of S.H.I.E.L.D.", have dozens of issues about Marvel Zombies, and so much more.
This isn't a full history, but a primer. Let me know if there's something you'd like us to dig into more on a future episode!
Want new horror? Be sure you're reading IMMORTAL HULK by Al Ewing, Joe Bennet, and more. And in January 2019, we get CRYPT OF SHADOWS by Al Ewing, Garry Brown and more!
To hear the full conversation on This Week in Marvel, download the whole episode below:
Subscribe to This Week in Marvel on Apple Podcasts or download the episode from Marvel.com/podcasts!
With new episodes every Friday, This Week in Marvel delivers all the latest Marvel discussion and news about comics, TV, movies, games, toys, and beyond! Tweet your questions and comments about the show to @AgentM, @jamiefrevele, or @Marvel with the hashtag #ThisWeekinMarvel!
The Hype Box
Can't-miss news and updates from across the Marvel Universe!