Comics
Published February 15, 2023
Marvel's Voices Highlight: Artist Alitha E. Martinez
Angélique Roché speaks to the trailblazing artist about her early life, her start at Marvel, and what the future of comics holds.
INTRO BY ANGÉLIQUE ROCHÉ
As the 1990s ended, Marvel was under new management after declaring bankruptcy in 1996. During this time, Marvel decided to revisit several characters and properties that were popular in decades past, modernizing their legacies. In 1998, Marvel Comics formed the imprint "Marvel Knights." The nascent imprint was initially given the reins of Daredevil, the Punisher, the Inhumans and Black Panther. "Marvel Knights" focused on a darker, grittier and more mature "cinematic" approach, hiring writers who straddled both the comics and the film world in its quest to ­find new audiences.
Sales for the "Marvel Knights" line were signi­ficantly steady, signaling a dedicated readership invested in these new adventures, including a brand-new take on the ruler of Wakanda, bringing the former Avenger into the world of diplomacy and espionage. "The Client" was written by veteran editor Christopher Priest, with art by Mark Texeira. This series also included, for the ­ first time at Marvel, credited artwork by a Black woman—a relative newcomer to the industry, Alitha E. Martinez. Alitha worked on some of the iconic and extremely detailed background art that de­fined the book's overall tone. This was only the beginning of the many projects that Martinez would work on for Marvel.
Martinez was first introduced to comic books as a child. An avid fan, she worked to pay for her comics, walking two or more miles to find the closest spinner rack, and always kept them hidden from her family, who didn't support her habit. Throughout my time at Marvel, I have had the privilege to have a number of opportunities to chat with the artist about her life, family, career and her love of comics, including recently for background for the upcoming book My Super Hero is Black and last year's release of Marvel Studio's Black Panther: Wakanda Forever. Here are a few highlights from some of our conversations.
ANGÉLIQUE ROCHÉ: Did you say alligators?
ALITHA E. MARTINEZ: Yeah. You know, like, there, there was water. There was, like, a little stream bank right there, and that's where it lived. It wasn't...to me, it wasn't all that big at the time, but now that I think about it, it was probably six feet. It had to be huge.
A pro at navigating her way, Martinez would be careful to watch for if the alligator was sunning and dormant to know if she had to take the long way around…
ALITHA E. MARTINEZ: [Because] when you come to the clearing, and you don't see him, you're like, "Oh, hell no. He's gonna hunt us down," and you go back the other way.
Born to a Honduran mother and Curaçaoan father, Martinez's family settled in New York. While born in the United States, her life frequently transitioned back and forth from her father's country of Curaçao to NYC. Martinez learned the realities of being a first-generation American outside the con­fines of the big city when her grandmother retired and moved to Tampa, Florida. She also battled heavily with the expectations of being the child of immigrants. That, for her, unfortunately, meant that her love of comics wasn't always a welcome part of her family life.
ALITHA E. MARTINEZ: Now we're in an age of acceptance, and people can finally come out, but imagine me as a kid with this love [of comics]. You are a girl. You are dark of skin but not... But you can't pass the test to be a Black person, and you can't pass the test to be a Hispanic person 'cause you don't look like the "normal" Hispanics who you're seeing. You speak Dutch when you come to this country, and you have this weirdness. And then in your family, they didn't bring you into this country to become this thing [an artist]. You are a doctor, a lawyer or an electrical engineer, and that's all you can be. So you are hiding. You're just in hiding. No one can know.
ANGÉLIQUE ROCHÉ: Was there a force in your family that was against your love of comics?
ALITHA E. MARTINEZ: As I said, I walked [to get my comics], and I had to pay for [them] by mowing lawns and doing all this myself, and my mother wasn't with me growing up. If my grandmother found comic books in the house, they were shredded. I could not be a historian of this stuff.
ANGÉLIQUE ROCHÉ: That must have been pretty devastating!
ALITHA E. MARTINEZ: Well, I'm going to tell you why that didn't bother me any at all. It's so funny 'cause, again, I can harken to what people see as outrageous today. They took everything I had when I entered the country, including my name. These people who you're crying about in [immigration camps] right now, it happened to me. They took me. Deported me. I didn't know where they took me. I believe I was in Cuba. When I was young, my parents sent me alone from Curaçao to my grandmother's. I entered the country with my birth certi­ficate, which was con­fiscated. They took everything, including all my clothes and toys. They let me have a book, which I still have. My only possession. Fed me when they felt like feeding me. For days, they couldn't figure out that I was not Cuban because my last name is Martinez. Even though my father's last name was Van Putten, which would have made it easier to track where I came from. So, I'm frightened. I'm alone. People spoke Spanish to me, but we spoke Papiamento and Dutch.
[Note: Papiamentu or Papiamento is a Creole language of Spanish and Portuguese spoken in the Dutch Caribbean.]
ANGÉLIQUE ROCHÉ: So you ended up in Florida…
ALITHA E. MARTINEZ: My siblings and I are with my 90-year-old grandmother and great-grandmother, who[m] I didn't know, while my mother was working in New York. So she [my mother] had four kids suddenly to take care of from a distance, and those four kids—we could have been wild, but we knew better 'cause we loved Gram so much. And, quite frankly, Florida was scary. People were scary to us because they had accents, didn't speak our language and seemed hostile, so I had to hide. Comics were my one escape.
ANGÉLIQUE ROCHÉ: What was it about comics for you? Were there any Black characters who stuck out or were your favorites?
ALITHA E. MARTINEZ: I couldn't tell you who was Black or white. I was reading the stories. I know how it made me feel when I read them. You know, that thing that makes your heart beat quickly because it's an epic story. It's big. I didn't care what color anybody was in these books. They made no difference to me. It's this... Wanting this feeling, this, "I—I need to be a part of this world, this creative world where I felt like you gave me a golden ticket and I can create anything I want for anyone, and you don't look at me for the color of my skin and say, 'You are not enough,' or 'You are here,'" because I belonged nowhere, so I found that when you belong nowhere, you accept everything.
ANGÉLIQUE ROCHÉ: And now you are one of the most well-known Black artists in the comic-book industry… How did you first land at Marvel?
ALITHA E. MARTINEZ: In 1998, I was ghosting under Joe Quesada, which is how I got my first job in comics PERIOD. I tried going to the School of Visual Arts (SVA). At the time, it was so male-centric to where it was aggressive. I made it through one semester, and that was it. It was so bad that I got followed home, and I said that's enough. You're the only girl in the cartooning department. So I decided I would continue teaching myself, and I really, really, really wanted it. So I put together a portfolio and went to a convention. That's where I met Joe Quesada and Jimmy Palmiotti. I was scared of them 'cause they looked like bouncers, but I walked up anyway. The first book I got credit for was BLACK PANTHER (1998). So, yeah, that was my start.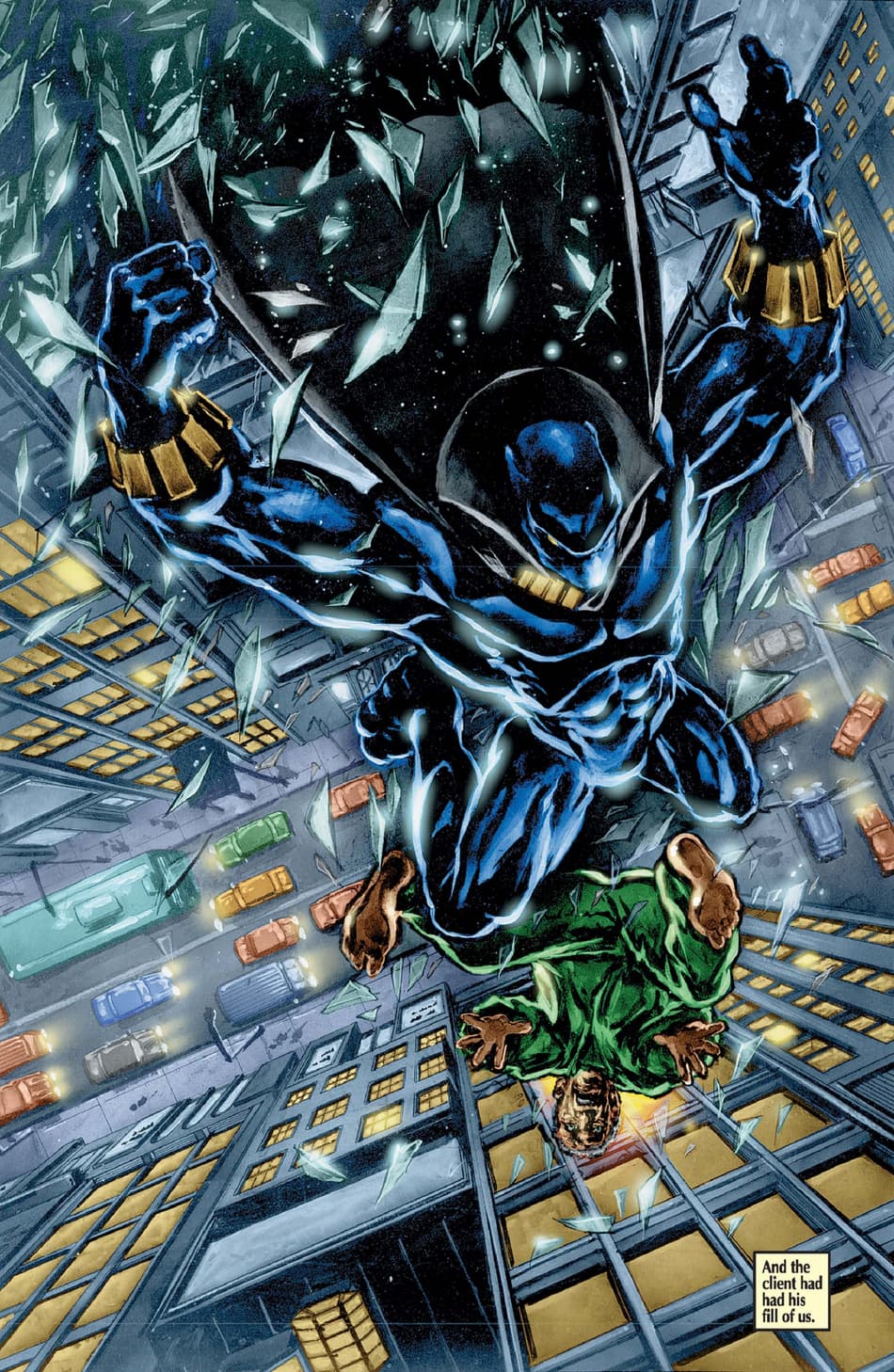 ANGÉLIQUE ROCHÉ: So you started doing comic book art in the nineties, you were behind the scenes doing layouts and pencils and all this other work. But this was also a moment of reinvention for Black Panther and the beginning of the "Marvel Knights" imprint. What has it been like to see the evolution of this world and its character from 1998 till today?
ALITHA E. MARTINEZ: Well—and I'm trying to be diplomatic here—I get this thing, and it's in front of me, and it's like, oh my God, this is Black Panther. I've never heard of Black Panther before. I didn't even know they had a Black Panther. And he's coming to New York. And he's coming from where? This place called Wakanda. Are we drawing Wakanda? No, we're not drawing Wakanda. Okay…so here we are. And here he comes with these two women...the Dora Milaje. They had big hair, high heels and short skirts.
ANGÉLIQUE ROCHÉ: Since then, those two women have become a group of warriors, and their roles have evolved. Fast-forward to, you worked on BLACK PANTHER: WORLD OF WAKANDA (2016) in a condo with Roxane Gay. You get the opportunity to not only draw Dora Milaje but Wakanda. So now we're not in New York; we're in Wakanda.
ALITHA E. MARTINEZ: It started with Ta-Nehisi Coates and Brian Stelfreeze. They have just resurrected this Black Panther, and he was just BIG. There was a story inside of it all of Ayo falling in love with another Dora and their love is forbidden in a sense, and then they run off together. The story I drew focused on that.
Still, what I found strange was the designs of these beautiful women. While we are definitely in Wakanda now, these women have on metal brassieres and loincloths via Conan style. And I'm going, Oh, no, we can't do this. We can't be here. No.
ANGÉLIQUE ROCHÉ: That doesn't seem practical…
ALITHA E. MARTINEZ: It's just not at all. Number one, it's hot. So the first thing I did was redesign everyone. I put clothes on these women's backs. I also investigated the various tribes. Since Roxane Gay said they were from twelve different tribes, I went for these twelve tribes and put them [the Dora Milaje] in practical costumes and not have everything hanging out. Just getting to be able to do this and redesign the characters and walk away from hypersexuality allowed you to see their power and focus on their love story.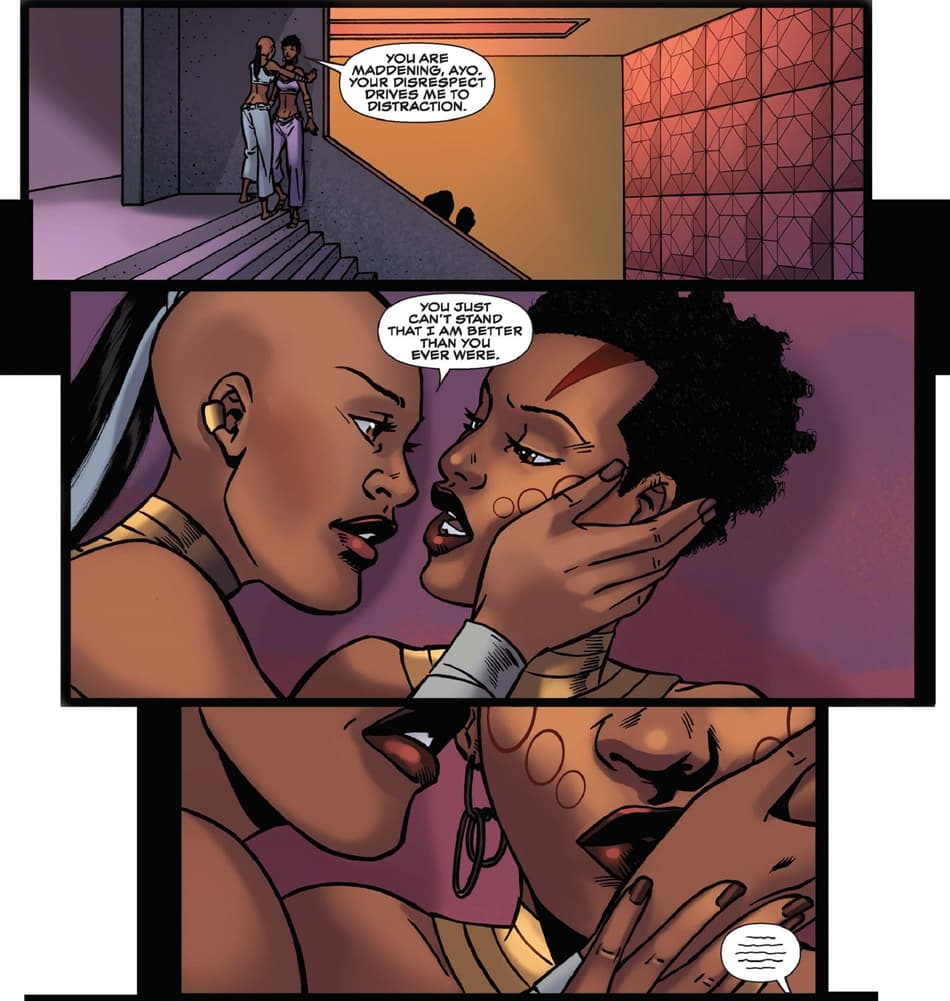 ANGÉLIQUE ROCHÉ: In the WORLD OF WAKANDA, it's the Black women leaders and mentors who the stories center around.
ALITHA E. MARTINEZ: Oh, de­finitely. That was front and center from page one. One of the main things, especially seeing young people today when you're growing up, you love comics, and comics are a golden ticket. You can be immersed in these beautiful stories, but it's hard when you don't see any reflections of yourself, especially when it comes to cosplay and things like that, where you want to step out in the world and wear your character's skin for a little while.
But when you have a whole world built around characters that look just like you, you could be anyone within it. That's why you have to be very careful when you're building these types of characters because you want to put forth strength; you want to put forth beauty without hypersexuality. And I think that's very important to show.
ANGÉLIQUE ROCHÉ: You have served as such a mentor for so many of us within the comics space, particularly Black women. Do you believe you've had any mentors or, you know, leaders in your life?
ALITHA E. MARTINEZ: When I entered comics, it was very much like walking into a landscape where you're not welcome. You don't realize you're not welcome, but you're not. But I can say that Joe Quesada gave me my chance. Not only that but he did the very best thing he could have ever done for me: Leave me alone to grow. When it was my time, he left me alone, and that allowed me to expand beyond him.
You know that thing where kids are taught to swim, right? I remember this wonderful day in Curaçao. My dad paddled me out into the ocean on his back, dumped me off into the water and started back to shore. He said, "You know, there are sharks out there." Suddenly, I could swim. Hallelujah! That's how [I was] taught. It was the same kind of thing in comics.
ANGÉLIQUE ROCHÉ: So what do you think is the most important thing about all that as it pertains to mentorship?
ALITHA E. MARTINEZ: What I've noticed is that the next generation, the people who've come behind me, cannot doubt that a woman is capable of doing these types of things. Because once something is done, it is not questioned, and I've done it. You have to do it first, and once it's done, they know it can be done. So it's always that new ground to break.
You also have to remember that it is easy to slide back into old ways. There are precious few characters I have not drawn. But that weighing is still happening about what women can and cannot do. That fight is still there. But no matter what, it is important to be in this space, to exist here. To show the next one, you can do this too. And there is longevity for us in this. I've been here so long that people forget I'm here. They don't realize that I usually have had two books on a shelf every month for years. That means I don't stop working. I don't take time off. Every day is a work day for me, every hour is a work hour for me and it's very important that that stands for me, for who I am. I'm okay within my soul if I do no more than this because I know that I have left it better than I arrived.
Listen to more conversations about Black Panther and Wakanda and my conversations with Alitha E. Martinez on both the Marvel's Voices and Women of Marvel podcasts. Episodes are available now wherever you listen to podcasts.
Read even more Wakanda-centric stories and interviews from prolific and emerging Black creators in MARVEL'S VOICES: WAKANDA FOREVER #1!
The Hype Box
Can't-miss news and updates from across the Marvel Universe!