Comics
Published May 8, 2017
All-New Guardians of the Galaxy: Gamora's Story
Reflect on how she became the most dangerous woman in the galaxy!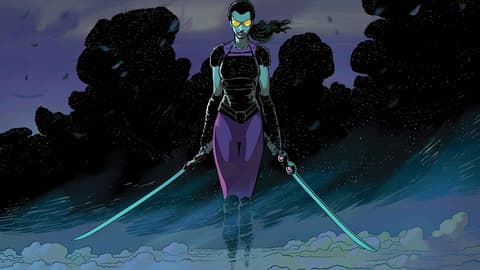 In the upcoming ALL-NEW GUARDIANS OF THE GALAXY #3 on June 7, the spotlight will be turned on Gamora. Many know her as the "most dangerous woman in the galaxy," but how exactly did she earn that title?
We caught up with writer Gerry Duggan about some of the moments from Gamora's past that have helped contribute to her reputation.
Marvel.com: Thanos raised Gamora and trained her to function as a weapon. She has moved on from that, but it still has to have an impact.
Gerry Duggan: Yeah, for sure. That's something we remind people of in our book. We have a Gamora-centric issue of GUARDIANS in issue #3 that will complicate her story a little bit. But yes, she was raised to be a weapon and actually passed at taking her shot at [Thanos] at the end of the Brian Michael Bendis run. And so, what does that do to you? So much of her life was dedicated to this vengeance that she sort of rose above. In our team dynamic at the moment, Drax is trying to turn away from violence with somewhat limited success, whereas Gamora seems very quick, at the start of our story, to embrace violence. And we'll see why she feels that way—because of an experience that she had after she left Earth—so I'm excited to see what readers think of that.
Marvel.com: She's the sole surviving member of her species, which must mess with her head.
Gerry Duggan: Oh yeah. There are a lot of very interesting cosmic characters that are the last of their kind. And it's tough because Thanos was not her only tormentor, of course. Her parents were attacked by a death cult and Thanos sort of rebuilt her. He had a perverse love for her, but really she was sort of a hobby for him. She was a creature who, rather than kill, he tried to mold into his own image. But at least at the start of this particular volume, we cleared out Thanos, I'm not writing him at the moment. But that doesn't mean that Gamora has found peace. In fact, she's suffering from hoping to have found peace and not found it. And this happens because she turned down the opportunity to kill Thanos on Earth. That raises other questions, and it's like an emotional blockage for her. She comes to realize something pretty startling and dark about herself if it proves to be true.
Marvel.com: She has gone through a lot. Brushes with death, having her spirit inside the Soul Gem, and more. This probably makes her more of a risk-taker, since other dangers might seem less severe by comparison.
Gerry Duggan: I think the experience of having died and come back to life would always change someone. It'll be interesting, as we explore the repercussions of a resurrection. That's something that you can expect to see in the future pages of GUARDIANS.
Marvel.com: Before her time with the Guardians of the Galaxy, we saw Gamora as a fighter basically out on her own, which probably contributed to her reputation.
Gerry Duggan: Yes, and I think the gift that Brian Michael Bendis gave her, the ability to transcend her sworn vengeance and turn away from that, may have some other repercussions. And you'll see how she has changed moving forward.
Marvel.com: Now she has something to fight for. She cares about the Guardians, and having a reason to fight, in many ways, makes her even stronger.
Gerry Duggan: She's willing to fight and die for her friends. That's something you're always going to want when you're in a high-risk environment, and on a high-risk team like the Guardians. But you know, she will also be causing her friends some distress; not intending to do so, but it comes with the territory. You hope your friends will be there to get you out of trouble, but she's going to be getting her friends into trouble, as well.
Try to keep pace with the most dangerous woman in the galaxy on June 7 with ALL-NEW GUARDIANS OF THE GALAXY #3 by Gerry Duggan and Frazer Irving!
The Hype Box
Can't-miss news and updates from across the Marvel Universe!