Comics
Published June 7, 2021
America Chavez Goes Back to Her Beginnings in 'America Chavez: Made in the USA'
Grab our top five takeaways from the first issue of America's origin series, now on Marvel Unlimited.
Have you tried Marvel Unlimited yet? It's your all-access pass to over 28,000 Marvel comics, all available at your fingertips. Sign up now to enjoy your favorite stories just three months after they're in stores.
New on Marvel Unlimited: The origin of America Chavez, the portal-punching, dimension-shattering, Multiverse-defending Super Hero sometimes known as Miss America. After both her mothers sacrificed their lives to save their home dimension, the Utopian Parallel, America set off on a lifelong mission to defend their heroic legacy by being the super-strong hero she was born to be.
As a Young Avenger, an Ultimate, and (most recently) a West Coast Avenger, America knows what she's doing, where's she's going, and who she is. Doesn't she?
From writer Kalinda Vazquez and artist Carlos Gomez comes an explosive story all about America Chavez's earliest days after fleeing her home dimension—and what she'll do to protect the ones she loves.
Read our top five takeaways from AMERICA CHAVEZ: MADE IN THE USA (2021) #1 below, and read America's complete comics history here!
Plus, see what other new titles we're reading on Marvel Unlimited this week:
NEW ON JUNE 7
1. LIFE IN LOS ANGELES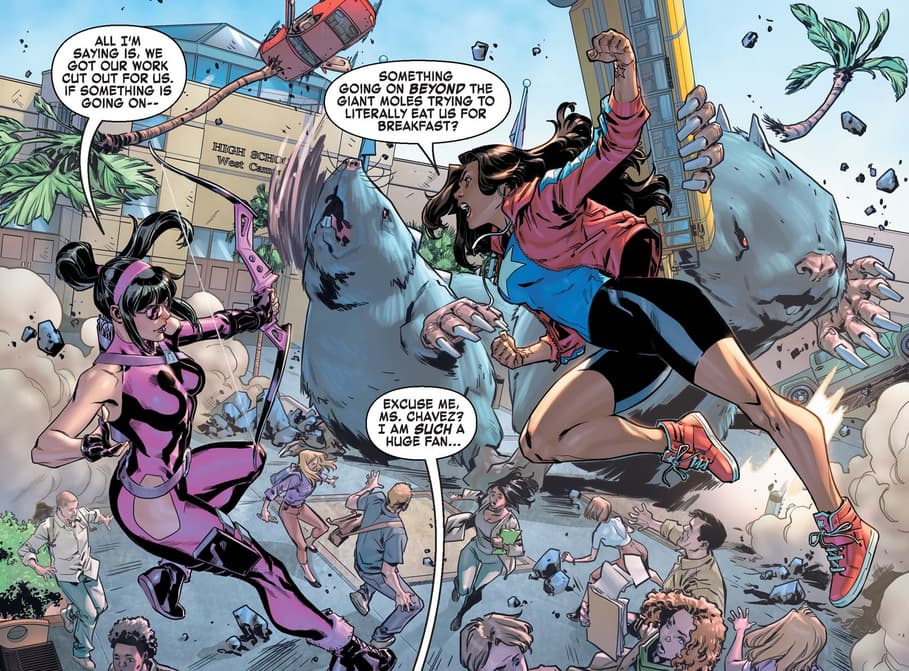 At series start, America is still kicking butt in L.A. alongside best friend Kate Bishop: Hawkeye. The two (former) Young Avengers banded together as members of the WEST COAST AVENGERS, handling all kinds of threats from terranean sharks, a bro-ey M.O.D.O.K., to a giant Tigra. Here, mutated insectivores are on the agenda. But Kate can't help but notice that America is a tad distracted while playing this weird game of Whack-a-Mole...
2. AMERICA'S POWERS ARE ON THE FRITZ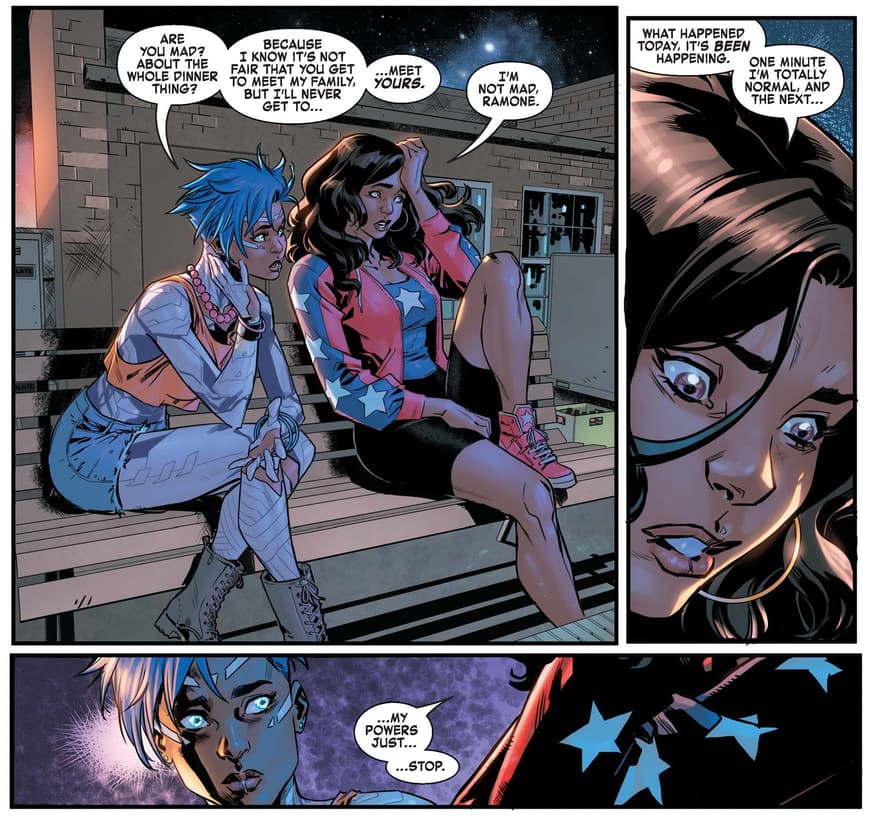 After confiding in her girlfriend Ramone, AKA the super-powered hero Alloy, we learn the cause of America's distraction—her portal powers aren't operating at peak capacity. Ramone lends a supportive ear and asks America to work together toward a solution, but the appearance of a mysterious force field in Washington Heights sends Chavez punching back home to New York City...
3. THE SANTANA FAMILY RAISED AMERICA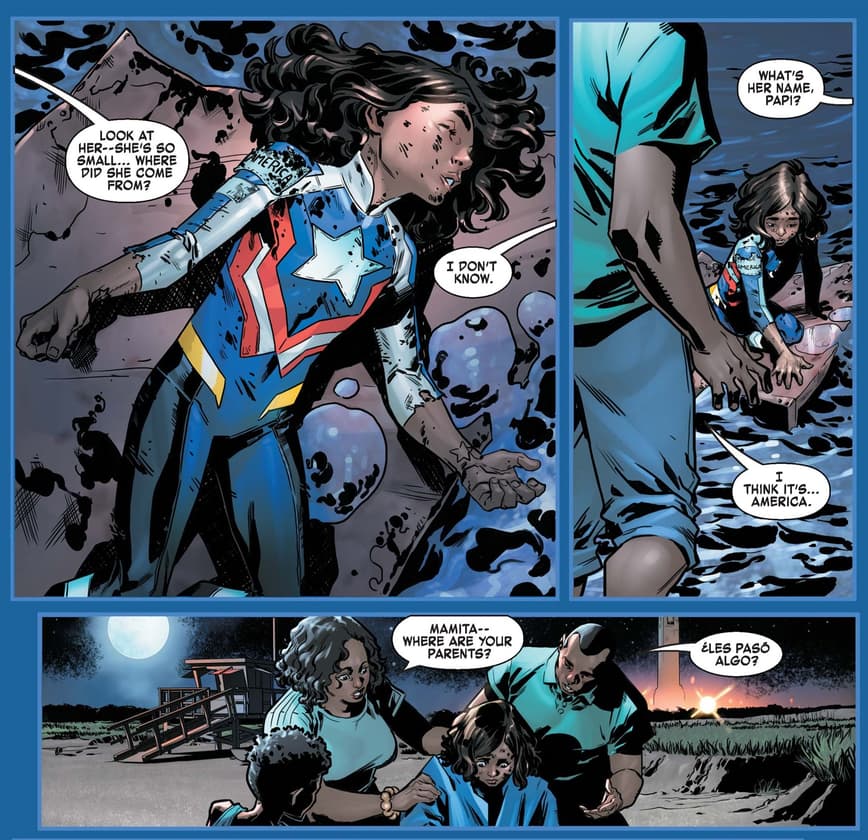 We know what gave rise to America's journey as a hero, but do we know who? For the first time on panel, we meet the Santana family, America's adopted parents and brother who gave her the life of a "normal" kid in New York. Through a set of flashbacks, America revisits the memory of her crash-landing on a beach right after fleeing the Utopian Parallel all those years ago. Through the Santana's encouragement and love, America grew out of being a reserved kid with no home to speak of, to a member of their family. And now, that family is in danger...
4. SPIDER-MAN WANTS TO HELP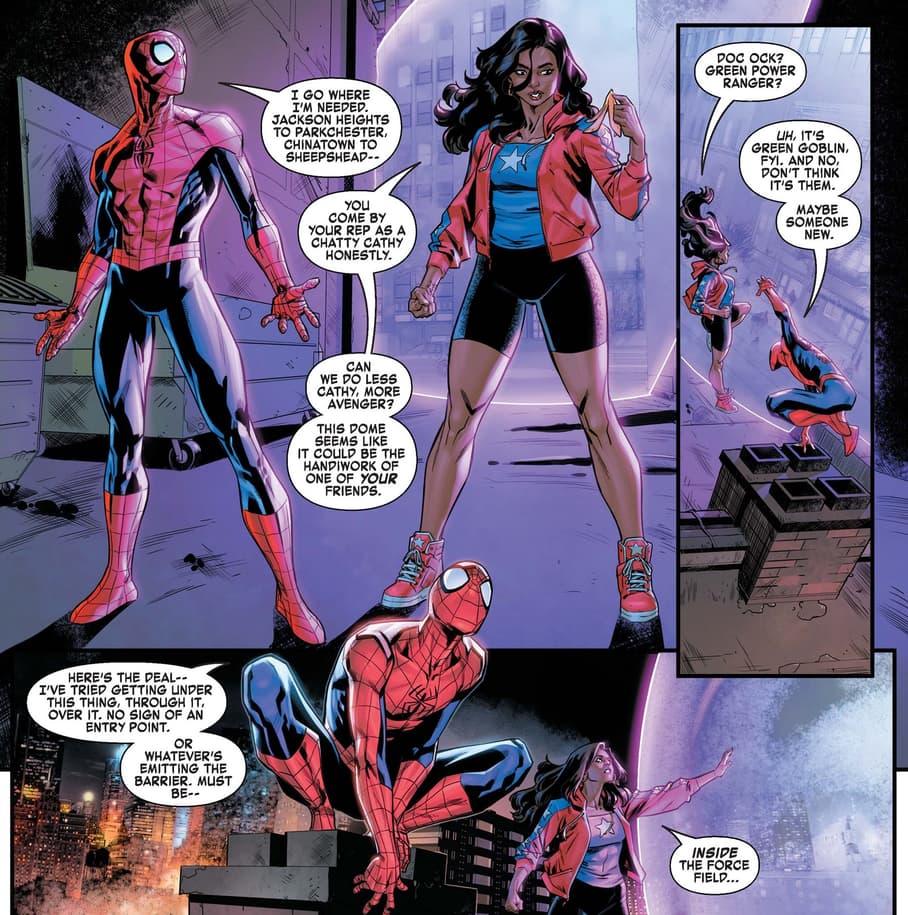 In usual "chatty" form, Spider-Man shows up on the scene of the force field situation that has encased America's old neighborhood in a supernatural bubble. Discovering that there is no point of entry (and a limited oxygen supply on the other side), America and Spidey race against the clock to find a way to break through. Thankfully, no barriers exist when you can punch holes through dimensions, and this scenario is no exception.
5. THE THREAT IS STILL LOOSE...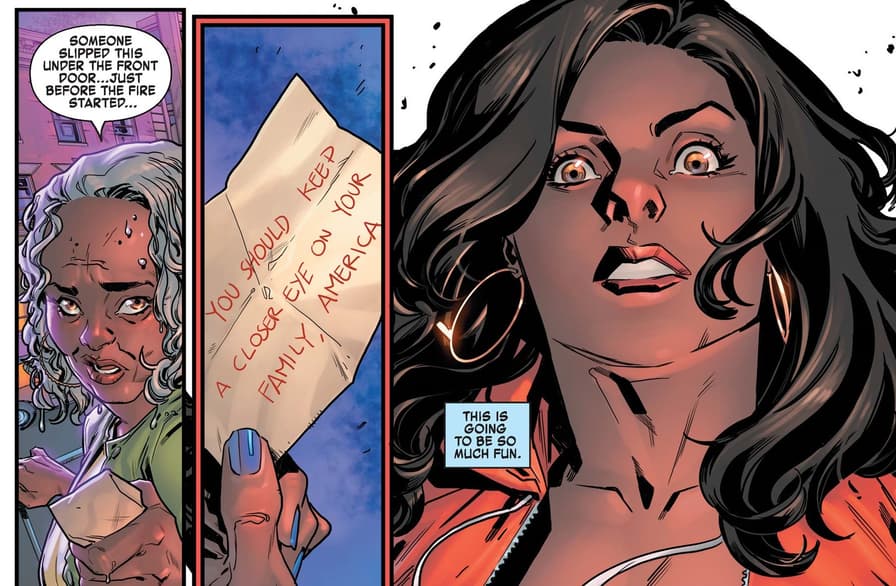 Just as America pulls off the first round of rescue and evac, a second disaster emerges—the Santana's apartment building is completely engulfed by flames. Her powers may be short-circuiting, but America pushes through to get her family to safety and douse the inferno. But a note that Ceci Santana received on America's behalf confirms the worst—this is a targeted attack.
Who is behind the event that nearly claimed America's family? Continue America Chavez's newly-revealed origin in the pages of AMERICA CHAVEZ: MADE IN THE USA #2, hitting Marvel Unlimited next month.
Follow Marvel Unlimited on Twitter and Facebook to stay tuned in to weekly announcements, articles, and more, all at @MarvelUnlimited. Follow us today to join the conversation with thousands of fellow fans, and let us know what you're reading!
The Hype Box
Can't-miss news and updates from across the Marvel Universe!